Quinta Senhora do Rosário – December 2008

Quinta Senhora do Rosário – February 2012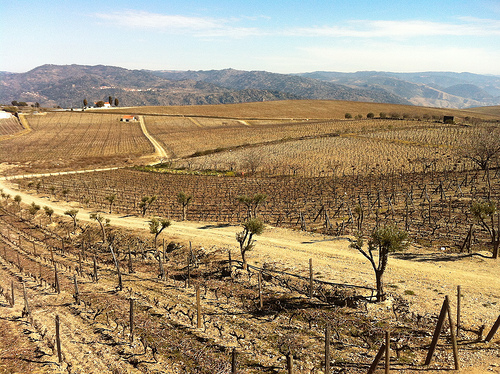 What is wrong with these two photos? Once again it is all about the weather. For almost three months that we have clear sky, with plenty of sunshine, envying many Summers in Portugal. The photo on the left is from December 2008 while the photo on the right is from yesterday.
We can see that the roads show a lighter brown in yesterday's photo, due to the long period without rain. There is no weeds in the soil as there is no water on the surface. There are still some humidity in the soil, at over one meter deep, but with the Spring arriving, bringing higher temperatures, this humidity will slowly reduce, increasing the risk of drought for the vines. Some producers are already irrigating the young vines, while small fires emergence after people burn old vine shooting. Things are not easy over here unless you come for tourism.
Oscar
If you enjoyed this post, please consider leaving a comment or subscribe to the feed and get future articles delivered to your feed reader.