O·PORT·UNIDADE – the project that put 20 Port producers all in the same lagar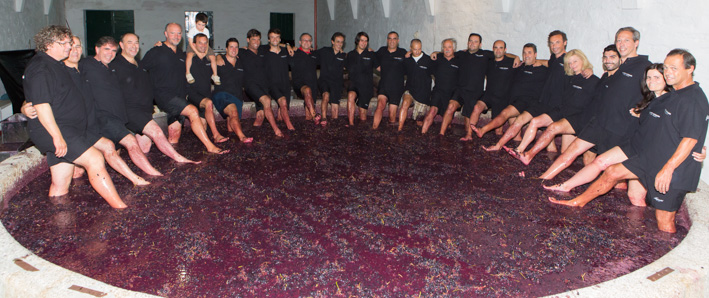 Many things have happened in your life and in ours in the last two months:
we finished harvest and started making the first blends of 2013 wines and Ports;
we started to prepare the land to replant around 11 hectares in the lower part of our family's Quinta da Alegria
we have been organizing and participating in tastings around the world to make sure more people get to know our Ports;
a new person joined us to help us with viticulture and with the DOC Douro wines – Teresa Batista – who will soon share her adventures here in the blog;
our dog had puppies;
and many other things.
Looking back at the these two months, there is something that stands out related with the 2013 harvest, and which will certainly last for many years, if not decades: for the first time in the known history of Port, 20 of the biggest bottlers of Port took their own grapes to a lagar and trod the grapes together with the goal of making a Vintage Port. The place where all this happened was at Niepoort's Port winery in the village of Vale de Mendiz, few kilometers north of Pinhão. The man with the idea and with a plan that organized the whole event was Axel Probst from the World of Port. The name that Axel gave to this event was masterly picked: O·PORT·UNIDADE being the meaning the last part, as you have certainly already realized, unity. The profit made with this event is going for charity, donated to Bagos d'Ouro, a local charity organization which takes care of children.
I know that you deserved to know from me about this great idea right on the day it happened, but only last week in Belfast, at my hotel room, I had the opportunity to write it.
A big obrigado to Axel for putting all these people together and for spreading the "Wor(l)d" of Port. Press Release can be downloaded here.
Oscar
Foto: Dirk Niepoort (Niepoort), Antánio Agrellos (Quinta do Noval), António Saraiva (Rozes), Jorge Dias (Dalva), George Sandeman (Sandeman), Charles and Martin Symington (Symington), Francisco Ferreira (Quinta do Vallado), Miguel Roquette (Quinta do Crasto), Oscar Quevedo (Quevedo), Manuel Cabral (IVDP), Carlos Flores (Andresen), Tiago Alves de Sousa (Alves de Sousa), Jorge Manuel Pintão (Poças), João Roseira (Quinta do Infantado), João Nicolau de Almeida (Ramos Pinto), Paulo Coutinho (Quinta do Portal), Pedro Sá (Vallegre), Manuel Silva (Rozes), Jorge Borges (Pintas), Sophia Bergqvist (Quinta de la Rosa), Pedro Silva Reis (Real Companhia Velha), António Amorim (Quinta Nova), Luisa Olazabal (Quinta do Vale Meão) and Luis Sottomayor (Ferreira).