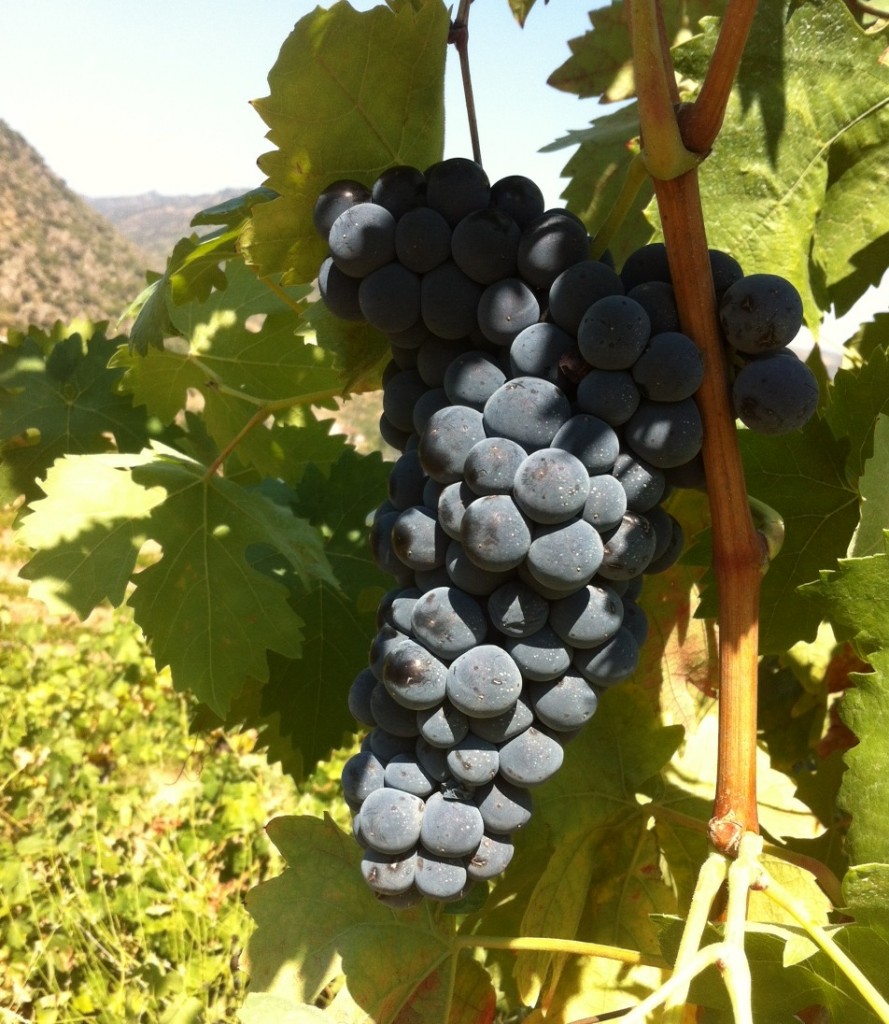 With more than half August gone, grapes in the Douro valley are in the last stage of growth. While in the higher lands there are still some grapes changing color, as veraison is not finished yet, in the lower parts red grapes are now fully colored.
We carried out the first maturity control on August 10th, as usual, and actually we got some unexpected values for the sugar level. Contrarily to what we would expect, the current sugar level in the grapes is already getting close to 11%, around 4-6 weeks before harvest. Therefore, this year we can expect grapes with higher alcohol levels than in 2012. The seed is now changing color from green to gray/ brown and the shooting of the vine starts to get harder with color changing from light green to light brown. Hard to forecast the beginning of the harvest in Quinta vale d'Agodinho, but would guess around the 18th of September. Here are the figures for the past years:
On August 10th of the following years the potential alcohol at Quinta Vale d'Agodinho was as mentioned; harvest started on the day stated.
One of the things that is not so good right now is the fact that within the same bunch, different berries show different levels of maturity. This is a signal of low homogeneity of the grapes. The fact that we haven't had a sufficient amount of rain during the last weeks/months is making it more difficult for the vines to handle maturity. Temperatures have been between 34-38ºC at noon and if it stays this high for few more weeks without rain, the vine may shut down and stop maturity. If this happens, the vine will protect itself but it will damage the quality of the grapes. The vine would stop accumulating water, sugar and nitrogen compounds in the berry. And this would lead to a bad crop.
We will have to wait and see, with loads of patience!
Oscar
Related articles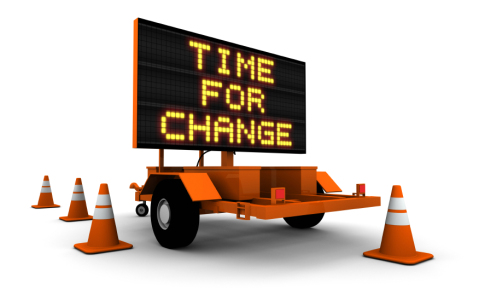 Over the last centuries the Douro has built up its reputation as a top quality wine region due to the huge success of Port, more specifically Red Port. Since 1756, when Marquês de Pombal started delimiting and regulating the Douro, people are aware of what is allowed or not when growing grapes and doing Port. In 1947 Moreira da Fonseca suggested a rating system for the vineyards in the Douro, from A to I, revolutionary and cutting-edge for the time. This system, which is still being used, measures 12 criteria and gives a rating (also known as letter) to the plot. The basic idea was to have more Port being made from the vines located in the best areas. So if your one hectare is located in an area by the river, with very poor schist soil, in a steep area, well protected from the winds and planted in terraces, the rating of your vineyard will be higher than mine, which is located at higher altitude, where it rains more, the soil is sandier and mostly granite, with a small slope and quite far away from the river. With a better rating you will be able to make more Port out of your grapes than me, and I'll end up making still wine with the remaining grapes. Maybe, at a certain point, you may want to ask, "and are you planting red or white grapes?". Well, I think no one made this question at that time, as ratings are given regardless of the color of the grape. We have to say that at that time around 60 or 70 years ago, production of white grapes was very small.
With this system implemented, my one hectare, which is located in a great area to grow white grapes, but a bad area to grow red grapes, would have an authorization of less than 50% of yours to make Port because the punctuation system does not take in consideration the color of the grape. Some time ago we wrote an article about how does the "Beneficio" system works. The criteria with the highest relative punctuation on the final classification of a vineyard are altitude, location and kind of soil. The highest score of these three elements will be given to the areas better adapted to produce red grapes, not taking in account the color of the grapes produced. So if I want to rise my revenues and make (more) money, instead of planting white grapes in the best area to plant white grapes I may try to find a place, where the rating of my block will be higher but with less potential for white grapes. And instead of growing white I will grow red grapes. During the last decades, this is how people allocated their licenses to grow vines in the Douro. With no differentiation between areas to grow white or red grapes, the Douro is not optimizing its potential to grow white grapes. Normally, we plant white grapes in areas that most of the time are too hot and dry ending up with white wines with lower natural acidity and higher alcohol. A confusing dislocation of resources.
I can see some of you, more purists, sharing the view of Mr. Ernest Cockburn, who said "The first duty of Port is to be red (..)" and thus the system is perfect. Well, we all know some lovely young and old White Ports as well as delicious and fresh still white wines that surprise us every harvest.
In 2001, the law mentioned the necessity to revise and update the classification system but nothing was implemented. In 2008 Eduardo Abade and Joaquim Guerra from Centro de Estudos Vitivinícolas do Douro suggested some ideas for the revision of Moreira da Fonseca rating system. However, the question about using different ratings for red grapes and white grapes was also not revised.
I know this is certainly not an easy task, but the sooner we start discussing it and working on it, the sooner this misallocation will end and better White Port will be produced. This is a win-win situation for everyone.
Oscar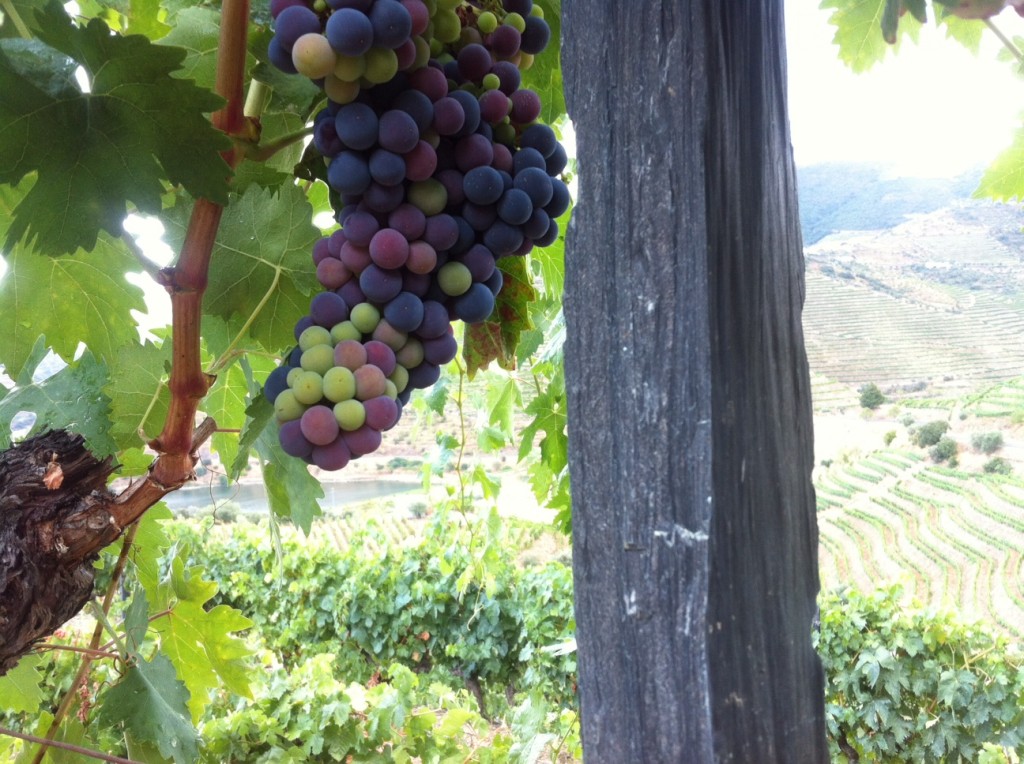 August has arrived, vines are greener that ever and humidity stays at very low levels. Last Sunday, on July 28th, a couple of hours of rain helped to refresh the soil and the vines. It didn't rain again since then. Actually, temperatures have been rising, which helped to ignite a couple of fires around the region.
The buzz about the upcoming harvest barely started. That's maybe because many people are enjoying the last days of holiday and want to think as little as possible in what will keep them busy for the next two or three months. And so don't I want to talk about that as my 10 days off will start tomorrow, as my sister Claudia returns from holiday.
In the vineyards, after a cold and rainy Winter (which was absolutely necessary), Spring was dryer than usual. Fortunately, average temperatures remain bellow the long term average in the Douro valley, which help the vines and the grapes.
With veraison not yet completed in the warmer and more premature areas, we could expect harvest of red grapes for Port to start after the 20th of September. This means the cycle of the grape is late. Lets see how grapes evolve during the next weeks. A bit more of rain would be heaven.
The total volume for Port production was set for 2013 by the Conselho Interprofissional in 100.000 pipas, or 55 million liters, an increase of 3.6% from the 96.500 pipas set for 2012. There will be a bit more of Port this year.  In terms of crop, we may expect a growth in the yields of the vines of around 15%. This means that the region may produce around 11 – 12% more of still wine than last year.
Soon we will share more info about the 2013 harvest as, as we always do, we plan to carry out the first maturity control on August 10th.
Oscar
This week was my 30th anniversary, and maybe because 30 is a round number that ends with a zero, I felt I needed to share with you some thoughts I had before going to bed on this July 24th.
I spent the day in S. João da Pesqueira, my home town, where I was born and I grew up, the place where I come whenever I can. From the window of my house I can see the small town center of S. João da Pesqueira and I am thinking in what way has changed the life of the people living here for the last 30 years. One of the things that surprises me the most and that I really feel sorry for is that children don't play freely on the streets anymore. One of the most exciting things that I remember from my youth was to go with my friends to the street for a couple of hours before dinner. All we needed was a ball or a random toy we found in our houses. At the end of the game, we would be dirty and scratched, with our clothes totally nasty, but our mums would still receive us with two open arms.
The second thing that I miss is respect for elder people. I think new generations doesn't respect elder people as much as we did. I will tell you why. S. João da Pesqueira is a small place with a high percentage of elder people. I remember, when I was younger, that we would always say hello or good morning or just hi, when we saw an elder gentleman or lady walking on the street. Thirty years later, it looks like elder people are more a kind of a burden rather than the inspirational chiefs of our society. And that's a shame as we are all on the way to get elder and if we don't educate our society to respect elder people, we can't expected to be respected when we are older.
A third thing that stands out for me tonight is to see that my town is not creating enough jobs for everyone that wants to live here. In 1983 we had a very generous percentage of the population working on agriculture, mostly vine growing. During these 30 years, people tried to find a job out of agriculture, where they would have easier working conditions, not as cold in winter or hot in summer, not as intense and exhausting. S. João da Pesqueira needed to attract imigrants during the last decades to work on the vineyards, as locals did not want to. And at the same time these imigrants were arriving, the natives were not finding a job in the secondary or tertiary sectors. And from time to time I was aware of a friend from school that needed to leave town to find a job in the city. I would love to see, during the next thirty years a more developed town, where eveybody out of the 8.000 people that live here, would have a place to work if they wanted to stay here.
To finish this list of four thoughts on my birthday, I am very happy to realize that Pesqueira is a great place to live. It's quiet, beautiful, people are nice, genuine, authentic. People in general tend to be modest and conservative, as they were used to hard times during many decades. It's true that we live far away from urbans centers, but in Pesqueira people have fun on their own way and, what I think is the most important thing in life, we know what happiness is.
Oscar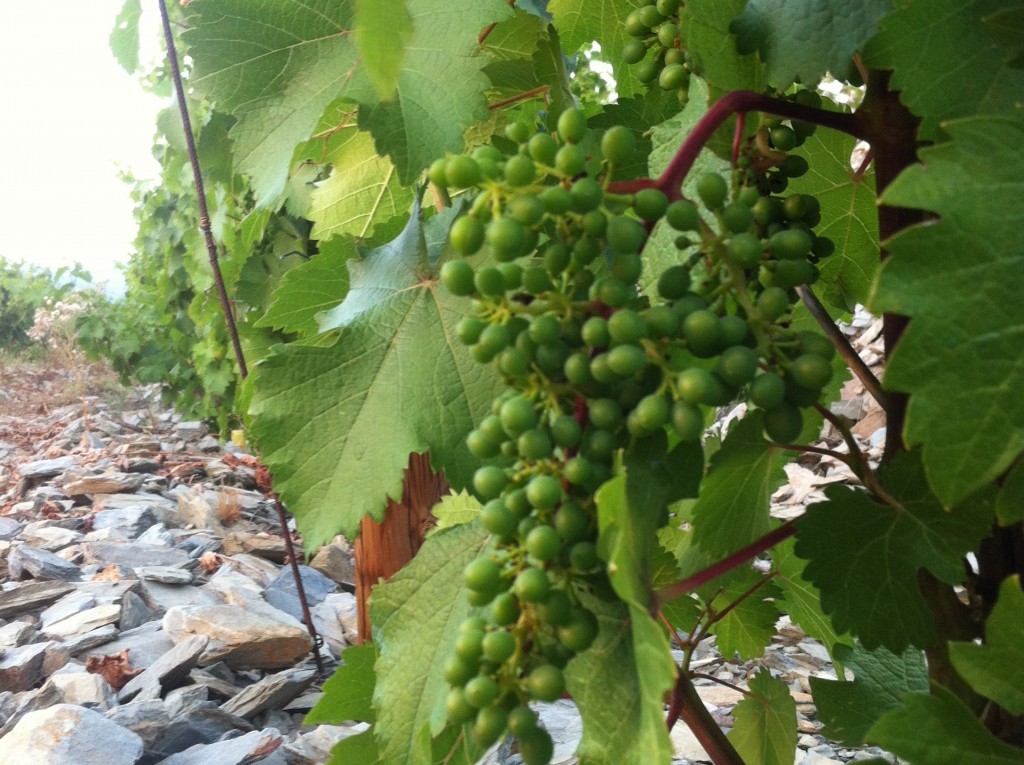 Temperatures in the Douro valley are now close to normal levels, at around 30º C, after the heat wave of the beginning of July. Short periods of very high and unusual temperatures are not rare in the Douro. What was strange was that not only the Douro but all around Portugal, people were taking off their clothes and looking for shade and beaches.
As almost always happens in such a dry wine region, heat waves leave their mark in the vines. Even if this year's wave was not as strong as the heat wave at the end of June 2012, some grapes were also burned out merciless. Nevertheless, we managed to reduce slightly the damage thanks to our learning from last year. One of the actions we took was that instead of topping the shooting in late June we waited until the end of July, when the skin of the grape was already more robust and thicker. If we cut some of the leaves of the vines later in the growing cycle, we will have the shadow of the leaves to protect the grapes, reducing the risk of sunburn. The side effect is that the vine will be growing more shooting instead of keeping the focus on the grapes. There is no absolute answer for any question, but top shooting in July is a good idea.
The grape on the photo is a Gouveio white grape from Quinta da Trovisca, at 600 meters above the sea level. Here grapes were not burned out, but I can assure you that these vines, like most of the Portuguese people, didn't enjoy such high temperatures sometimes above 45ºC.
Let us know if you were in the Douro or Portugal during the heat wave and how did you experience that.
Oscar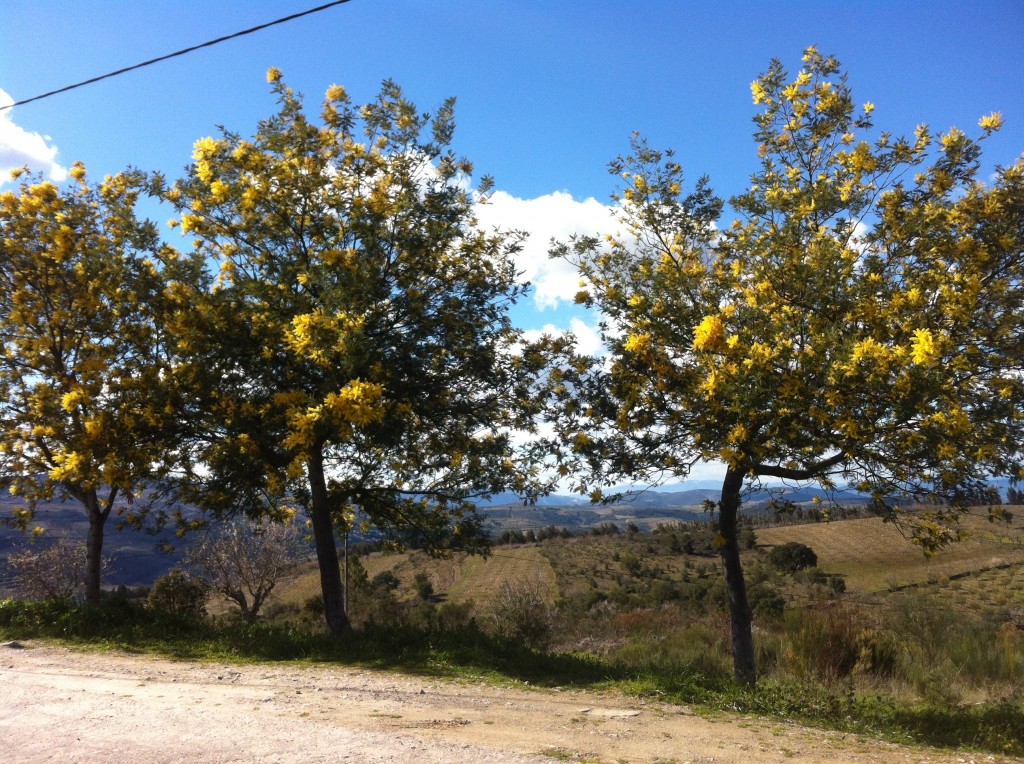 Have you noticed, during the last time you visited the Douro valley, a fast growing evergreen tree with yellow flowers that may remind you of big bunches of white grapes? This non-native tree, Acacia dealbata (Portuguese nickname is Mimosa), loves to grow on the berms of the roads, also on more humid areas, such as the banks of streams and rivers. Its origin is from Australia and it quickly conquered the Mediterranean region due to the combination of humidity and warm temperatures.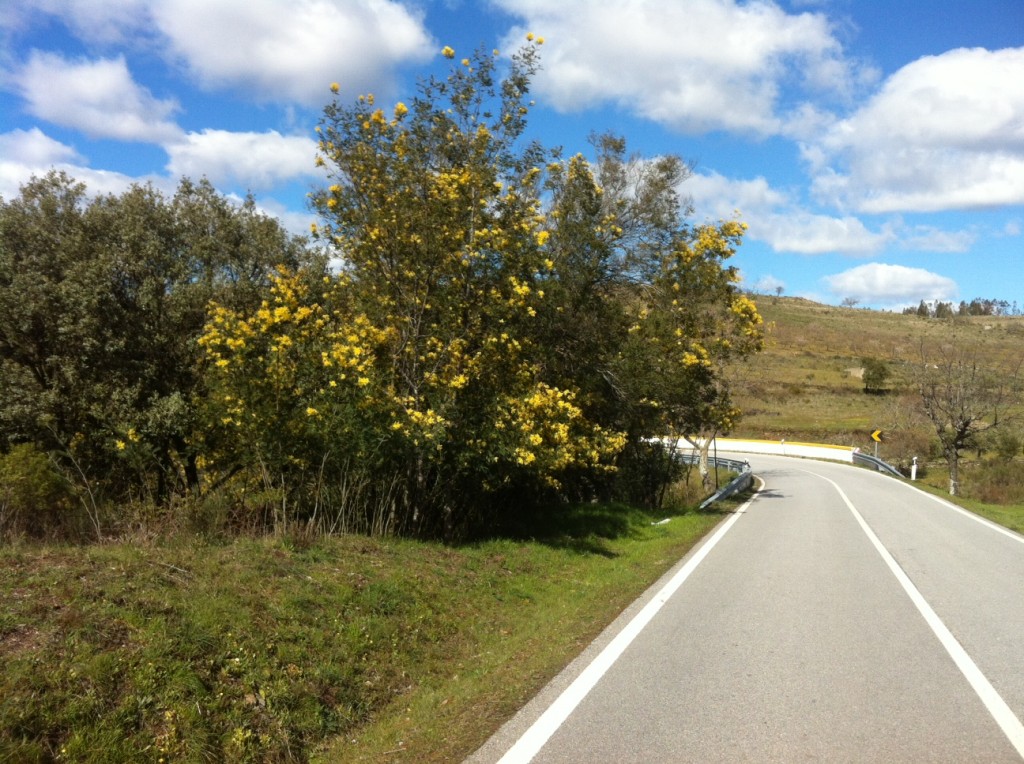 Some weeks ago I was driving east, from S. João da Pesqueira to Foz-Côa when I stared at the number of mimosas growing everywhere. As the weather gets dryer and more austere towards the eastern Douro Superior, there is less vegetation growing, bushes are smaller and few native trees grow. I suppose that this lack of strong native vegetation makes it easier for mimosas to take over the soil. This tree was already catalogued as the most invasive specie in Portugal. But action need to be taken on the ground to stop the development of mimosa.
My grandparents used to have one big old mimosa at their place in Linhares. The smell and colors of the flowers were nice, and the tree was already part of the house. But at that time, there was only one mimosa, and only there. We don't want you to only see mimosas and vines next time you come over.
Oscar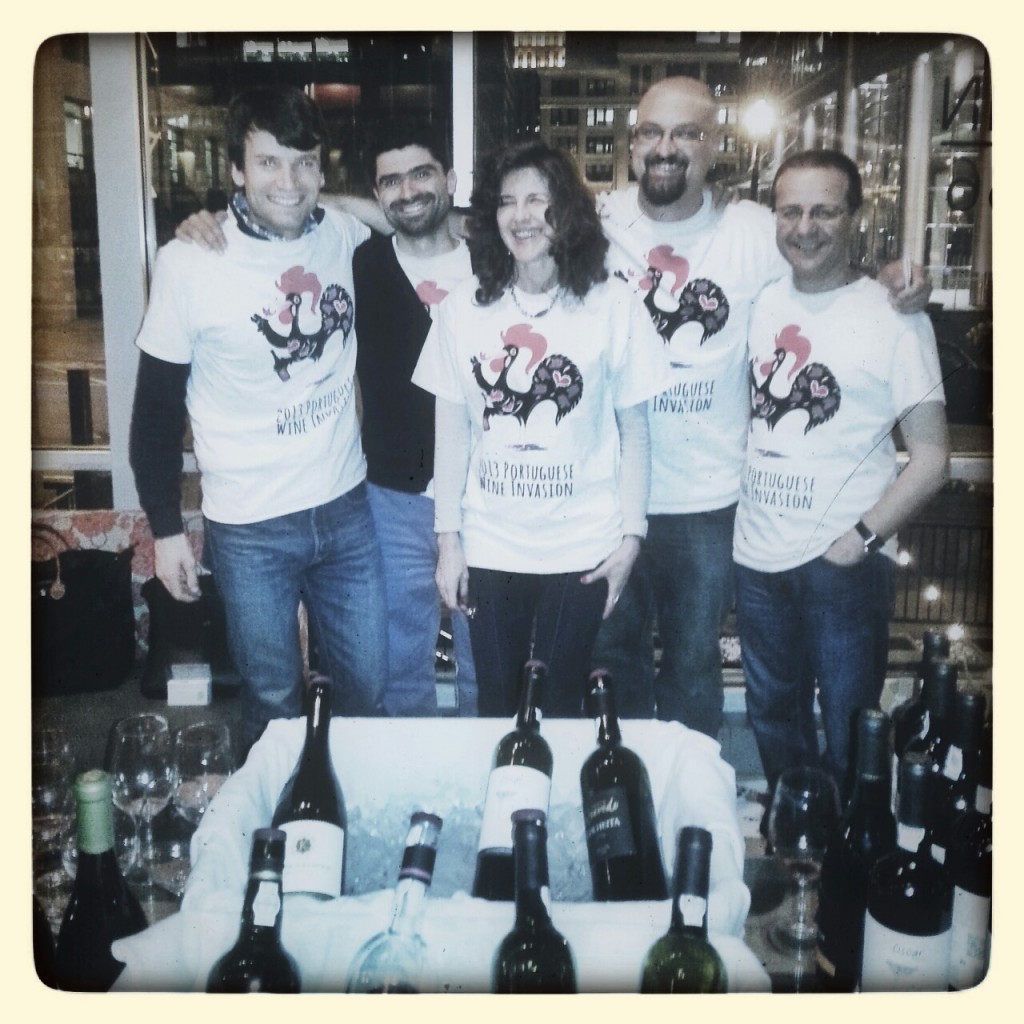 With the works in the vineyards controlled and on time, we decided to join a group of three other Portuguese winemakers and cross the Atlantic towards the United States. The four of us, Julia Kemper, Vitor Mendes from Quinta de Gomariz, Pedro Pintão from Poças and me, were leaded by Ryan Opaz from Vrazon, a native American, living in Portugal since three months ago and passionate about social media, wine and, he says, our own country. Our destination? The Midwest. Name of the mission? The first Portuguese Wine Invasion.
From Portugal we took Barcelos' rosters, maps, t-shirts and a lot of motivation. All of us already have distribution of the wines in the US, but not in the states we were visiting. A big white van was the vehicle of the invasion, packed with all our bags and wines to start a noisy invasion. All we wanted was that the Americans realize Portugal was invading them, wine invading of course. We started in Minneapolis, Minnesota, on the 30th of May and finished in Madison, Wisconsin, on June 5th. During this period, we stopped also in Kansas City, St. Louis, Indianapolis and Chicago. All our adventures were social documented on the blog of the Portuguese Wine Invasion. Check it out!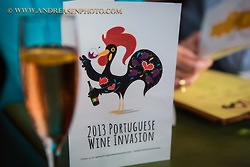 As the time passed, I was realizing that despite being able to generate a lot of interest in our "invasion", people hardly remembered the name of our wines. They were going back home thinking about the experience they had meeting Portuguese people and wines, but not really having in mind a specific brand. But was our goal to promote our individual wines or to promote the country? Right, we were there to talk about Portugal, and promoting the country, we were promoting all Portuguese wine, and doing that we were in the end promoting our wines. We were trying to recruit new elements to become fans of Portugal. If some of them next time they visit a wine shop are going to ask for Portuguese wines , then we have accomplished our mission. We all the four producers want and expect to sell more wine in the US, otherwise we couldn't finance a second invasion. But we learnt that if we join our efforts and talk about Portugal, eventually, people will ask for our wines.
Oscar
Related articles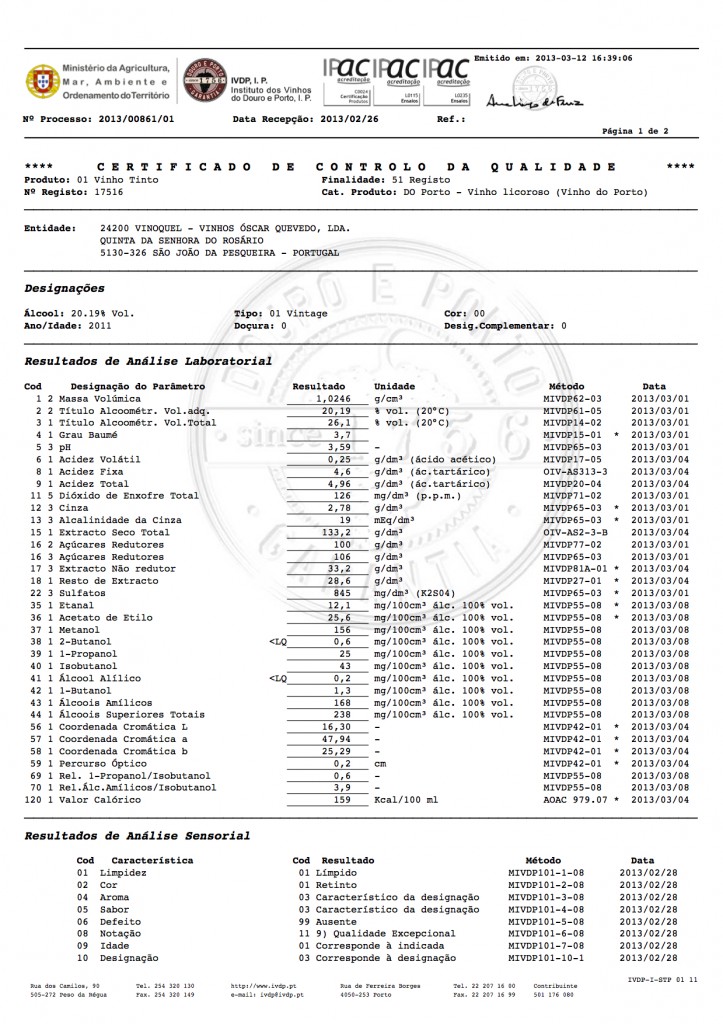 On the previous two blog posts, we had talked about 2011 Quevedo Vintage declaration and what exactly means a Vintage declaration – or the lack of this meaning. On this third and last post of this serie about Vintage Port, I thought it was worth to talk about how is the process to get the Vintage Port approved by the IVDP – Port Wine Institute.
As you may know, the IVDP controls and approves all the Port Wine on the market. Every time we want to bottle a new batch of Port, being Rose, Tawny or anything else, we have to submit samples and wait for the IVDP to blind taste these samples and perform laboratory analysis. If all is okay, then we are allowed to bottle the blend we have submitted.
Well, for Vintage Port, the IVDP applies additional controls, as this is not less than the most important Port category. Between January and June of the second year after the harvest, producers can submit samples of their Vintage Ports blends. The IVDP will then blind taste and do chemical analysis. If the tasting profile matches the high standards for Vintage Port and if all is okay on the laboratory, IVDP will approve the batch for bottling. But it does not end here. Before the bottling, the producer has to inform the IVDP about the day(s) of bottling. Knowing that, the IVDP controllers will come to the winery and will count the number of bottles, in all formats, that were bottled and will collect 5 samples of the batch the producer is bottling. With these samples, IVDP will check if the Port the producer submitted for approval is the same as the Port the producer bottled. Also, knowing the exact number of bottles, will only allow sales of this stock, meaning, no miracles of multiplication! Then, a last simpler step need to be taken, which is to approve the label and back label with all the mandatory information. But, in this case, there is no difference for other styles of Port.
From the first moment we submit the samples, in February 26th, until the moment we have Vintage Port ready for shipping it can easily pass 3 or 4 months. The image you see on the screen is a copy of the first page of the laboratory analysis of our 2011 Vintage Port, approved in March 11th, 2013. Full version here of the document here. This is As curiosity, all the inventory we bottled of 2011 Vintage Port is:
529 of 375ml bottles
3,016 of 750ml bottles
48 of 1.5L bottles
60 of 6L bottles
Let us know your comments, if you have some.
Oscar
Related articles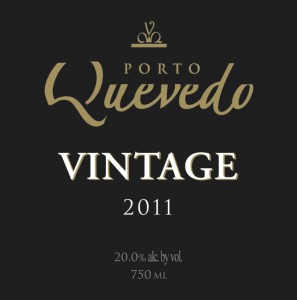 It's time to celebrate!!! Let the balloons fly, release the birds, eat a Francesinha – or 4, toast with your friends! Why? Because there is going to be some of the 2011 vintage port to go around!
Let's be clear, this isn't your average Port Wine. This wine is something that will make you weep, it's so good. We're talking so insanely good that it will be the elixir to woo your girlfriend into marriage, get that new job, convince your husband that a trip to Hawaii is a fabulous idea this year. It'll turn a bad day good, or a good day into a freaking amazing day! Did we mention we love this wine?!
Why did we declare the 2011 a vintage harvest? Simple! The grapes presented such color and concentration that many things needed to go wrong for this not to result in a Vintage year. The weather and growing conditions were fantastic, allowing the vines – when properly cared for – to create rich, intense and fresh berries, that once crushed would release loads of color, tannins and flavors that are the key to structure of an age worth Port.
But what we think makes 2011 different from other years  – and why you should put 2011 Vintage Port on the list – is the way it looked after the second winter. Cold temperatures like those we face in the Douro, with the thermometer going as low as -5º C, help in the clarification of Port. During this time, tannins change and colors tend to get less dark and intense. What surprised us regarding this particular vintage was the youth and stamina that the 2011 Vintage Port presented at the time of bottling. These 18 months are critical to see how Port is going to age, and the 2011 looks amazing. We have plenty of hope that this is going to be a Port to age for many years.
More valuable information about the winter and weather conditions can be found at the 2011 Harvest Report of Symington's The Vintage Port site.
Don't leave all your comments on Facebook, please drop some here. They will remain for longer.
Oscar