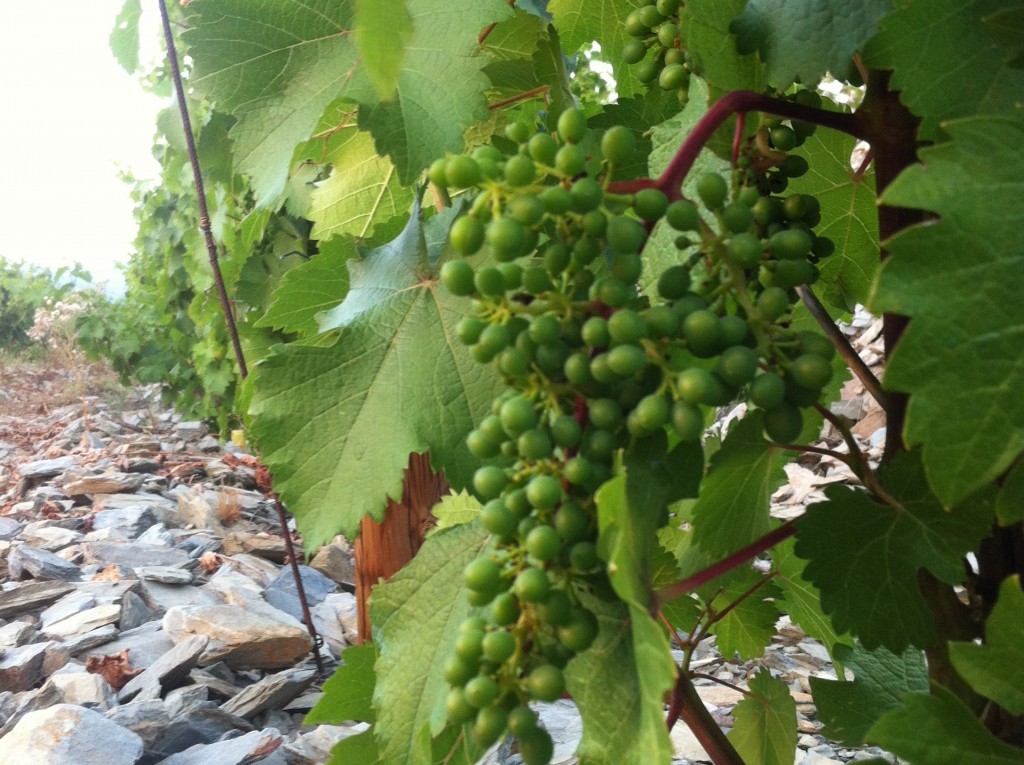 Temperatures in the Douro valley are now close to normal levels, at around 30º C, after the heat wave of the beginning of July. Short periods of very high and unusual temperatures are not rare in the Douro. What was strange was that not only the Douro but all around Portugal, people were taking off their clothes and looking for shade and beaches.
As almost always happens in such a dry wine region, heat waves leave their mark in the vines. Even if this year's wave was not as strong as the heat wave at the end of June 2012, some grapes were also burned out merciless. Nevertheless, we managed to reduce slightly the damage thanks to our learning from last year. One of the actions we took was that instead of topping the shooting in late June we waited until the end of July, when the skin of the grape was already more robust and thicker. If we cut some of the leaves of the vines later in the growing cycle, we will have the shadow of the leaves to protect the grapes, reducing the risk of sunburn. The side effect is that the vine will be growing more shooting instead of keeping the focus on the grapes. There is no absolute answer for any question, but top shooting in July is a good idea.
The grape on the photo is a Gouveio white grape from Quinta da Trovisca, at 600 meters above the sea level. Here grapes were not burned out, but I can assure you that these vines, like most of the Portuguese people, didn't enjoy such high temperatures sometimes above 45ºC.
Let us know if you were in the Douro or Portugal during the heat wave and how did you experience that.
Oscar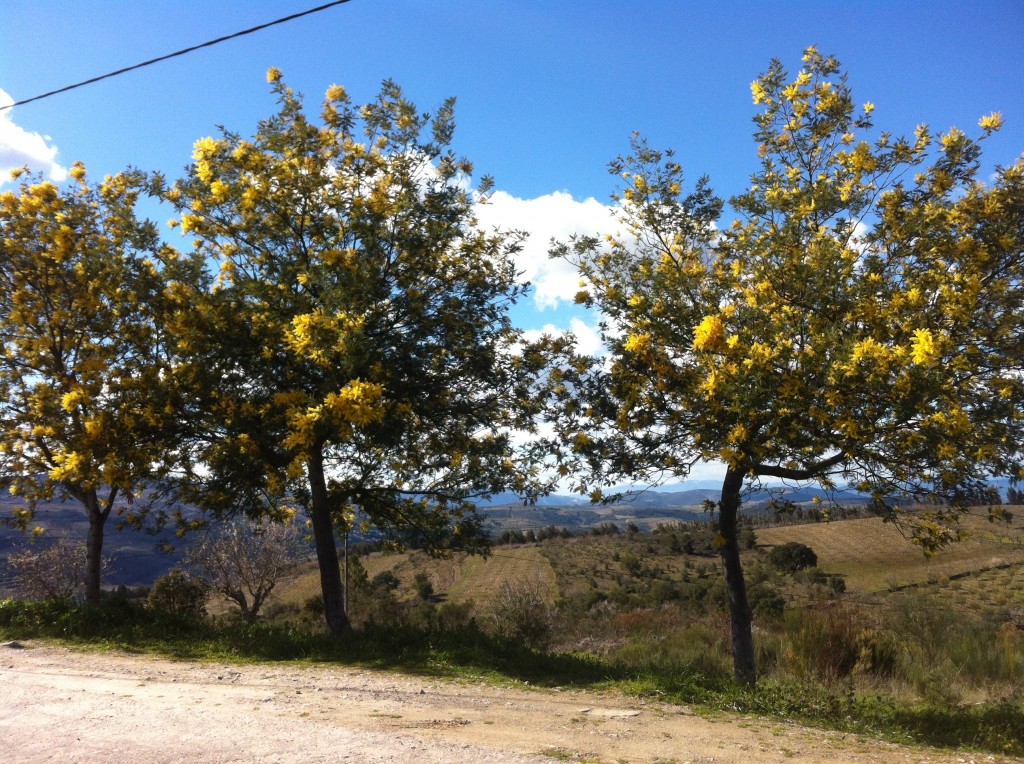 Have you noticed, during the last time you visited the Douro valley, a fast growing evergreen tree with yellow flowers that may remind you of big bunches of white grapes? This non-native tree, Acacia dealbata (Portuguese nickname is Mimosa), loves to grow on the berms of the roads, also on more humid areas, such as the banks of streams and rivers. Its origin is from Australia and it quickly conquered the Mediterranean region due to the combination of humidity and warm temperatures.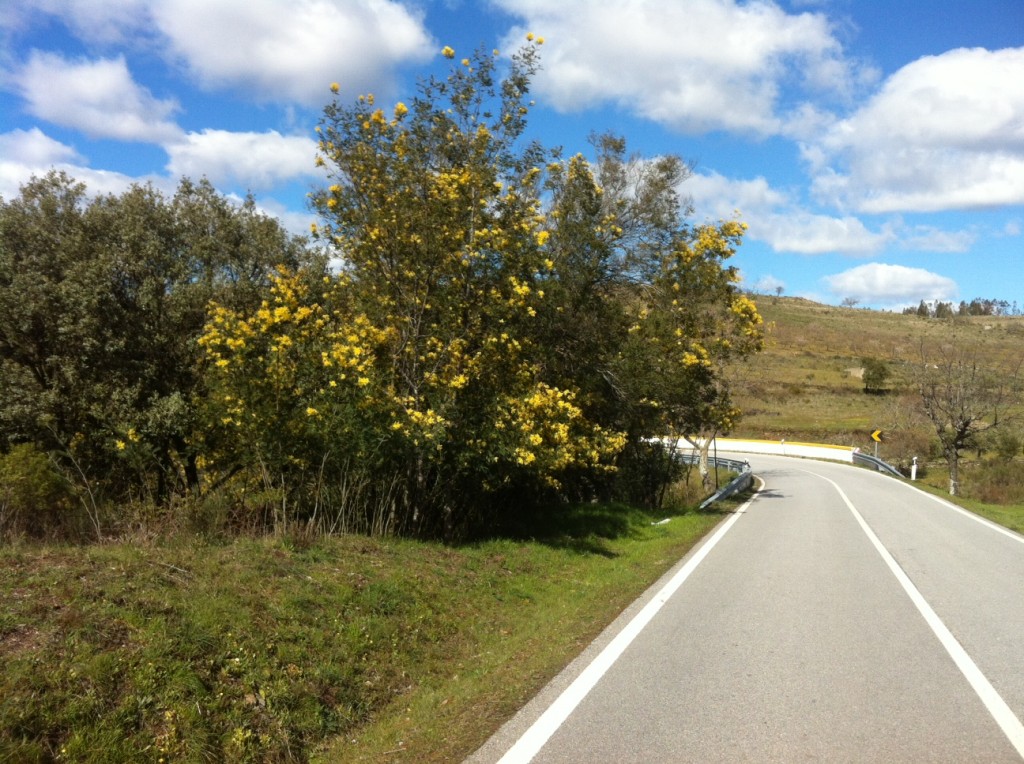 Some weeks ago I was driving east, from S. João da Pesqueira to Foz-Côa when I stared at the number of mimosas growing everywhere. As the weather gets dryer and more austere towards the eastern Douro Superior, there is less vegetation growing, bushes are smaller and few native trees grow. I suppose that this lack of strong native vegetation makes it easier for mimosas to take over the soil. This tree was already catalogued as the most invasive specie in Portugal. But action need to be taken on the ground to stop the development of mimosa.
My grandparents used to have one big old mimosa at their place in Linhares. The smell and colors of the flowers were nice, and the tree was already part of the house. But at that time, there was only one mimosa, and only there. We don't want you to only see mimosas and vines next time you come over.
Oscar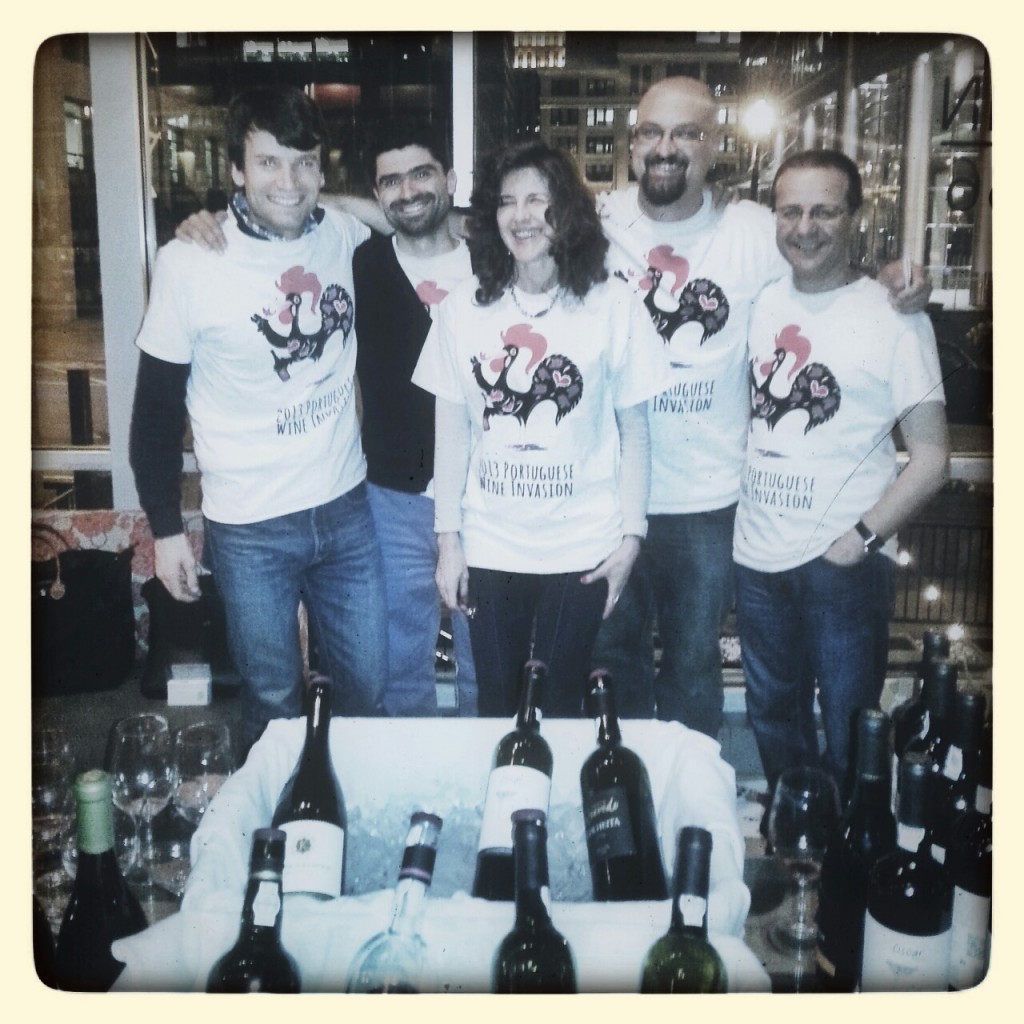 With the works in the vineyards controlled and on time, we decided to join a group of three other Portuguese winemakers and cross the Atlantic towards the United States. The four of us, Julia Kemper, Vitor Mendes from Quinta de Gomariz, Pedro Pintão from Poças and me, were leaded by Ryan Opaz from Vrazon, a native American, living in Portugal since three months ago and passionate about social media, wine and, he says, our own country. Our destination? The Midwest. Name of the mission? The first Portuguese Wine Invasion.
From Portugal we took Barcelos' rosters, maps, t-shirts and a lot of motivation. All of us already have distribution of the wines in the US, but not in the states we were visiting. A big white van was the vehicle of the invasion, packed with all our bags and wines to start a noisy invasion. All we wanted was that the Americans realize Portugal was invading them, wine invading of course. We started in Minneapolis, Minnesota, on the 30th of May and finished in Madison, Wisconsin, on June 5th. During this period, we stopped also in Kansas City, St. Louis, Indianapolis and Chicago. All our adventures were social documented on the blog of the Portuguese Wine Invasion. Check it out!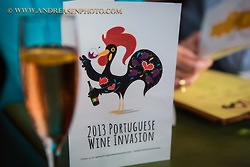 As the time passed, I was realizing that despite being able to generate a lot of interest in our "invasion", people hardly remembered the name of our wines. They were going back home thinking about the experience they had meeting Portuguese people and wines, but not really having in mind a specific brand. But was our goal to promote our individual wines or to promote the country? Right, we were there to talk about Portugal, and promoting the country, we were promoting all Portuguese wine, and doing that we were in the end promoting our wines. We were trying to recruit new elements to become fans of Portugal. If some of them next time they visit a wine shop are going to ask for Portuguese wines , then we have accomplished our mission. We all the four producers want and expect to sell more wine in the US, otherwise we couldn't finance a second invasion. But we learnt that if we join our efforts and talk about Portugal, eventually, people will ask for our wines.
Oscar
Related articles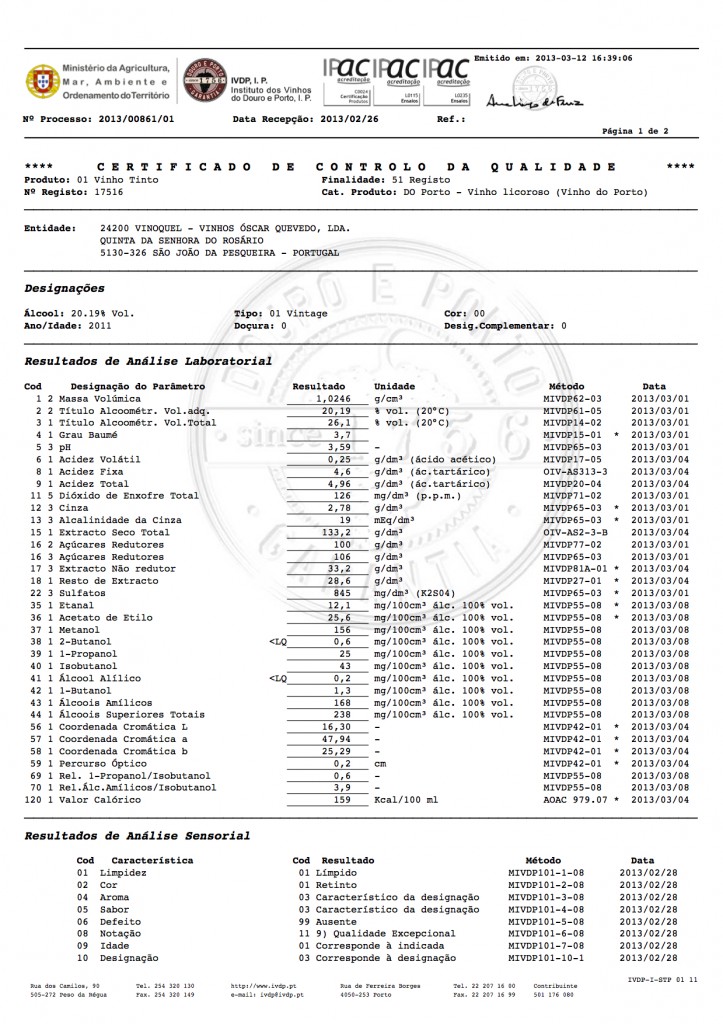 On the previous two blog posts, we had talked about 2011 Quevedo Vintage declaration and what exactly means a Vintage declaration – or the lack of this meaning. On this third and last post of this serie about Vintage Port, I thought it was worth to talk about how is the process to get the Vintage Port approved by the IVDP – Port Wine Institute.
As you may know, the IVDP controls and approves all the Port Wine on the market. Every time we want to bottle a new batch of Port, being Rose, Tawny or anything else, we have to submit samples and wait for the IVDP to blind taste these samples and perform laboratory analysis. If all is okay, then we are allowed to bottle the blend we have submitted.
Well, for Vintage Port, the IVDP applies additional controls, as this is not less than the most important Port category. Between January and June of the second year after the harvest, producers can submit samples of their Vintage Ports blends. The IVDP will then blind taste and do chemical analysis. If the tasting profile matches the high standards for Vintage Port and if all is okay on the laboratory, IVDP will approve the batch for bottling. But it does not end here. Before the bottling, the producer has to inform the IVDP about the day(s) of bottling. Knowing that, the IVDP controllers will come to the winery and will count the number of bottles, in all formats, that were bottled and will collect 5 samples of the batch the producer is bottling. With these samples, IVDP will check if the Port the producer submitted for approval is the same as the Port the producer bottled. Also, knowing the exact number of bottles, will only allow sales of this stock, meaning, no miracles of multiplication! Then, a last simpler step need to be taken, which is to approve the label and back label with all the mandatory information. But, in this case, there is no difference for other styles of Port.
From the first moment we submit the samples, in February 26th, until the moment we have Vintage Port ready for shipping it can easily pass 3 or 4 months. The image you see on the screen is a copy of the first page of the laboratory analysis of our 2011 Vintage Port, approved in March 11th, 2013. Full version here of the document here. This is As curiosity, all the inventory we bottled of 2011 Vintage Port is:
529 of 375ml bottles
3,016 of 750ml bottles
48 of 1.5L bottles
60 of 6L bottles
Let us know your comments, if you have some.
Oscar
Related articles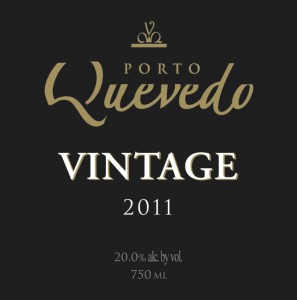 It's time to celebrate!!! Let the balloons fly, release the birds, eat a Francesinha – or 4, toast with your friends! Why? Because there is going to be some of the 2011 vintage port to go around!
Let's be clear, this isn't your average Port Wine. This wine is something that will make you weep, it's so good. We're talking so insanely good that it will be the elixir to woo your girlfriend into marriage, get that new job, convince your husband that a trip to Hawaii is a fabulous idea this year. It'll turn a bad day good, or a good day into a freaking amazing day! Did we mention we love this wine?!
Why did we declare the 2011 a vintage harvest? Simple! The grapes presented such color and concentration that many things needed to go wrong for this not to result in a Vintage year. The weather and growing conditions were fantastic, allowing the vines – when properly cared for – to create rich, intense and fresh berries, that once crushed would release loads of color, tannins and flavors that are the key to structure of an age worth Port.
But what we think makes 2011 different from other years  – and why you should put 2011 Vintage Port on the list – is the way it looked after the second winter. Cold temperatures like those we face in the Douro, with the thermometer going as low as -5º C, help in the clarification of Port. During this time, tannins change and colors tend to get less dark and intense. What surprised us regarding this particular vintage was the youth and stamina that the 2011 Vintage Port presented at the time of bottling. These 18 months are critical to see how Port is going to age, and the 2011 looks amazing. We have plenty of hope that this is going to be a Port to age for many years.
More valuable information about the winter and weather conditions can be found at the 2011 Harvest Report of Symington's The Vintage Port site.
Don't leave all your comments on Facebook, please drop some here. They will remain for longer.
Oscar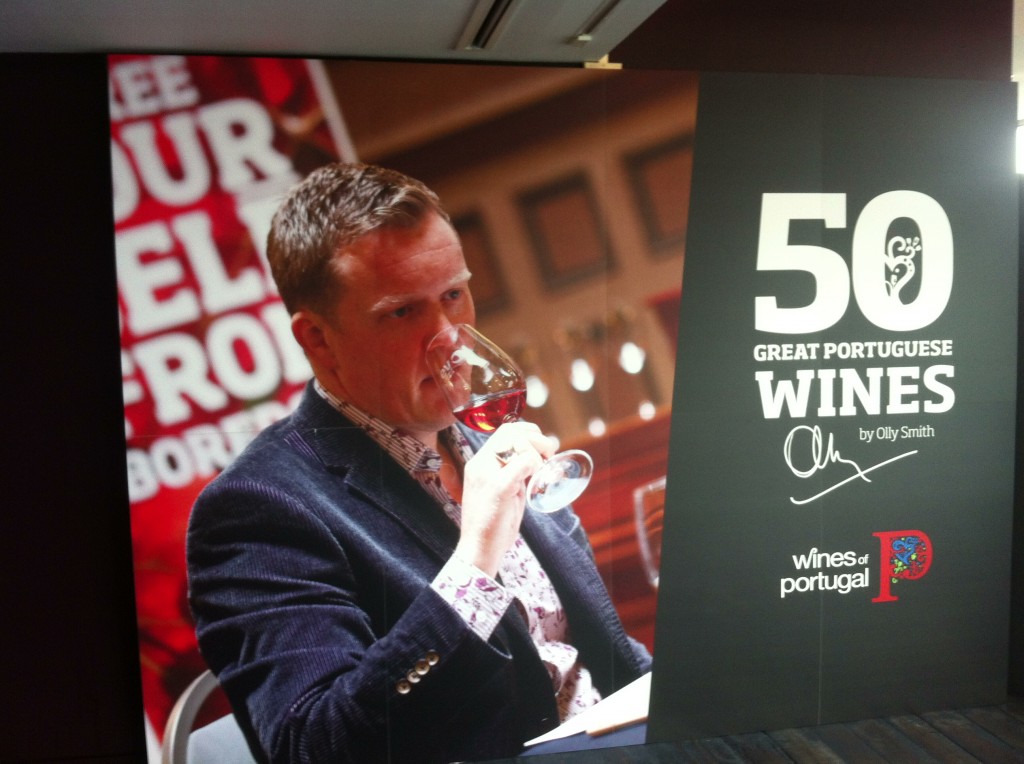 Since 2005 that Viniportugal has been inviting a prestigious journalist to select the 50 Great Portuguese Wines for the UK market. For the ninth edition, the journalist invited was Olly Smith, who presented last Thursday in London his list for 2013. In that list we are proud to announce that you will find one of our wines, Claudia's 2009 red.
This is certainly a vitamin supplement, specially for us that tend to focus the major part of our energy in Port production. Claudia, the winemaker, was happy for this recognition on her reserve Douro red. It certainly does not change anything about us, but we understand this selection as a indication that we are following the right star.
Wines from the Douro dominated Olly's list, with 3 still whites, 11 still reds, 1 Moscatel and 1 Port. Here is the list:
   

Vales de Ambrães – Avesso 2012 – Vinho Verde

Casa da Senra 2012 – Vinho Verde

Soalheiro 2012 – Vinho Verde

Alvarinho Solar de Serrade 2012 – Vinho Verde

FP 2012 – Bairrada

Quinta da Raza Arinto 2012 – Vinho Verde

Montes Ermos Reserva 2011 – Douro

Beyra Quartz 2011 – Beira Interior

Redoma 2011 – Douro

Quinta de la Rosa 2011 – Douro

Pato Frio Antão Vaz 2011 – Alentejo

Vinhas do Lasso 2010 – Lisboa

Dona Ermelinda 2011 – Península de Setúbal

Valle Pradinhos 2011 – Trás-os-Montes

Muros de Melgaço 2011 – Vinho Verdes

Quinta de Saes Encruzado 2011 -Dão

Quinta dos Roques Encruzado 2011 – Dão

Esporão Reserva 2011 – Alentejo

Arenae 2010 – Lisboa

Marquês de Borba 2011 – Alentejo

Almeida Garrett, DOC Beira Interior TNT 2010 – Beira Interior

Sexy 2011 – Alentejo

Zéfyro 2009 – Alentejo

Altano Quinta do Ataíde Reserva 2009 – Douro

PAPE 2010 – Dão

Claudia's 2009 – Douro

Manoella Douro 2010 – Douro

Quinta Nova – Colheita 2010 – Douro

F'OZ 2011 – Alentejo

Palpite 2010 – Alentejo

Poeira 2010 – Douro

Vertente 2009 – Douro

Casa Cadaval Trincadeira Vinhas Velhas 2009 – Tejo

Tinto da Ânfora 2010 – Alentejo

Duas Pedras 2011 – Alentejo

Crasto Superior 2010 – Douro

Quinta de Foz de Arouce 2009 – Beiras

Quinta dos Quatro Ventos 2009 – Douro

Aliança Bairrada Reserva 2011 – Bairrada

Quinta dos Roques 2010 – Dão

Esporão Reserva 2010 – Alentejo

Cedro do Noval 2009 – Douro

Julia Kemper Touriga Nacional 2009 – Dão

CH, Chocapalha 2009 – Lisboa

Quinta de la Rosa Reserve 2010 – Douro

Quinta do Sagrado Reserva 2007 – Douro

Henriques & Henriques Verdelho 15 Years Old – Madeira
Adega Coop. Favaios Moscatel de Favaios Colheita 1980 – Douro
Família Horacio Simões Bastardo 2009 – Península de Setúbal
Dow's Quinta do Bomfim Vintage Port – Douro
Other wine critics chosen for the UK Great 50 Portuguese Wines' previous editions were: Richard Mayson, Charles Metcalfe, Tim Atkin, Simon Woods, Jamie Goode, Sarah Ahmed, Tom Canavan and Julia Harding. For 2013 Olly Smith decided to focus on wines between 7 and 30 pounds.
Enjoy your week-end and make a toast with a Portuguese wine!
Oscar

In February 2013 Wine Passion Magazine carried through a tasting of 2010 Vintage Port. Active Port lovers know that in 2010 Port producers harvested good grapes and made nice Port. But this was not an outstanding vintage, as 2007 or more recently 2011 were. Despite that, we had 3.000 liters made with grapes from our main vineyards, Quinta Vale d'Agodinho, which we believe it's quite good. This batch pretty much respects what a good harvest in Vale d'Agodinho has: fresh, well ripened fruit without being jammy, some spiciness and a bit of mineral notes, mostly obtained from the grapes in the area facing north. Tannins are compact without being harsh. This is how my sister Claudia defines the Ports we make there. And we think 2010 has all that. Thus, we decided to bottle 3.000 bottles of a Single Quinta Vintage Port as we thought would be a shame to blend with something else and leave our friends without the chance to taste it.
Going back to Wine Passion Magazine, it happens that, for them, the 2010 Vintage that stands out the most is our Quevedo – Quinta Vale d'Agodinho. Great news for us certainly! We are always happy when we see people liking and enjoying our Ports. But, as important as journalists' opinion, is what you all think about our Ports, and, in this case, about the 2010 Single Quinta Vintage. Let us know. Send your tasting notes and help us to complete this text with "users'" opinions. I'll post it right below.
Cheers,
Oscar
Related articles
Despite the sales of Port Wine in Germany present a negative trend over the last 5 years (-12% in value), Axel Probst from World of Port and Christopher Pfaff from Passion Port keep entertaining Port lovers, organizing tastings that bring German consumers to meet Port winemakers. Contrarily to the neighbors from Belgium where the annual consumption of Port per capita is 0.9L, or Dutch which drinks 0.7L, in Germany this figure drops to 0.04L. There is a lot to do to educate German palates for Port, which it is something that takes time and time and time.
The event that Axel and Christopher organized in November 2012 was focused on 20 Year Old Tawnies versus Vintage Port from 1991 and 1992. As you will have the opportunity to see in the video, the colours of these two styles vary from amber/orange/brownish of the 20 Year Old Tawny to cherry colour that this 20+ years old Vintage Ports currently present. I am sure you know that this colour difference is explained by the aging process of these two styles: Tawnies in pipas while Vintage ages in the bottle. End with explanations, lets grab a glass of Port and watch Christopher's video.
Oscar
Three years after making the first contacts to have our wines and Ports available in New York, we found Washington Square Wines to represent us. Jeffrey Ghi and Subir Grewal, the owners of the company founded last year, are passionate about Port and wine in general. When you put passion on what you do, the results sooner or later show up and they are actually making an outstanding job, fighting like gladiators in the overcrowded and hiper competitive NYC wine market.
One of the most recent missions accomplished was to get our LBV Port in Café China, a Michelin starred restaurant. In case you don't have the opportunity to visit the restaurant soon and see with your eyes, we have a report from Sinovision, a TV station for Chinese people in America, talking about some of the wines the restaurant is carrying. One of the wines featured is our 2006 LBV Port, with valuable food suggestions for Chinese food lovers.
Thank you Jeff and Subir!
Oscar
Related articles