Quinta Senhora do Rosário – December 2008

Quinta Senhora do Rosário – February 2012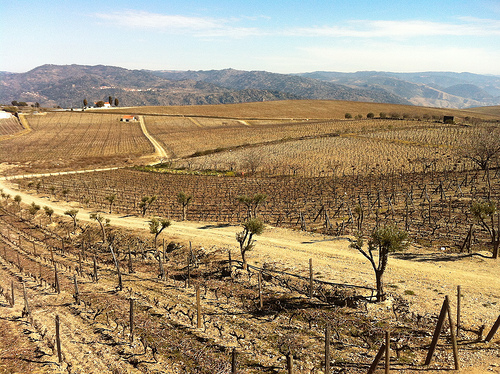 What is wrong with these two photos? Once again it is all about the weather. For almost three months that we have clear sky, with plenty of sunshine, envying many Summers in Portugal. The photo on the left is from December 2008 while the photo on the right is from yesterday.
We can see that the roads show a lighter brown in yesterday's photo, due to the long period without rain. There is no weeds in the soil as there is no water on the surface. There are still some humidity in the soil, at over one meter deep, but with the Spring arriving, bringing higher temperatures, this humidity will slowly reduce, increasing the risk of drought for the vines. Some producers are already irrigating the young vines, while small fires emergence after people burn old vine shooting. Things are not easy over here unless you come for tourism.
Oscar
In spite of the important role that corks play in the wine show, we have not talked that much about it on our blog. As you may know, cork is a natural product coming from the bark of cork tree. When I was visiting Amorim's T-cork stopper unit few weeks ago, I thought it was the right time to share images here. For the ready for drinking Port Wine, we use a bar top cork, reusable, very easy to pull out and put in again, perfect for those who have to pour by small glasses like bartenders. The video underneath shows, in very quick and barely understandable way, how is this cork made.
On the top you can find a short interview to Hugo Mesquita, Sales & Marketing Director at Amorim's RARO Unit. The question I asked him was what is TCA, or cork taint, that from time to time spoils a bottle of wine. Take a look and leave your comments and share your experiences!
Cheers,
Oscar

Phylloxera set a new paradigm in the viticulture of the Douro valley and in almost every vine growing country. Since 1850 that this tiny insect, phylloxera, that feeds up from the leaves and roots of ungrafted vines, changed the way grape producers are growing vines. Until then vines were planted in the soil, growing their own roots, which were vulnerable to phylloxera.
In order to avoid roots to be destroyed by the insect, farmers started to plant a plant with stronger and resistant roots to phylooxera, in which would later be grafted a scion of the grape vine desired, like Touriga Nacional, Tinta Roriz or any other. The art of grafting is very important in viticulture, as it creates the womb in which grapevine will be able to grow. What I want to share with you today is the way grafting is done. There are few steps that you must know as you will see in the video above:
rootstock has to be planted at least one year before grafting
the best moment for grafting is few weeks before vine begins new growth
use a two bud stick scion, upward-facing, for grafting
make a horizontal cut on stump around 10 to 20 cm below ground level for the union to be covered with earth
make a perpendicular cut on the rootstock to insert the scion
wrap carefully the union between the rootstock and scion with raffia
push down the scion to make sure it is well tight
cover it with earth and irrigate every other week for the next 6 months with few liters of water
Questions? I can imagine you will have some!
Oscar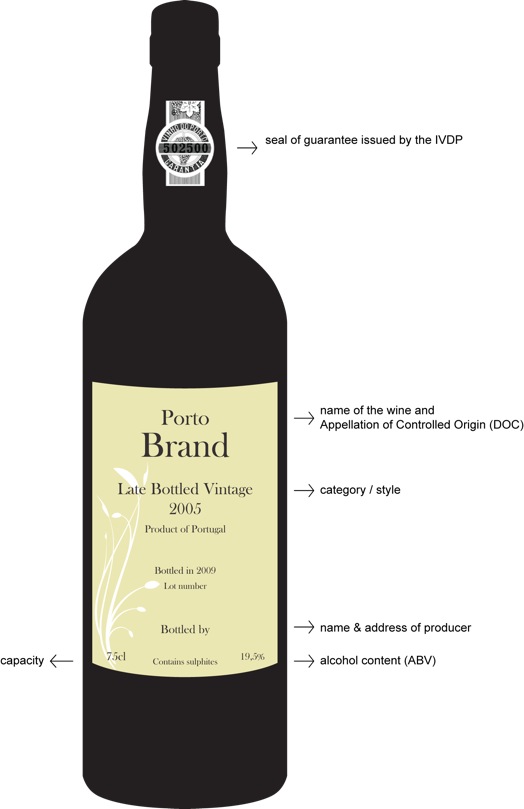 Friday, on January 27th, it is going to be celebrated the International Port Wine day #PortDay. The Center for Wine Origins is organizing and promoting this one-day event, in which anyone, anywhere, can participate and be part of the celebration. The idea behind this event is to remind consumers that Port Wine is a genuine and singular fortified wine, only made in the northern Portugal, in the Douro valley.
We are going to join the celebration of the Port Wine day by promoting a special activities in our lodge in Rua de Santa Marinha 77, Vila Nova de Gaia. In this place, everyone will have the chance to try different styles of Port Wines and share the experience on-line, on the social media. For that, computers will be available for the public, as consumers can leverage on social media to spread out the word of Port Wine. And always using #PortDay on social media.
The Center for Wine Origins was founded in 2005 by the wine growing regions of Champagne, France, and Porto, Portugal.  These are both regulated by the European system of appellations, designed to ensure authenticity and quality for consumers. The Center represents the Comité Interprofessionnel du Vin de Champagne (CIVC), the trade association that represents all the grape growers and houses of Champagne; and the Instituto dos Vinhos do Douro e Porto (IVDP), the trade association that represents all the grape growers and houses in Porto and the Douro Valley. Headquartered in Washington, D.C., the institution is involved in many activities aimed at educating consumers, policymakers and the media about the importance of keeping wine labels accurate.
Oscar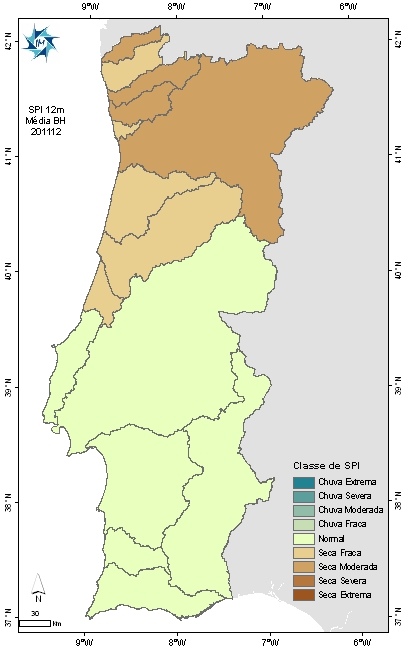 Those who have been visiting the south of Europe for the last weeks know what the title of this post means. The weather in the Douro valley, in Portugal, and also in many areas of the Mediterranean has been wonderful. Clear sky with sunshine from sunrise until sunset and warm temperatures during day time. If we wouldn't live out of agriculture, more precisely vine growing, this would just be a perfect weather. But sunshine means no rain and vines need water for the new season which is about to start.
I've been looking at the national rainfall data of the last months and it is really disappointing. Almost no rain so far in January, in December it rained one third of the long-term average and, even worse, in all 2011 we hadn't even 50% of the the average yearly rainfall of the last 70 years.
Consequences: it is January, middle of Winter, and we are already in moderate drought in all the Douro valley territory, as classified by the Portuguese Weather Institute. This is not at all good news for the beginning of the year. To make good wine in such a hot region as the Douro, vines need to have enough water reserves in the subsoil, which they don't have for now. As you may know, vine irrigation in the Douro is forbidden, unless for very specific conditions. So, hopefully the nice weather will stop and heavy clouds full of water will start to move from the Atlantic inland, in the direction of the Douro.
Oscar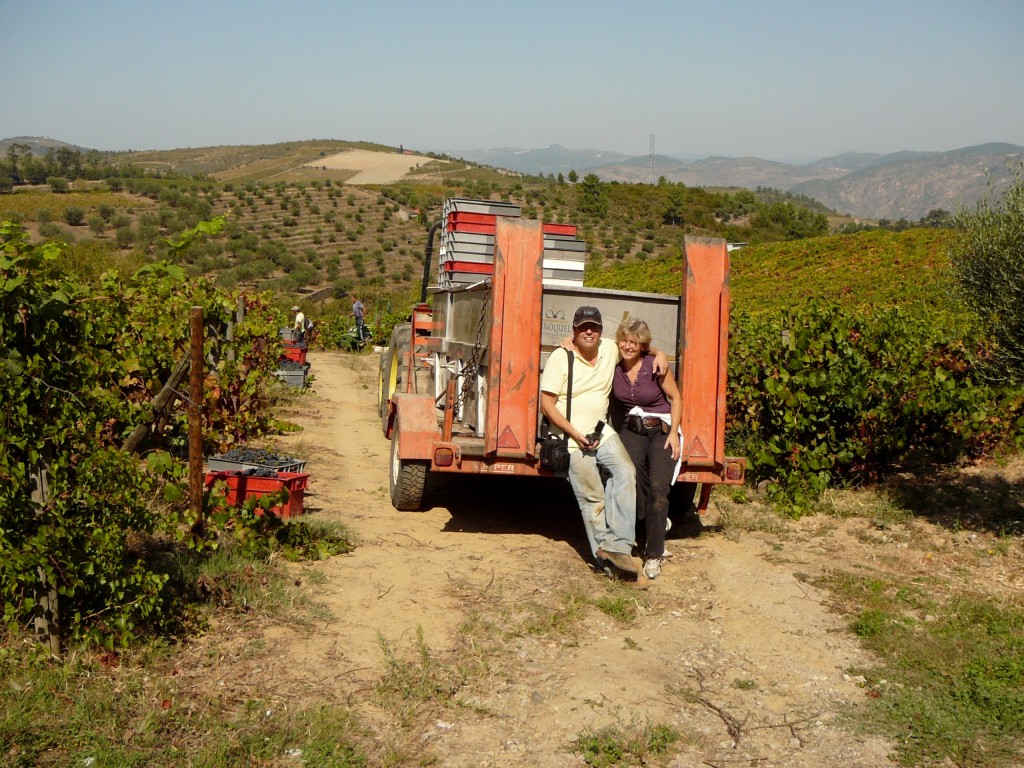 Editor's note: The article you find underneath was written by a friend, Monique de Jager, a friend from Holland that spent a week in the Douro last September, for the harvest. I challenged Monique to share her experience and here it is. If you dare to come over next September let us know. Oscar

Harvest time at the Douro; a wonderful but tough period of the year for all the wineries. Eugène and me (Monique) were there in September 2011.
My brother has been a Port lover for the last three years. Last year he met Oscar in Holland in Nieuwegein at a wine tasting evening. Oscar invited Eugène to come to the winery to pick some grapes during the harvest. Well, Eugene started to make his trip to the Douro and almost one year later, just a few weeks before leaving to Portugal, he invited me. I had to arrange everything with my husband (Ronald) and kids (Jelle and Sietse) and at my work too. All worked out positively. I was the lucky one that had the opportunity to go to the Douro with my brother Eugène. After a full day of work in the hospital – I am a nurse – we left Amsterdam by plane at night and arrived to Porto just in time to pick up our Clio at the car rental of the airport.  After one short night at the Ibis Hotel we went to Oporto for a tasting of some very nice Port Wines: Old Tawny Ports and Vintage Port. I write it all in capitals because of the respect for the Port Wine of the Douro.
We started the trip to Quevedo's winery in S. Joao da Pesqueira; our final destination of the Douro trip. After two and a half hours driving, it was about 6pm when we arrived at the winery. We met Oscar (junior) and Claudia, his sister. It was a warm welcome. Oscar showed us the winery in great lines and let us try one of his Port Wines.  We saw that it was a very busy time. Harvest time is the most intensive time of the year. And still than, the family was so open, friendly and they had always time to show parts of the winery and explain how the process of the grapes was going.  We got to know the parents of Oscar and Claudia too. We even were invited for dinner on the Thursday of our stay. It was so nice to meet Mr and Mrs Quevedo. We got to know this very hard working family.  One of the friends we met at the reunion weekend told us about Oscar. After finishing studies, Oscar worked at a bank. He made a change in his career when his grandfather died. Oscar wanted to save the winery and started working for the Quevedo Winery. He, Oscar, changed in a positive way. He found the job for his life. He became a happier guy than ever.  Somewhere in the evening Oscar brought us to the house in Valongo dos Azeites. It was amazing to see such a beautiful house in such a beautiful surrounding. We were really surprised. The house belongs to the family. It was just restored, we could still smell the paint.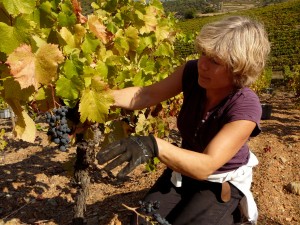 The next day we had to be at the winery at 7:00 am. We got a pair of scissors to pick the grapes. And that was it, that was the tool, and a hat for the sun and the right working clothes. We had to work at rocky places also on hilling tops. It was work where you get some more condition. It's like going to the gym and working your muscles. Well, we went with our Clio to the house of the parents of Oscar. On our way we saw a beautiful sunrise.  There we met the father of Oscar, Mr Quevedo, Oscar Quevedo. With his jeep / pick-up truck and some other people from Romania and Bulgaria we drove to the vineyard. It was a very rocky, narrow and windy off the road. We enjoyed the view so much. In the beginning, it was around 7:30 am, it was very chilly in the vine raw up the hill. Then, when the sun rose and the warmth of the sun rays started to do their work, it became in all of a sudden very warm. It was a big moment to pick up the first grapes. This was for we came for. Picking grapes, harvesting at Quevedo's winery. It gave us a big kick. It also was very nice to work with people from abroad. Their goal was very different of our goal. Two separate worlds. It made me think about the differences in the world too. We are very lucky with the way we live here in Holland and that we have the opportunity to visit Portugal in the way we did in this harvest trip.
The funniest thing was that when Eugène started cutting the very first stem of the very first bunch of grapes, he cut his finger; it started bleeding, no it was not the liquid of the red grapes, it was really blood. I put some 'homemade' bandage around his finger and he has to do with it because nobody has any bandage in his/her pocket.  In the afternoon it happened to me… Luckily, it was also the last time we cut ourselves because we decided to buy some garden gloves in the afternoon at the store in the main street of S. Joao da Pesqueira. Because I loved the gloves and the scissors I bought a few sets for my friends and myself to use in Holland.  At about 9.30 am we've had a half a hour rest. Oscar senior and junior brought us to the village where they served a good cup of coffee and very good pastries. Portugal is famous for its pastry's! I can confirm you now it is true!  Coming back to the vineyard we started the second part of the day picking grapes. When one parcel of the vineyard was finished, Oscar drove us to another part of the quinta… it was really rocky… now and then a hole…. Suddenly we got stuck and the truck almost turned over. Luckily there were strong men who got the car on its four wheels again.
At 1.00 – 2.00 pm we had lunch and after the lunch we took a big nap at the top of the hill of the vineyard. From 2.00 – 5.00 pm we had the last shift of grape-picking. When we finished at 5pm, it was time for the pickers to rest and get their body strong enough for the next day, for the family Quevedo it was different: the big work started and went on and on and on, even by night they have to control the process of the grapes to finally make the authentic  Port Wine of the Douro.    The most wonderful things will be made here, at the winery by Claudia. Of course no Port Wine without joint work of Oscar junior, Oscar senior. And never forget Mrs. Quevedo who is doing all the invisible  things around this hardworking family.  For now we say thank you for the wonderful time at your place, your hospitality and kindness. We loved to pick the grapes but we even love more the taste of Port Wine! In Holland, Quevedo Port Wine is at the distance of a two-minut walk of a Jumbo Supermarket. This way, I always stay close to Quevedo's Port Wine and keep fresh in my memory a wonderful harvest time at the Douro with the family Quevedo.
Monique de Jager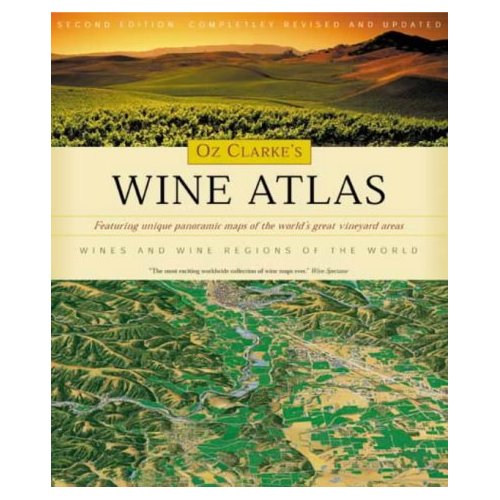 Christmas is gone, but lets go back for the gifts Santa brought over, not this year but a couple of years ago, in 2010, when I received Oz Clarke's Wine Atlas. Though it was my preferred gift of that Christmas, I had it parked for several months. Last week, out of nothing, decided to take it out of the dusty shelf and start going through it.
We always learn something while reading a book or a magazine, even if it is the supermarket catalogue. Books that really please us are those which can grab our attention for hours, taking us to a place far way from where we are and absorbing us so much that we can't even stop reading it. Oz's book is one of those. Before start reading, I thought it was going to be enjoyable but very light and simple. I was totally wrong. The Wine Atlas is actually very complete and detailed. The Douro valley is often referred because of its climate, soil or landscape and always very accurately. It is a very nice guide for beginners and also for those more advanced into wine. I strongly recommend it. Turn the TV set off earlier and don't be afraid of opening it. It is well worth your time and your friends will thank you for what you will teach them at next wine tasting!
Oscar
1. 2012 should start with 5cm of snow in January, painting everything of white
2. a very cold February, to help wines to clarify
3. sunshiny March so blooming almond trees will look gorgeous
4. rainy April, creating enough reserves of water in the soil for the hot and dry Summer
5. warm and dry May free of diseases which so much affected our production in 2011
6. good weather for at least one day of June, the St. John day, June 24th for a dry rabelo's regata in the Douro river
7. hot and dry July wherever I go for holidays
8. a couple of days of rain in August to re-hydrate vines
9. clear and warm September for a dry and happy harvest
10. foggy and cold October will help out on the ripeness of our olives
11. warm first week of November so the cheastnuts will taste better with the new wine on St. Martins day (Nov 11th)
12. anything for December is okay, as long as we feel happy for the last 11 months
Oscar
We are in December, very close to Christmas day, but we still have a red wine fermenting in our winery. Honestly, this is not a good thing. The alcoholic fermentation of this wine stopped before all sugars were transformed into alcohol, leading to a very tricky situation for the wine. So much that, if this sugar in the must is eaten by lactic acid bacterias, which would transform the sugar not into alcohol, as desired, but into acetic acidity, we would have vinegar instead of wine.
So what we are doing now is to try to restart a alcoholic fermentation, inoculating the wine with new selected yeast so they can eat the remaining sugar and transform it into alcohol. If this operation goes in the right direction I can assure you that we will have a delicious wine, as the must tasted beautifully.
As you may know, yeast need between 18º to 21º C to correctly perform fermentation. Outside temperature rounds 0ºC. We need to warm up the wine before, so yeasts won't die once we put them in the wine.
It is going to be a different Christmas this year, with wine still fermenting at the winery. Cross your fingers please!
Oscar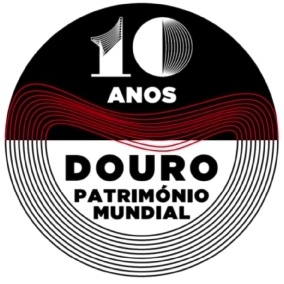 Today is a special day for the Douro valley. Ten years ago UNESCO classified the Alto Douro Wine Region as World Heritage center for its long history of wine production by traditional landholders, for some 2,000 years. But what really gave name and fame to the region was Port Wine, which records show a first commercial operation occurring in 1675 with Holland. In 1756 came the delimitation and regulation of the region, and from then on Port Wine has been part of the drinking culture of many household a little bit anywhere in the world.
In these ten years, since the classification from UNESCO, several things changed in the Douro for better. The overall quality of vine growing, wine making and tourism accommodation all improved a lot in this decade. And tourism is exactly what I think is the next big challenge for the Douro. To take advantage of the potential of the region, developing it as a exclusive wine destination region is what shall occupy all of us involved in the daily business of the Douro. And for this, UNESCO's classification is also very important.
Take a look at the ceremony program that is taking place today at Peso da Régua.
Oscar