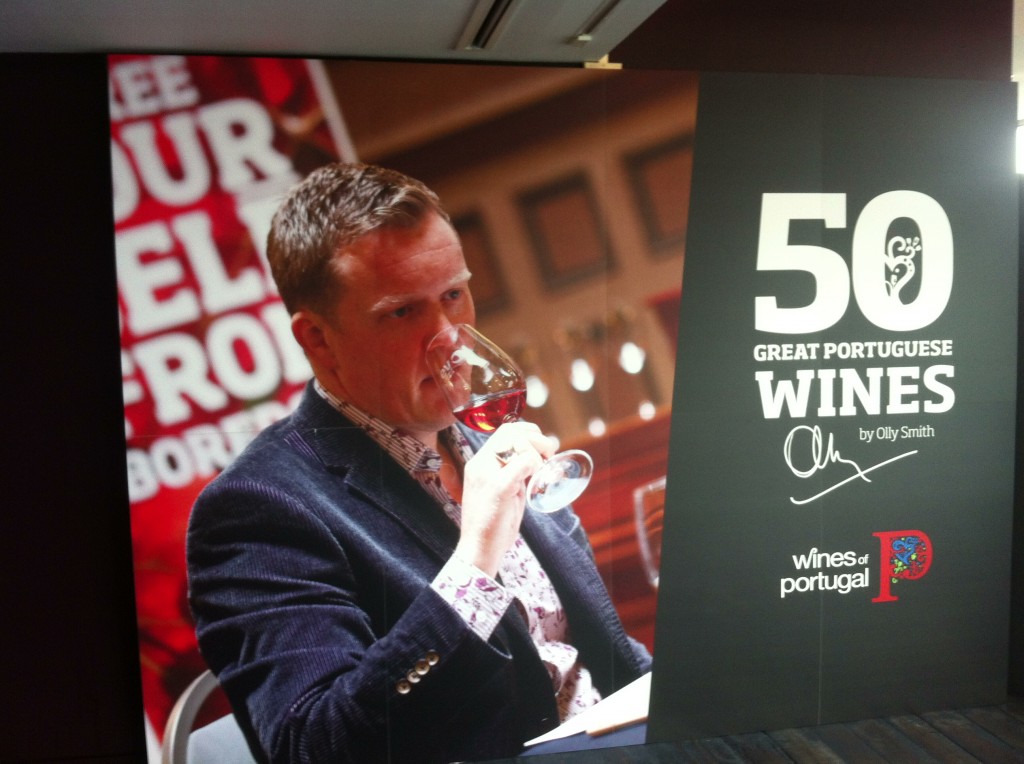 Since 2005 that Viniportugal has been inviting a prestigious journalist to select the 50 Great Portuguese Wines for the UK market. For the ninth edition, the journalist invited was Olly Smith, who presented last Thursday in London his list for 2013. In that list we are proud to announce that you will find one of our wines, Claudia's 2009 red.
This is certainly a vitamin supplement, specially for us that tend to focus the major part of our energy in Port production. Claudia, the winemaker, was happy for this recognition on her reserve Douro red. It certainly does not change anything about us, but we understand this selection as a indication that we are following the right star.
Wines from the Douro dominated Olly's list, with 3 still whites, 11 still reds, 1 Moscatel and 1 Port. Here is the list:
   

Vales de Ambrães – Avesso 2012 – Vinho Verde

Casa da Senra 2012 – Vinho Verde

Soalheiro 2012 – Vinho Verde

Alvarinho Solar de Serrade 2012 – Vinho Verde

FP 2012 – Bairrada

Quinta da Raza Arinto 2012 – Vinho Verde

Montes Ermos Reserva 2011 – Douro

Beyra Quartz 2011 – Beira Interior

Redoma 2011 – Douro

Quinta de la Rosa 2011 – Douro

Pato Frio Antão Vaz 2011 – Alentejo

Vinhas do Lasso 2010 – Lisboa

Dona Ermelinda 2011 – Península de Setúbal

Valle Pradinhos 2011 – Trás-os-Montes

Muros de Melgaço 2011 – Vinho Verdes

Quinta de Saes Encruzado 2011 -Dão

Quinta dos Roques Encruzado 2011 – Dão

Esporão Reserva 2011 – Alentejo

Arenae 2010 – Lisboa

Marquês de Borba 2011 – Alentejo

Almeida Garrett, DOC Beira Interior TNT 2010 – Beira Interior

Sexy 2011 – Alentejo

Zéfyro 2009 – Alentejo

Altano Quinta do Ataíde Reserva 2009 – Douro

PAPE 2010 – Dão

Claudia's 2009 – Douro

Manoella Douro 2010 – Douro

Quinta Nova – Colheita 2010 – Douro

F'OZ 2011 – Alentejo

Palpite 2010 – Alentejo

Poeira 2010 – Douro

Vertente 2009 – Douro

Casa Cadaval Trincadeira Vinhas Velhas 2009 – Tejo

Tinto da Ânfora 2010 – Alentejo

Duas Pedras 2011 – Alentejo

Crasto Superior 2010 – Douro

Quinta de Foz de Arouce 2009 – Beiras

Quinta dos Quatro Ventos 2009 – Douro

Aliança Bairrada Reserva 2011 – Bairrada

Quinta dos Roques 2010 – Dão

Esporão Reserva 2010 – Alentejo

Cedro do Noval 2009 – Douro

Julia Kemper Touriga Nacional 2009 – Dão

CH, Chocapalha 2009 – Lisboa

Quinta de la Rosa Reserve 2010 – Douro

Quinta do Sagrado Reserva 2007 – Douro

Henriques & Henriques Verdelho 15 Years Old – Madeira
Adega Coop. Favaios Moscatel de Favaios Colheita 1980 – Douro
Família Horacio Simões Bastardo 2009 – Península de Setúbal
Dow's Quinta do Bomfim Vintage Port – Douro
Other wine critics chosen for the UK Great 50 Portuguese Wines' previous editions were: Richard Mayson, Charles Metcalfe, Tim Atkin, Simon Woods, Jamie Goode, Sarah Ahmed, Tom Canavan and Julia Harding. For 2013 Olly Smith decided to focus on wines between 7 and 30 pounds.
Enjoy your week-end and make a toast with a Portuguese wine!
Oscar

In February 2013 Wine Passion Magazine carried through a tasting of 2010 Vintage Port. Active Port lovers know that in 2010 Port producers harvested good grapes and made nice Port. But this was not an outstanding vintage, as 2007 or more recently 2011 were. Despite that, we had 3.000 liters made with grapes from our main vineyards, Quinta Vale d'Agodinho, which we believe it's quite good. This batch pretty much respects what a good harvest in Vale d'Agodinho has: fresh, well ripened fruit without being jammy, some spiciness and a bit of mineral notes, mostly obtained from the grapes in the area facing north. Tannins are compact without being harsh. This is how my sister Claudia defines the Ports we make there. And we think 2010 has all that. Thus, we decided to bottle 3.000 bottles of a Single Quinta Vintage Port as we thought would be a shame to blend with something else and leave our friends without the chance to taste it.
Going back to Wine Passion Magazine, it happens that, for them, the 2010 Vintage that stands out the most is our Quevedo – Quinta Vale d'Agodinho. Great news for us certainly! We are always happy when we see people liking and enjoying our Ports. But, as important as journalists' opinion, is what you all think about our Ports, and, in this case, about the 2010 Single Quinta Vintage. Let us know. Send your tasting notes and help us to complete this text with "users'" opinions. I'll post it right below.
Cheers,
Oscar
Related articles
Despite the sales of Port Wine in Germany present a negative trend over the last 5 years (-12% in value), Axel Probst from World of Port and Christopher Pfaff from Passion Port keep entertaining Port lovers, organizing tastings that bring German consumers to meet Port winemakers. Contrarily to the neighbors from Belgium where the annual consumption of Port per capita is 0.9L, or Dutch which drinks 0.7L, in Germany this figure drops to 0.04L. There is a lot to do to educate German palates for Port, which it is something that takes time and time and time.
The event that Axel and Christopher organized in November 2012 was focused on 20 Year Old Tawnies versus Vintage Port from 1991 and 1992. As you will have the opportunity to see in the video, the colours of these two styles vary from amber/orange/brownish of the 20 Year Old Tawny to cherry colour that this 20+ years old Vintage Ports currently present. I am sure you know that this colour difference is explained by the aging process of these two styles: Tawnies in pipas while Vintage ages in the bottle. End with explanations, lets grab a glass of Port and watch Christopher's video.
Oscar
Three years after making the first contacts to have our wines and Ports available in New York, we found Washington Square Wines to represent us. Jeffrey Ghi and Subir Grewal, the owners of the company founded last year, are passionate about Port and wine in general. When you put passion on what you do, the results sooner or later show up and they are actually making an outstanding job, fighting like gladiators in the overcrowded and hiper competitive NYC wine market.
One of the most recent missions accomplished was to get our LBV Port in Café China, a Michelin starred restaurant. In case you don't have the opportunity to visit the restaurant soon and see with your eyes, we have a report from Sinovision, a TV station for Chinese people in America, talking about some of the wines the restaurant is carrying. One of the wines featured is our 2006 LBV Port, with valuable food suggestions for Chinese food lovers.
Thank you Jeff and Subir!
Oscar
Related articles
The snow is gone. Actually, it didn't resist that long, so we have no excuses to stop working in the vineyards. After preparing the soil, it is now time to plant those young and tender pre-grafted plants of Viosinho, Rabigato and Gouveio. That is what Marian, Marius and Cosmin, among others, are doing. We first trace a line with a rope from top to bottom and then, with an iron stick, we make a 50cm hole where we'll insert the vine. Later it is covered with earth and immediately irrigated. If there is not that much rocks at the surface, each worker can plant 300-400 vines a day. Otherwise, on a rocky soil, which is the case of Quinta da Trovisca, productivity drops quickly and, each day, no more than 200 holes are made by each man.
This plantation has been pretty unusual because of the number of rocks we have to remove. Normally, small rocks help vine roots to quicker go deep and water to better drain down to a lower level less exposed to sun evaporation. But in Quinta da Trovisca is unreal. We have so many rocks that I think my father has nightmares about rocks these days!
Next steps? Install wood sticks as well spread wires to allow a vine training system to properly manage canopy. I shall come back soon with more photos. Don't forget to share your comments.
Oscar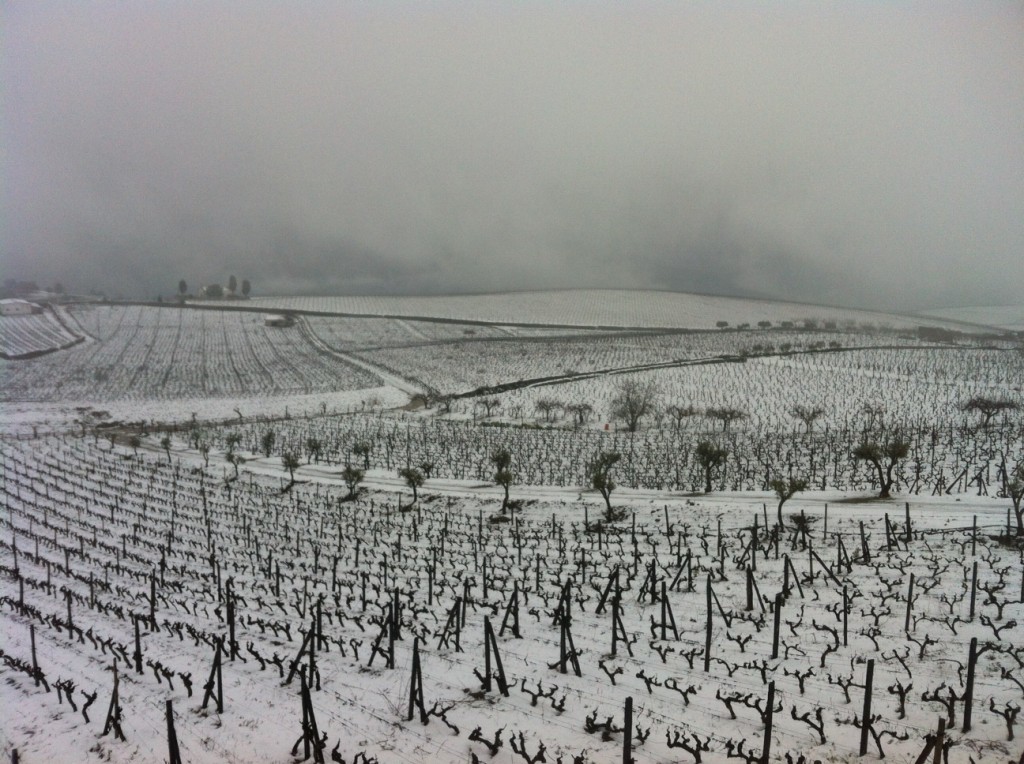 This was the view we had last Wednesday from the tasting room over the vineyards of Quinta Senhora do Rosário. All happened during a couple of hours of very intense snowing. I woke up early in the morning to see a vine planting machine working in Quinta do Ataíde, in Vila Flor. When we got back to S. João da Pesqueira this is what we found. I think we never had some much snow in the Douro. If I recall well, it was over 6cm which would justify to take the skis out of the closet.
On Thursday morning there was still a little bit of snow left in the vineyards, but with the sun back to the valley it quickly melted down. As David Spriggs said on facebook about this photo, "So hot in the Summer and so cold in the Winter"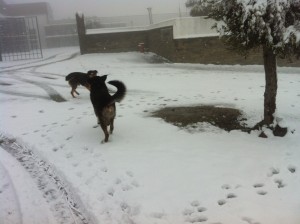 .
Oscar
While ants work on warm months to store up food for winter, we work on winter expecting to collect grapes on summer. And now is that time of the year when we are working on the next crop. But in the case you will see today, we are also preparing many more crops to come. We are working the soil, making it arable so vines can live and be happy, while produce good grapes. Being this a not so recurrent moment and very important for our future, I want to share with you how we prepear the soil of Quinta da Trovisca for a new plantation of white grapes. So please play the video above.
On the video you can see a bulldozer pushing the soil. In this land, nothing was ever planted before. At the same time, an excavator is grabbing bigger rocks dropping it deep into the ditch so the roots of the vines won't shock with big stones during the first years of their lives. New vines will be planted during the next weeks so stay in touch!
Oscar
Related articles
One of the key elements, if not the most important after the grape in the winemaking process, is the yeast. Why is yeast so important? Because despite its small size (around 0.003 mm), this microorganism has the very important task of transforming fructose into ethanol, the form of alcohol present in wine. Yeast is present in the surface of the grapes and in the vines. Once the grapes are crushed, yeast starts its mission: it immediately begins transforming the sugar of grape into alcohol. Broadly speaking, it can tolerate temperatures between 10 ºC and 35 ºC; higher the temperature, the quicker yeast works and reproduces itself.
But are all yeasts the same? No. Different vineyards within the same country or region have different yeasts. And which are the best? Probably there is no answer to that question as it depends on the kind of aroma and taste the winemaker prefers. Once grapes arrive to the winery, the winemaker has two options: rely on the native yeasts that have been adapted to the local terroir or add a selected yeast, that is very likely brought from another wine region, possibly in another country, and was developed in laboratory to drive the fermentation into a certain kind of flavours and tastes.
In the Douro we have two realities, depending if we are talking about Port or still wine. From what I see, I would say that most of the Port is made with native yeast. On the other hand, for the Douro wines, a generous number of producers use selected yeast. The fact that, within the same region, this is the Douro, for a kind of wine we usually use native yeast and for other seldom, is curious, but not difficult to explain. Port is a worldwide reference, it is copied, imitated and even faked in several and respected wine regions in the world. But looks like no other place but the Douro can make something as fantastic as Port. And besides grape quality and winemakers' skills developed through centuries, yeast plays a very important role. Thus, Port winemakers trust that the best yeast they can use is in the Douro vineyards.
And why using selected yeast in the still wines? It's like buying an insurance, you know that if all goes right the insurance is not necessary, but if it goes wrong, insurance guarantees you don't lose everything. In our case, as I guess you want to know, we use native yeast for all our Quevedo Ports except the Quevedo Rose. And for the Douro wines, we do sometimes buy an insurance!
In the future I think very commercial wines will continue to use selected yeast. But as yeast research develops, the number of selected yeast available will rise and more wine regions will use their own lab selected native yeast.
Is there any question about winemaking that you have been keeping for sometime and want to make now?
Oscar
Some years ago my sister came home and said do my father: "Hey dad, why don't we convert the olive grove into organic production?". My dad looked at her and replied with another question: why should we do that?". And Claudia said something like this: "if we stop using chemicals to grow  the olives it won't take us too much work, and I'm sure a lot of people would appreciate it. Moreover, more and more people are looking for organic grown food. In the end all of us want a more sustainable and less manipulated environment."
And this is when all started, back in 2006. The olives trees are located in Valongo dos Azeites, which in English means "Long Valley of the Olive Oil" – which better name could the village have?!?  Valongo dos Azeites is located 14km south from S. João da Pesqueira, where we live. This is the place where our ancestors were based, several decades ago. Few hundred meters from the olive trees, we still have the house where our great-grand parents grew up. Valongo dos Azeites is a small village, with 227 inhabitants (2011), which embodies the word olive oil in its name. I'm sure this is not random, but actually because the village has extraordinary conditions to produce golden colored with amazing taste olive oil.
In total we have 25 hectares of olive trees and most of them are over 50 years old. As there was some land with no crops planted, in the last years my father decided to plant some more young olive trees. In total we have now over 4.000 olive trees, producing around 5.000 liters of olive oil.
We are very happy with the organic project. It is true that organic production consumes more time and resources as if cultivated in a conventional way, but in the end we maintain a diversity of weeds, insects and small animals that if we used herbicides would not survive.
Here is a post I made some years ago in case you want to know more about the harvest of the organic olives. This video shows you the harvesting machine.
Let us know if you feel as excited as we do about organic olive oil and share with us what you know about the second most important culture of the Douro valley in Portugal.
Oscar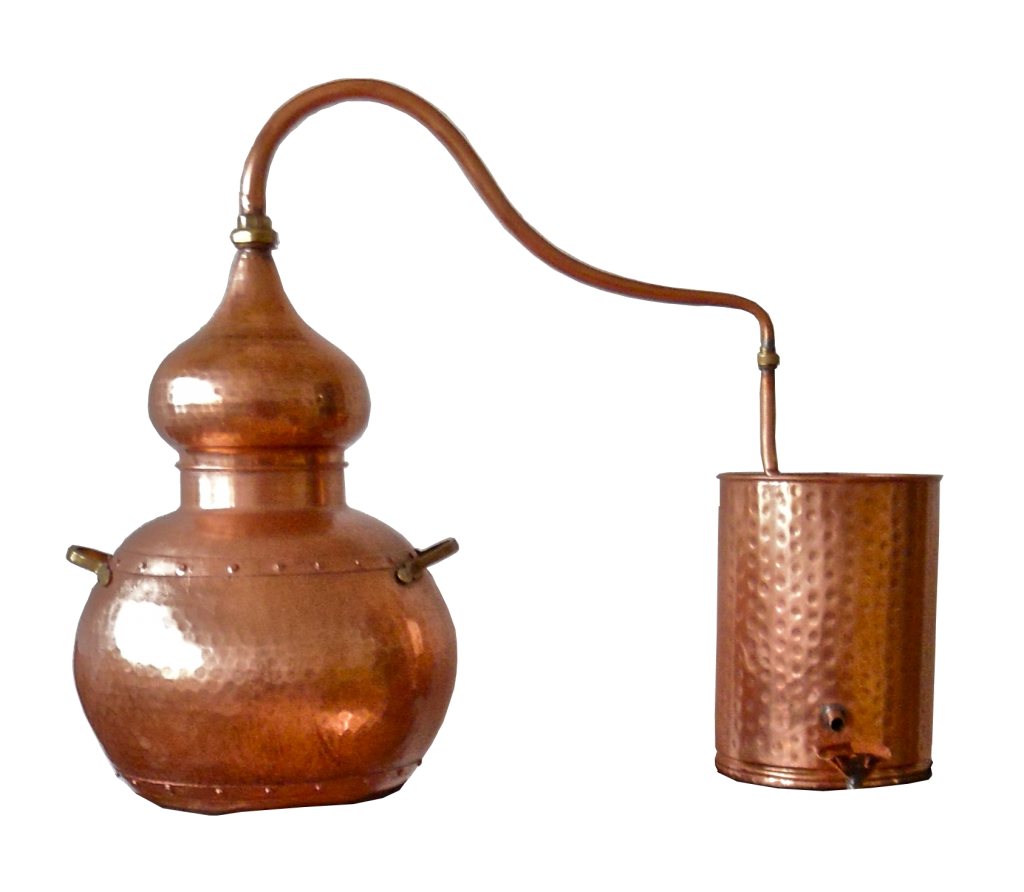 There is still some confusion on people's heads about Port winemaking. The basic details are not difficult, but when we talk about the spirit we use to fortify the must, sometimes explanations complicate what is easy simple. So very often I receive emails from people asking what wine spirit we use and how strong it is. I hope I can help you better understand this particular point about Port.
What makes Port Port when compared with the regular wine is the spirit we add during the fermentation. The first half of the fermentation, this is, the convertion of the sugar of the grape into alcohol, is similar to wine. What really changes is when half of the sugar is transformed into alcohol. At this point, for each four liters of must we add around one liter of 77% abv spirit, made from distilled wine. When this is happening, we still have around 7% of potential alcohol unfermented. And unfermented it will stay as the yeast that is eating the sugar of the must and transforming it into alcohol dies. Once the spirit is combined,  the alcohol level rises to around 19% and at this point yeast can't survive. Quick note to remind you that when we talk about sugar, we are referring to the natural sugar of the grape, known as fructose. Contritely to other wine regions with cooler temperatures and consequently lower sugar levels, in the Douro no sugar is added to the must as our grapes have plenty of sweetness and ripeness. Later, during aging in pipes or tanks, some alcohol adjustments may be necessary, but most of the time these corrections won't be higher than 1 percentage point.
Currently, some research is being conducted to check whether using stronger wine spirit to fortify the must (+90% instead of 77%) would have similar effects on Port quality. To reach spirit with 77% abv the starting level is near by 100% and then water is added to dilute the spirit. So, is this water really necessary to dilute the spirit?
Let me know your questions and comments.
Happy New Year!
Oscar