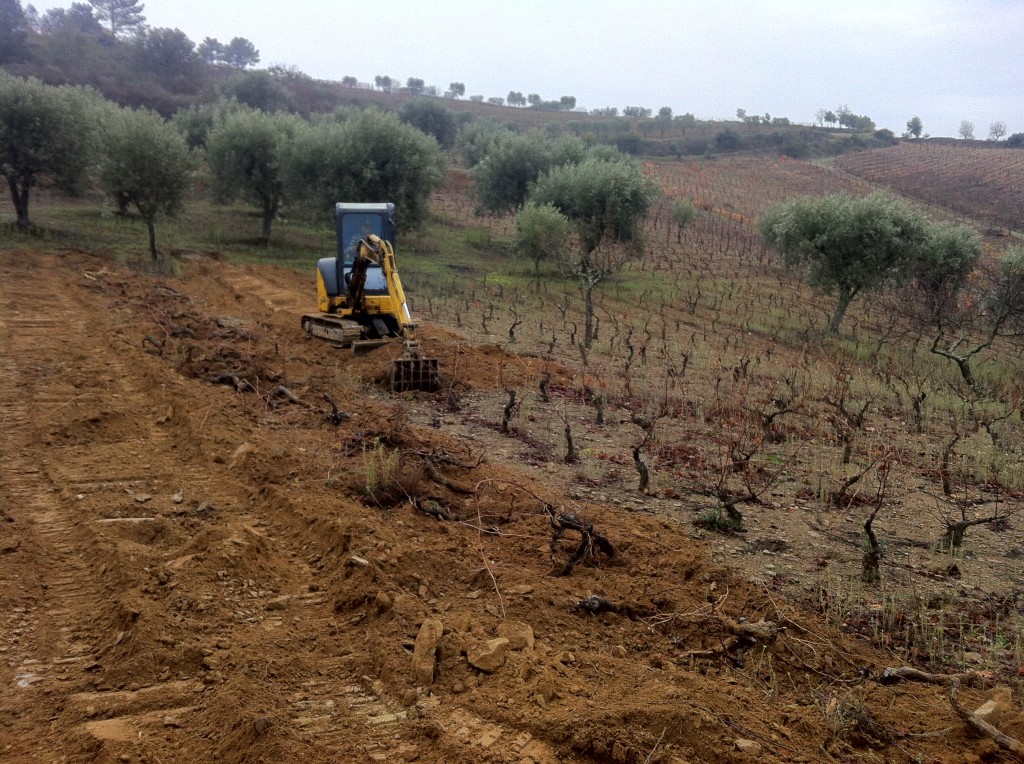 With the Christmas sale season almost over on our side, what keep us busy now is grape vine pruning and new plantings. All the orders that were scheduled to be delivered before Christmas are on the way. So it is time to look to the vineyards with more attention. These vines that you see on the photo are located at Quinta da Trovisca. This is an old vineyard, where mechanization is not possible due to the narrow space between the vine lines. Also some olive trees in the middle of the vines did not really help the tractor to move around.
After removing the stays and wires that help vine shooting to climb, we are now pulling off the old vines. After this, a big tractor will move and refresh the soil and young grafted vines of white grapes, Gouveio and Viosinho, will be planted. During the next two to three years these vines won't grow any grapes, or very little. But in five to eight years they will produce abundant quantity of grapes, keeping a high yield until they are as old as 15 – 20 years. After that yields drop and better quality grapes are produced. Because of this quality/ quantity management, we can't replant a full vineyard in one year, doing instead small fraction of the entire property, ensuring that we get a mix of vines with different ages and qualities.
Questions and comments as you know are always welcome!
Oscar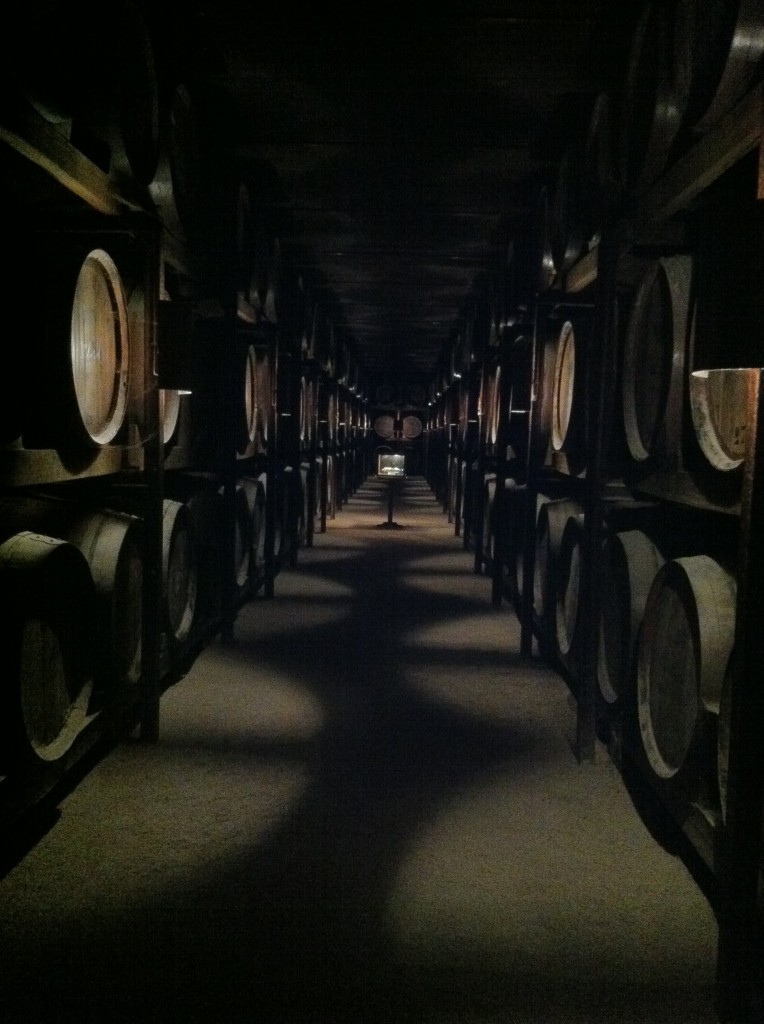 During this last week I have been actively participating at the For the Love of Port forum. I was answering questions and comments at the Guest Corner, a section of the forum that from time to time brings someone from the Port trade to share views and ideas, for a full week.
I'm very please to be invited by Roy Hersh – a leading voice in the US talking about Port – to be part of this section of the forum and I had a great time as some questions made me think and reflect about a bunch of things!
Some of the questions were related with using social media to promote our wines, others related with the last harvests we had in the Douro and about the quality of Douro and Port wines. Among others, a question included strategies to launch our wines in a country where wine consumption is just now emerging. And more.
If any of these questions grabbed your attention, open a bottle of Port and visit For the Love of Port forum.
Cheers,
Oscar
Related articles
Those producers who participated at the Portvins Festival, or Port Wine Festival, which took place in Copenhagen, Denmark, Monday last week, were certainly excited with the motivation and interest that the Danish people put on this event. The XX edition of this Festival, organized by Mr. Henrik Oldenburg, and solely dedicated to Port, counted with the participation of over 600 1200 people, among retailers, press, but mostly consumers, or better said, Port Wine lovers. In most of the tables there were not only the importers but also the producers that came from Portugal. We were together with our importer, Haller Vine.
Despite the rain, and it rained a lot for some minutes, nothing made those enthusiasts move away from the long lines outside. Neither even reduced the excitement they showed at the moment of the tasting, where most would show interest in Colheitas and Tawnies with indication of age. But also in Vintage Port. And all these people that were moving from table to table, from Port producer to Port producer, make us, Port producers, feel special. Special because they share the same love for Port we Portuguese have and the same excitement every time we are pouring something special in the glass. The fact that this event was held in the gorgeous Old Stock Exchange of Copenhagen, or Børsen, certainly helped to make it even more charming.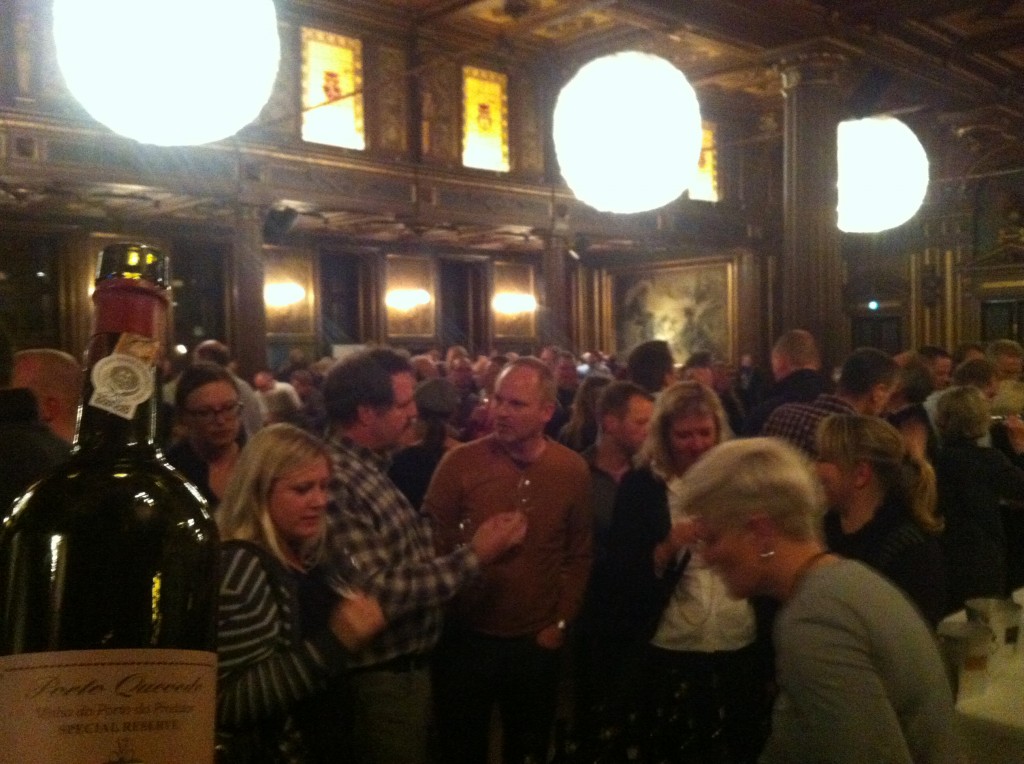 Denmark is a special market for Port, for the passion, knowledge and education that people devote to Port. But other countries could also dare to organize an event like this. And we all Port lovers would enrich with it. Devotion and knowledge is something that Port requires in generous quantities but I'm pretty sure that out there there are plenty of people spread out in many countries, ready to participate in another Port Wine Festival. And the tasting that Axel Probst from World of Port, organized in Leverkusen, Germany, on November 9th, this time dedicated to 20 Year Old, 1991 and 1992 Port, is a great example of it.
Cheers,
Oscar

Port Wine is surrounded by myths and traditions. There are plenty of them from Port production to Port consumption. One that we can still experience today in terms of Port production is the one that forbade ladies to step into the lagar to tread grapes. Old people say ladies can spoil Port if they tread the grapes. Of course I don't buy this one!
On the consumption side, there is an interesting tradition that I couldn't explain until a few months ago. This tradition invokes the Bishop of Norwich when you want to have more Port. So imagine you having dinner in a long table, your Port glass empty and the Port decanter stuck near someone that is falling asleep. Instead of asking for the decanter or for more Port, you would go for a more subtle and polite way, asking that person "Do you know the Bishop of Norwich?" And hopefully he will say "No", and then you will say "Awfully nice fellow but never passes the Port". Smart way to avoid offending people and to get the Port moving
Do you know where that tradition is coming from?It dates back to the XIX century, to the Bishop Henry Bathurst. We had the current Bishop of Norwich in person explaining it to us in the video above, recorded in July 2012 at the time of the Olympic Port Wine tasting for the celebration of the 2012 London Olympics.
Do you know other traditions related with Port? Share with us!
Oscar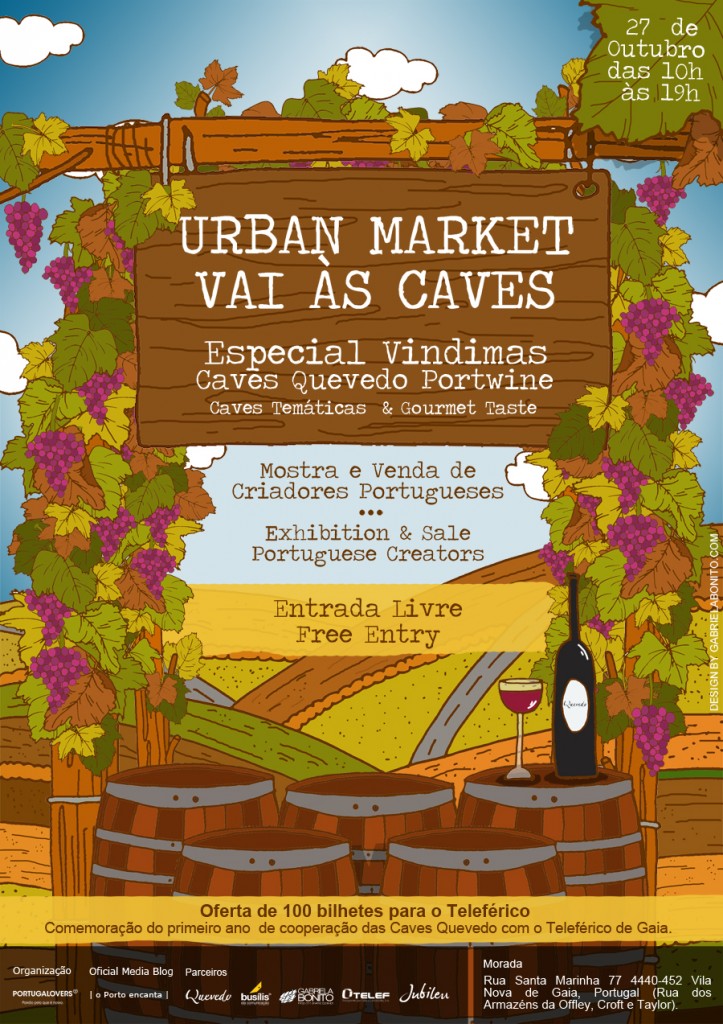 With the harvest finished, it si now time for celebration. This time I bring a suggestion for an event this weekend, October 27th from 10am to 19pm, at our tasting room in Vila Nova de Gaia. I know that most of our readers live abroad, but couldn't miss this opportunity to share something dedicated to the locals. This is another edition of Urban Market, a fair dedicated to present  products crafted by Portuguese makers.
Unfortunately, this week-end, I will not be there. This time the family takes priority. But Manuel and Ana Paula, along with Cynthia Woodcock, Filipa Moredo and Filipa Vale will be there to liven up the day.
Oscar
Now that the harvest is over, it is time to share with you one of the most amazing machines that the winemakers have now available (at a pretty high cost) to sort grapes. This new grape sorting system is working in Fundação Eugénio de Almeida, one of the most prestigious and serious wineries in Alentejo, making the remarkable Pera Manca. My sister Claudia and me visited our friend Pedro Baptista, the Head Winemaker, at the beginning of September, few days before we start collecting grapes in our vineyards.
Going through the video, you will see that the grapes come in aprox 180 kg boxes to the crushing and destemming machine. After the grapes are crashed and destemmed – and now comes the novelty – they are put on a rug that moves very fast making sure that berries is spaced. The machine will analyse all berries and if it identifies a berry that does not match the parameters defined by the winemaker, such as too green, already raisin, rot or anything else, the machine will blow a precise breath over the unaccepted berry and is taken off the of line. Impressive!
If you are travelling to Alentejo, Fundação Eugénio de Almeida is one of the wineries you can't miss. It is located few km south of downtown Évora, a beautiful and old city that you certainly want to visit.
See you soon,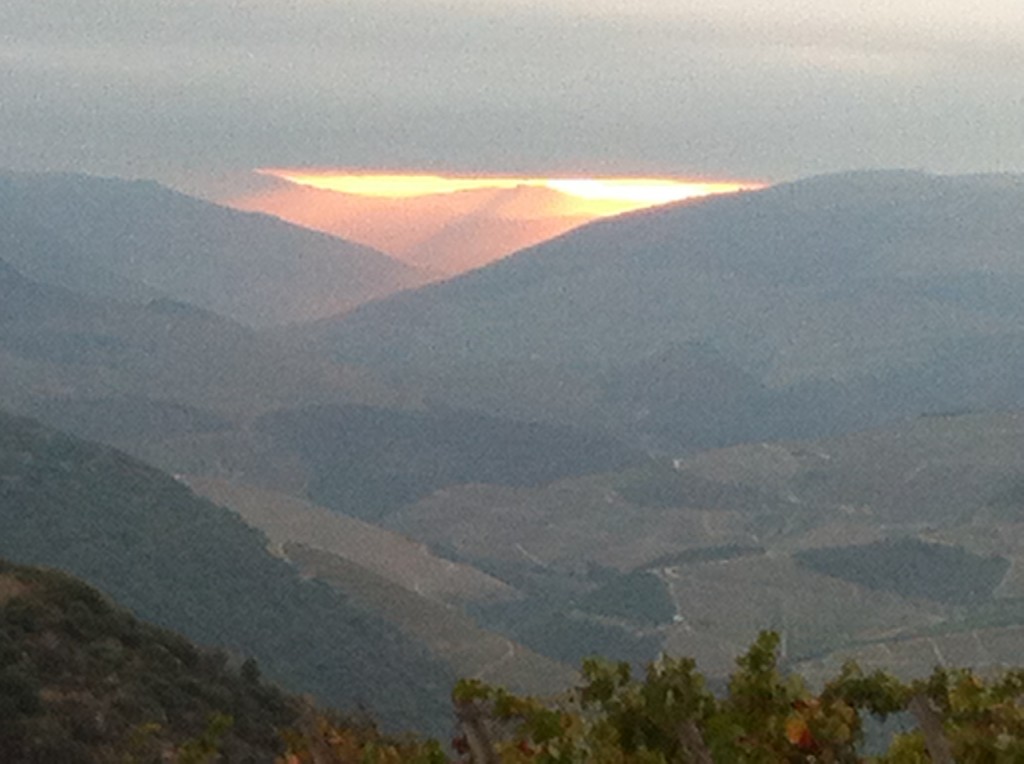 We are slowly approaching the end of the harvest in the Douro valley. After few days of rain in the end of September, the weather was pretty good, with temperatures around 20º and dry weather. Early this week, it rained again and it is just complicating our work. If the rain we got in the end of September was good for the grapes located in the higher areas, this one that came yesterday and the day before is not helping.
In the vineyards, the grapes are showing very healthy. No rot, powder mildium or any other major problem that severly reduces the quality. In terms of winery work, everything is going smoothly. Fermentations are starting easily, with no problems. As outside temperatures are not very high, it is not a big trouble to maintain the musts fermenting at the desired temperatures.
Regarding the fermenting musts and the Ports already made, as expected due to the very dry season, I'm not astounded by their complexity. Fresh and fruit driven flavors, medium colors at the beginning of the fermentation, which slowly get deeper as the skin contact increases. In terms of palate, nice and enjoyable, but  not very long lingering wines.
P.S. Thank you Daniela for helping us making the 2012 Ports!
Oscar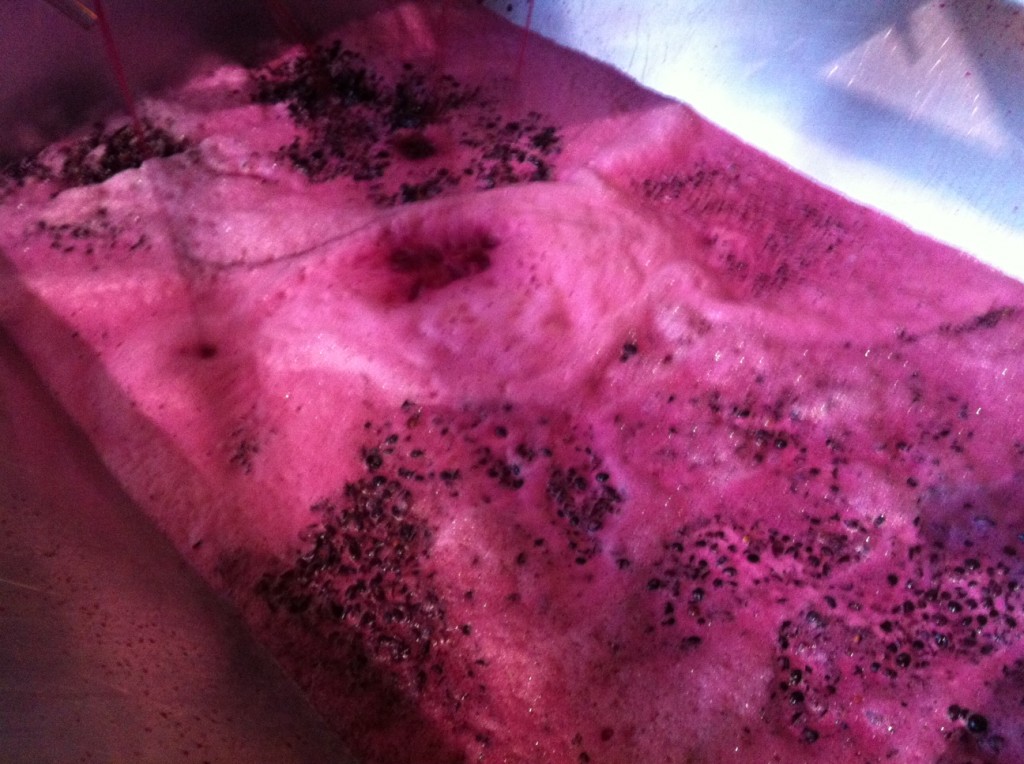 Every single month since November 2011 has had a lower record of rainfall than the long term average. And now that we started harvesting, it rains. Is this possible? The whole year has been very dry, special during Winter when we had several weeks of dry weather, with the sun shining from morning till evening. And now that we need dry weather, it rains.
Ok, I'll stop complaining. Going to tell you how was the first week. Nice colors, more extraction that normal, specially for Tinta Roriz and Touriga Nacional. Touriga Franca looks a bit late in ripeness and with lighter colors. Fermentation is going quicker than normal, which is a problem for extraction and maceration, which can in the end mean that we can't really get ful bodied wines. We began harvesting on Monday last week and it started raining on Sunday. At this time harvest is interrupted, and it might resume next Wednesday if weather forecasts dry weather from Tuesday onwards.
The photo above is of the very first Port we have made this year. It's a blend of a 25 year old vines from Quinta da Mós, in the Douro Superior and it is surprisingly good. We were not expecting such nice colors this year.
Oscar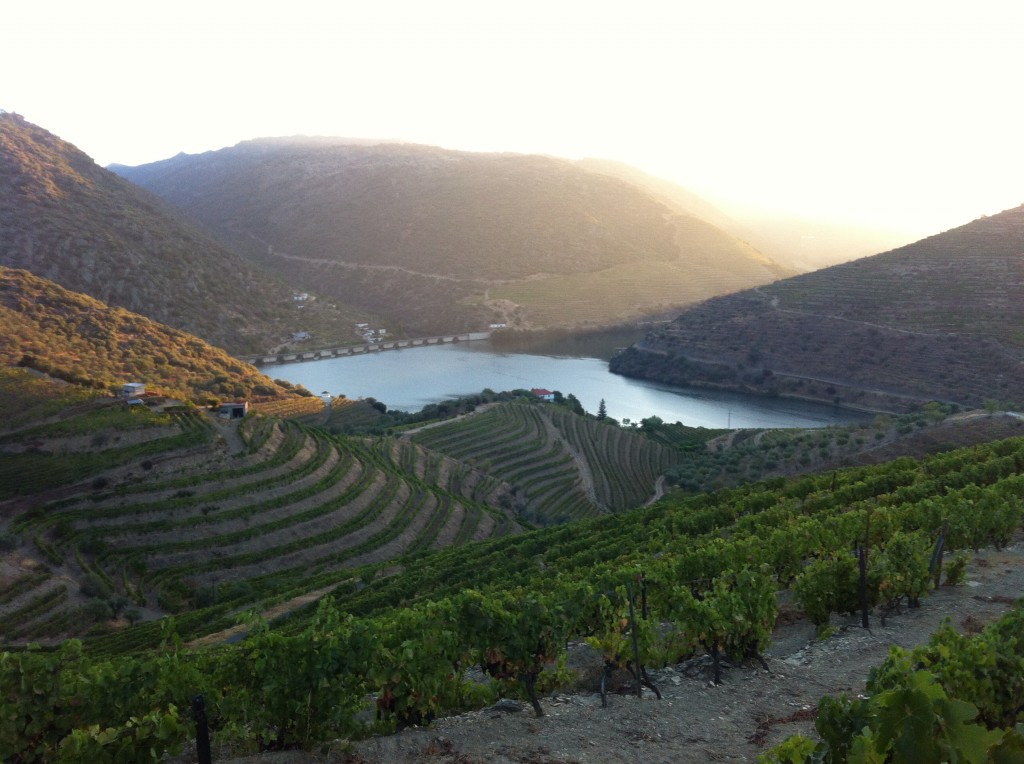 It is now "that" time of the year. The 5 or 6-week period for which we work all year long it is now about to start: the harvest. We start to feel a bit nervous, and see the pressure of our work of the previous eleven months being now tested. And everything will start tomorrow morning, September 17th. First, will come the white grapes and a few days latter we will start with the red grapes from Quinta das Mós, located in the upper Douro Superior.
How do I see this harvest? In terms of quantity, and although it is very difficult to make an accurate assessment because of each terroir's variability, I would say that is in line with the average. Regarding the quality of the harvest, it's even more difficult to determine although from the samples we've taken,  I guess it won't be neither outstanding nor horrible, for sure (unless it starts raining non-stop for the next two weeks). Maybe it will be just in line with the average, as for the volume.
The maturation is about a couple of weeks behind, as the flowering and color changing also arrived later. The phenolic maturity is a bit behind the alcohol, meaning that grapes will show a higher potential alcohol when reaching the perfect (if that exists) harvest timing. Red grapes will be harvested around 14 days later than last year, when compared with the beginning of the harvest last year. White grapes are not as late for harvesting, as we need to preserve the acidity before it fades away to quick.
Time to enjoy the last hours of free time of the next 6 weeks!
Oscar

On his first visit to our winery, in July 2012, Christopher Pfaff, a Port Wine lover from Germany who runs Passion Portwein, made a video with me explaining how to pronounce the Portuguese terms used in the Port business. They are mostly related with Port varieties and Port aging. But there are few others that you may never have heard of. Watch the video and if there is still a word or two that you don't know how to pronounce, let us know and I will tell Christopher to include it in a further video!
Take care,
Oscar