CaipiRoyal, A Port Cocktail From A Port Wine Producer – Is Cocktail The Future of Port?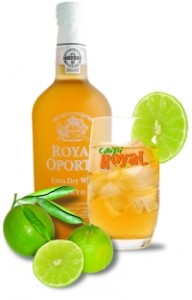 Os Produtores de Vinho do Porto continuam à procura de novas formas de vender os seu vinhos. Os departamentos de I&D parecem muito ocupados nos últimos tempos. Primeiro foi a Croft a lançar a versão Rosé de um Vinho do Porto, no início de 2008. E há duas semanas, enquanto a Quevedo estava a participar no Porto & Douro Wine Show, em Lisboa, visitei a mesa de provas da Real Companhia Velha onde se apresentava o último resultado da investigação deste produtor: a CaipiRoyal. Foi a primeira vez que ouvi falar, ainda que já esteja à venda desde o primeiro semestre deste ano. É como a versão portuguesa da Caipirinha brasileira. A empresa utiliza a marca Royal Oporto neste Vinho do Porto e sugere os seguintes ingredientes para este cocktail: Vinho do Porto branco extra seco, gelo triturado, lima, sumo de fruta como morango, ananás ou limão.
Pelo que pude ver durante o evento, foi grande afluência ao stand da Real Companhia Velha. Havia sempre pessoas a pedir uma CaipiRoyal e parece que gostavam (era gratuita). Eu também provei, e devo confessar que gostei do cocktail. Era muito doce, fresco e fácil de beber. Será que pedia esta bebida num bar? Sim, pediria!
Os países a que se destina a CaipiRoyal são Portugal e Brasil. A Real Companhia Velha tem vindo a apresentar a bebida em restaurantes e bares no Porto, Lisboa e no Algarve. Estão a concentrar-se nos países onde a caipirinha é mais conhecida, mantendo-se afastado dos tradicionais mercados de VInho do Porto, como o Reino Unido. Outro ponto curioso é que na versão inglesa da página web da Real Companhia Velha, a CaipiRoyal apenas está disponível na secção de notícias, enquanto na versão portuguesa há uma secção específica dedicada à Caipi Royal, logo disponível na página principal.
Não sei se a Quevedo alguma vez terá a sua versão de Caipirinha. Mas o que é indiscutível é que os produtores de Vinho do Porto estão a esforçar-se por captar a atenção dos consumidores mais jovens com versões suaves, fáceis de beber e cosmopolitas de Vinho do Porto.
Depois da Croft e da Real Companhia Velha, quem será o próximo?
Oscar Quevedo