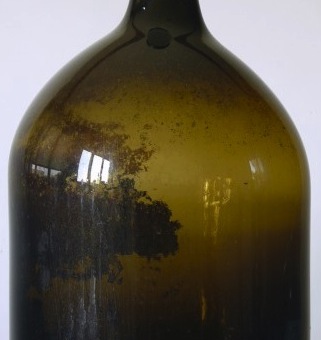 Se tivesse perguntado ao meu avô, há uns cinco anos atrás, se produzimos Porto Crusted, ele teria respondido com um "O que é isso?". Talvez seja também essa a sua reacção quando houve falar de Porto Crusted. Então vamos lá clarificar o que é que é Porto Crusted: é um vinho de elevada qualidade, sujeito a criar depósito em garrafa, que tenha sido envelhecido em garrafa durante um período mínimo de três anos, só podendo ser comercializado após este período e devendo o rótulo mencionar, para além das menção Crusted, o ano do engarrafamento.
E adivinhe lá, não é que vamos mesmo fazer um Porto Crusted! Se as minhas pesquisas não estão erradas, parece que vamos ser a primeira família portuguesa produtora de Vinho do Porto a ter um Porto Crusted. Corrija-me por favor se estiver errado. Outros produtores de Porto Crusted são: Churchill, Dow, Fonseca, Graham e Niepoort.
Planeamos fazer apenas 1.500 garrafas, a qual será uma edição muito pequena com uma grande período de espera, uma vez que depois de o engarrafarmos nas próximas semanas teremos de o deixar em garrafa durante três anos e só depois estará pronto para começar a ser vendido. Eu sei, ninguém gosta de esperar tanto tempo, mas sem estes meses de garrafa a crosta não se desenvolveria e nós não queremos um Porto Crusted sem crosta!
Oscar
If you enjoyed this post, please consider leaving a comment or subscribe to the feed and get future articles delivered to your feed reader.