What to visit, and how to travel through, the Douro Valley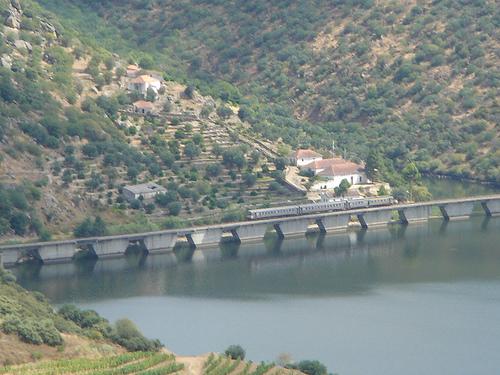 Este é um tema recorrente nos emails que recebo. Vamos tornar esta discussão pública para podermos ajudar outros que queiram vir até cá.
A maneira mais fácil e prática de se movimentar no Douro é de carro. No entanto, se não tiver carro, há ligação de comboio desde o Porto. Se tem previsto fazer uma visita de um dia, procure chegar ao Douro o mais cedo possível. O primeiro comboio parte de Porto – Campanhã às 6.35 e chega à Régua às 8.53. Há 13 ligações diárias entre as duas cidades durante a semana e 12 ao fim-de-semana.
Se está a pensar ir mais para este até ao Pinhão ou Ferradosa, o primeiro comboio do dia sai de Campanhã às 7.25, chegando ao Pinhão às 9.41 e à Ferradosa às 10.13. Para regressar ao Porto, o último comboio parte da Ferradosa às 17.55 e do Pinhão às 18.30, chegando ao Porto às 23.30. Os horários dos comboios mudam com frequência, nem sempre para melhor, por isso recomendo que dê uma vista de olhos aos horários no site da CP antes da partida.
Se viajar de comboio, o melhor mesmo é marcar com antecedência as visitas às adegas e pedir aos produtores que o venham buscar, caso tenham possibilidade. Senão, terá de apanhar um táxi porque os autocarros são pouco frequentes e raramente passam na rota que procura. De autocarro pode ir da Régua para Lamego, da Régua para o Pinhão e para S. João da Pesqueira, mas há muito poucos autocarros ao dia. Se não vier de carro, um táxi vai fazer a sua vida bem mais fácil.
Se estiver na Régua, sugiro que vá ao Museu do Douro. É um lugar muito agradável onde poderá ficar a conhecer melhor a cultura e as gentes do Douro. Passe também pela Casa do Douro, que em tempos teve um papel muito importante na regulação do sector do Vinho do Porto. A Rota do Vinho do Porto pode também ajudá-lo a encontrar adegas que o possam receber.
Mais para este está a aldeia do Pinhão. Pela sua localização, sobre o rio Douro, na foz do rio Pinhão, do qual toma o nome, está numa posição priviligiada pela natureza, rodeada de quintas. Por lá vai encontrar nomes famosos do Vinho do Porto, mas se quiser visitar alguns desses produtores, assegure-se que marca uma visita. No Pinhão, mesmo em frente à estação de comboios, encontra-se um dos mais bonitos hotéis do Douro, o Vintage House.
Se quiser ir até à Ferradosa, a qual é ainda mais para este, em direcção a Espanha, no início da sub-região do Douro Superior, também vai precisar de antecipadamente preparar a sua visita. Na Ferradosa não há edifícios ou casas, para além da pequena estação de comboios e de um restaurante sobre o Douro a 10 minutos a pé, mas é lá que vai encontrar a mais bonita paisagem do Douro. É um lugar fantástico para visitar, mas não há autocarros ou táxis e a rede de telemóvel é muito fraca. Uma vez mais vai ter de marcar o táxi e visitas com antecedência. Ferradosa é a estação de comboios que serve S. João da Pesqueira, que é a vila onde está a nossa adega e onde se encontram a maior parte das nossas vinhas. Talvez por eu ser natural daqui ache que é em S. João da Pesqueira que vai encontrar as paisagens mais bonitas. Mas é a minha opinião, bem enviesada, e sujeita a confirmação pela sua visita. Apareça e veja por si próprio!
Oscar