S. João da Pesqueira: Genuine Douro
São João da Pesqueira (which literally means Saint John of the Fishing Town) is located two hours away from Porto and 4 hours away from Madrid, in the heart of the Douro Valley (see map).
I discovered this small town 4 years ago after meeting Oscar (Jr). I am from Barcelona (Spain) so this was quite a different environment for me, but when I met this place I just felt in love. The buildings, the kindness of the people, the food, the views, the passion for wines… Everything made this place unique.
One of the most surprising things for me was to see the coexistence -in a relatively small place- of modernity and tradition. On one side I saw a lot of nice restaurants, a cute hotel and beautiful streets and buildings, and on the other side, mixed up with well-dressed tourists, you would find farmers buying fertilizers for their vineyards, these little streets packed with tiny houses that belonged to another time or the bread maker ringing the door-bells of the town to sell his bread.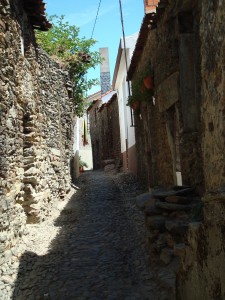 Can you see yourself answering to the doorbell in the middle of Barcelona and saying  "Yes João, two bread loafs and four rolls, please??" I couldn't, but know I feel so well when I do!
Another thing that captivated me was the food. It nearly seems ridiculous to say this but here tomatoes taste like tomatoes (100 times better than the ones we buy back at home at the grocery store), the meat -which belongs to the farmer two towns away- is so tasty and everything is natural! I am going to confess that here I discovered the real flavour of strawberries. Can you imagine? I had to wait 25 years to taste a REAL strawberry with its concentrate and strong sweetness, maybe not as perfect-shaped as the ones I've seen but incredibly delicious.
Things here happen without an announcement and it was like this that once, while we were in the Quevedo Winery, appeared Mr. Valentim (the boss of the workers of the family), dressed up in a white suit carrying a bee hive. He showed us how to collect the honey from the hives and we could even taste a piece of wax full of this amazing honey… I wish I could send a piece to each reader of this post (you would love it).
This is an Oasis in the crazy world we live in. When we come here for the weekend, after a long working week in Madrid (4 hours away), this feels like another world: no stress, no pollution, people passionate for everything they do… It is a REAL world.
I strongly recommend you to come and visit S. João da Pesqueira and feel yourselves all the sensations I tried to transmit you. It is worth it.
I send you my best regards and be happy!
Nadia Adria