As promised, here I am to share with you my last experiences about pairing Port Wine with food.
The first experience was at the bachelor party of a friend, where the best man cooked a fantastic pasta alla norma (with eggplant and tomatoes), a recipe of the well known chef Jamie Oliver. For the wine to be up to this occasion I took with me a Quevedo LBV 2003, so we could try to pair Port with the main dish. This leaves behind the common rule of drinking Port Wine only with appetizers and desserts.
I have to confess that it wasn't a pleasant experience. The pasta didn't have a flavour strong enough to contrast with the Port Wine. Quite the contrary, actually. The tomatoes give the pasta a gentle sweetness that highlights the sugar of the Port Wine. This can not be considered very pleasant when we want to enjoy a delicious pasta. Almost everyone shared this opinion, except the best man (and cooker), perhaps because of his daring, that makes him always look forward to new adventures and experiences. (The crazier the better)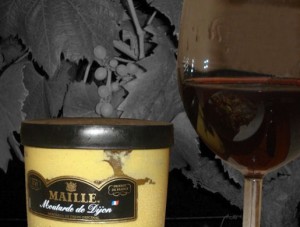 Not satisfied with the outcome, a few days latter I arranged a dinner were the objective was to defeat the preconceived idea, proven in the last dinner, that the Port Wine doesn't make a good combination with the main dish. The menu was roast pork with Dijon mustard.
Once again the setbacks appeared. The objective was to pair the roasted pork with Quevedo LBV 2003, but Oscar Jr. forgot to bring the wine, and so I was forced to open my last bottle of Quevedo Port: a Tawny. (I really need to go to São João da Pesqueira to restock my cellar; I hope I can do it within a few days when I go to the harvest.)
I can tell you that although the wine wasn't the first choice, this time the result was amazing! The marriage between the Port Wine and the roasted pork with Dijon mustard was obvious. The sweetness of Port perfectly "blended" with the spicy Dijon mustard, balancing the intensity of flavours.
So many flavours… so many things to discover.
Till next post,
Bruno Pinto
If you enjoyed this post, please consider leaving a comment or subscribe to the feed and get future articles delivered to your feed reader.