A couple of weeks ago, when I visited London, I participated in a very special tasting at Crusting Pipe, co-organized by two Brit friends I met last year in the Douro, Derek and Alex. Wine has this attractive, easily puts a group of people together to discuss and to have fun. And I enjoyed a lot while tasting some old Ports, the majority were Colheitas, which are something the British are not familiar with. In my opinion almost all the Ports we tasted performed well, some great stuff was on the table. This is the list of Colheitas:
- 1934 Dalva
- Imperial Hedges & Butler maybe from the 1930s (on the photo)
- 1965 Krohn
- 1968 Niepoort
- 1975 Quevedo
- 1994 Niepoort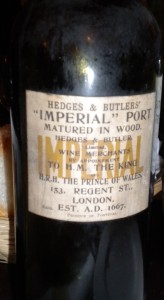 But at the end of the tasting, when I asked them to make this video and to share with us what did they learn that night, Thursday, 11th February, the answers were astonishing. They don't like Colheitas? I couldn't believe what I was hearing…. We all know that the British market prefers Ports aged in the bottle rather than aged in oak. But does that mean they have to dislike Ports aged in the wood?
All in all this was a GREAT night (which finished with a beer (because of Scottish customs…). and I also met four new friends of Port: Muriel, Ben, Chris and Jacob. What did I learn that night? Get-togethers are great opportunities to meet your friends and share some glasses of Port. And if you invite me, I'll try to go

Oscar
If you enjoyed this post, please consider leaving a comment or subscribe to the feed and get future articles delivered to your feed reader.