Temperatures and rain influence in Douro wines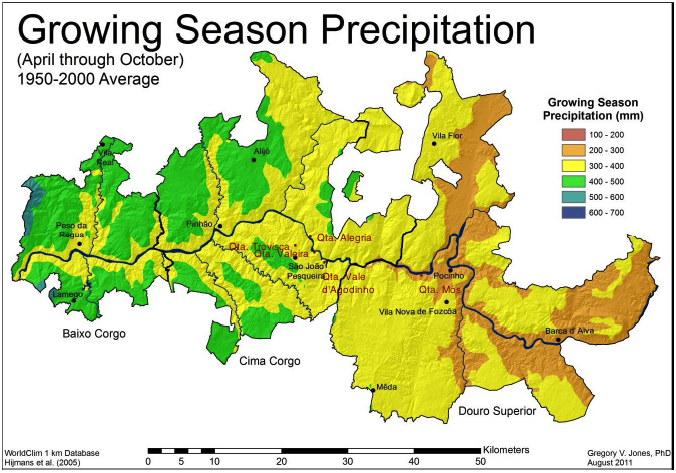 When someone asks a winemaker (one that knows where the grapes are coming from) why his wines taste a particular way, they will generally say that the wine reflects the provenience of the grapes. We all say that terroir is key to make the wines taste the way they do. The influence of the soil, age of the vines, vine training, productivity, protection from winds, vine density, sun exposure, rainfall level, and so on, all influence the quality of the grapes in various ways. But for those that know the Douro, location can sometimes be confusing. The Douro valley, extends for over 100km, 250.000 hectares, elevating from 50 to 1000 meters. As Paul Symington recently mentioned in a conference, the Douro vineyards alone is equivalent to approx. 40% of the total area of vines planted in Germany. That's a lot of vines! Not only that, but the microclimates are numerous! The location of the vineyard, its elevation, rainfall level, average temperature and sun orientation make it close to impossible to pinpoint exactly what factor influences a wine's flavor, and in the end, quality. Some weeks ago, on an ADVID seminar, I came across several maps of the Douro elaborated by Gregory Jones from South Oregon University. I put two very interesting maps from Jones in this article so we can all see how temperatures and rain influence the different locations of the Douro. There are a couple of things we can conclude:
– as the elevation rises, temperatures drop and average rainfall level goes up
– temperatures rise and rain drops as we move away from the coast, this is, as we move West to East;
Now the question is, how can you feel these changes in temperature and rainfall in the wine? I might suggest the following:
– the closer to the basin of the Douro, and farther East the vineyard is, the more concentration and well ripened flavors you'll find in the wine – not to mention, more tannins and longer aging potential.
– the higher elevation, you'll find greater freshness, elegance and lighter wines, which are ready to drink young.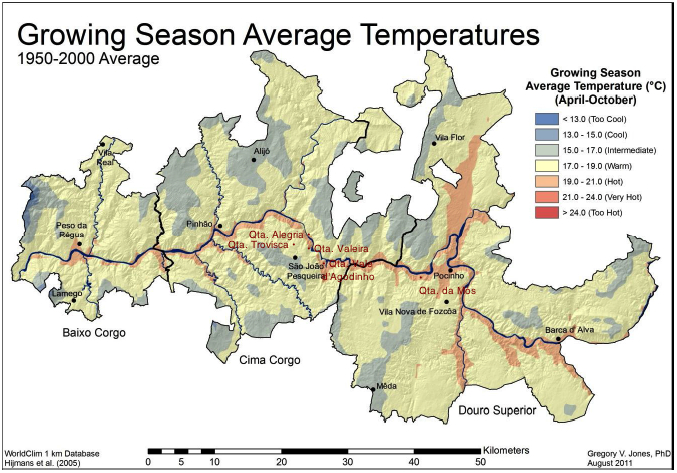 But maybe I'm crazy? Just maybe you've found a wine that doesn't follow this pattern at all? If so, share it with us! Let us know if you disagree with something I wrote or disagree entirely. We all learn from discussions, so never be shy to ask the winemaker where the grapes are coming from. It's the best way to understand the wines you drink.
Oscar