6 Things You Don't Know About Oscar Quevedo
I was recently tagged in an internet meme from Catavino, in which I had to write 6 things people would not know about me. I used to receive email memes in which someone would tell me that if I forwarded the message to some of my contacts I would receive a postcard, a call from a forgotten friend or something special. I usually delete these emails but as this post meme comes from Gabriella and Ryan Opaz and I do not want to break the chain, so I decided to follow the game. Moreover, I am eager to tag 6 more people to continue this meme!!
Lost in the Beach – Speaking German?
My parents use to go to the south of Portugal, to Algarve, during the summer for a two-week vacation on the beach. I was 2 years old and while I was playing in the sand with another fellow of my age, our huge castle of sand needed more water so I got up, took the bucket and went to the water. Then, after grabbing some water, in my way back to the "castle" I missed the track.. I was lost. My parents started to look for me immediately, each one to a different direction of the beach. They walked and walked but nothing. Each of them thought the other had found me and therefore they went back to the "castle". Well, none of them found me. Several minutes later, a tall, strong and blond German (blond like me!!) had a kid on his shoulder, walking in the beach and waiting for someone to claim for the castle builder, I mean, me!!
My granddad is 93!!
Yes, and I am very proud of him. He goes to the vineyards and to the winery every day; still coordinating the employees; demanding and always active, my Avô Joao loves to drink a glass of Port after lunch (though the doctor – my mum – had forbade it to him some years ago due to a heart attack)!!
Farming my own vegetable garden
I've always been very close to the nature and to the land. One day, when I was 14 years old, I visited the vegetable garden of one of our employees, Sr. João. His garden was full of tomatoes, peppers, cucumbers, onions, lettuces and much much more. I saw it so beautiful that when I got home I said to my parents that I wanted to grow a vegetable garden. I imagined it in the back of our house, where I used to play soccer with my friends. I asked one of the employees to come with a tractor to work the land, and Sr. Joao helped me to plant the vegetables and taught me how to irrigate them correctly. Well, very busy but wonderful time. Ah, how did I get revenues to compensate the initial investment (tractor, Sr. João's work, seeds, water pump, etc)? I made an agreement with my mum and she would buy me all the vegetables she needd for the kitchen!! And at the end of the campaign I had some more money in my pocket!
Wine & Finance
I do not know if wine and finance combine; do winemakers get good returns for their investments? And do investors know to differentiate good and bad wine? Well, I love wine and I love finance. I started my career in Asset Management and then Private Banking and I loved it. What you probably do not know is that i was 13 when I first invested my money in the equities. At that time I had to go to a bank desk to give the buy and sell orders.
Soccer with broken foot
I love to play soccer and I am unconditional fan of FC Porto. During three years I played as a goal-keeper in the young team of my village. Before that, I used to play in a square, in front of my grandparents house, with all my colleagues from school. One day, when I was playing with my cousins and sister, I broke my left foot. As expected, my mama forbade me to play soccer. But one day I couldn't resit it and after school I joined my team!! I do not remember if my team won but I think my mum does not know about this!!!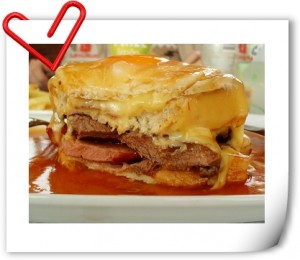 I love Francesinha
Francesinha is a typical dish from Porto. It is made with pan loaf, cheese, meet, sausage, ham and at the top a delicious sauce, almost secret! I eat it every single time I visit Porto! And to find the best places I ask my friend Jose Luis, he always guides me!
Who will I tag:
Blog de Laranja – André Ribeirinho, who runs this blog, is also co founder of adegga, a social wine discover. As an entrepreneur by himself he must have some nice stories worth to know.
For the love of Port – In a blog of a Port wine producer we must tag someone who loves Port as much as we do. I would love to hear from one of the leading Port Wine authorities, Roy Hersh.
The Wine Sleuth – Denise Medrano, an American wine lover living in London, told me she loved Warre's Optima 10 Years Old Tawny, a Port from the Symington family. Lets hear more from her!
Copo de 3 – I have recently met Joao Pedro in a wine tasting. But we almost had no time to talk. It is time to hear some more from him!
Wine Conversation – This active and energetic blogger, fan of Rioja wines and always trying to promote the wine, is someone I would like to know much better. Do you want to start Robert McIntosh?
Wijnkronieken – Is a Dutch wine blog ran by Mariëlla and Nico. They use to write in Dutch so I have to use a translator program to read their posts. I hope this time they wright in English!!
Until my next post,
Oscar Quevedo