A weekend walking along the Douro railway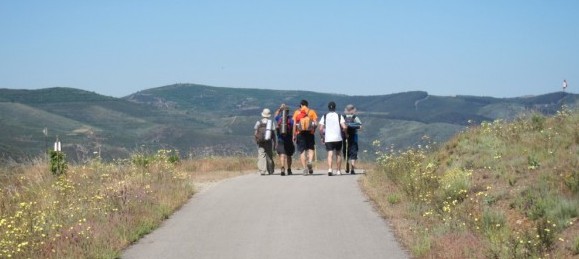 An ambitious project of the end of the XIX century, with the aim of connecting the northeast of Portugal to the Spanish city of Salamanca, inspired the kings of both countries to work together in a railroad endeavour. On the Portuguese side, the railroad was built along the Douro river while on the Spanish side it was constructed along Agueda river – a tributary to the Douro coming from the south. With this construction, the Portuguese connected the city of Porto to the village of Barca d'Alva, located in the northeast of the country, right on the border with Spain.
Many years later, in 1985, as a result of massive emigration, urban migration or bad demand projection, the Spanish side stopped the train connections to the Portuguese border. Three years later, in 1988 the Portuguese Prime Minister Mário Soares took a similar decision and canceled the connection to Barca d'Alva. The last train stop from Porto was now Pocinho, located 19km northwest of Barca d'Alva. Since then, between Barca d'Alva and Pocinho lies a dead railroad, almost eaten by the nature. But on this narrow path you can enjoy breathtaking landscapes of the Douro valley. There, you feel an outsider, totally out of place. Despite the very dry and arid weather conditions, locals insist in getting something from the land, and plant olive trees, vines, almond trees and sometimes citric trees along the river. These natives never give up!
Few months ago my friend and former blogger here, Pedro, challenged his friends to walk from Freixo de Espada à Cinta to Pocinho in two days. And that is what we did last weekend. First day, on Saturday, we walked from the beautiful, old and generous town of Freixo de Espada à Cinta to Barca d'Alva. Once in Barca d'Alva and after a refreshing dive in the Douro river and a beer at Chico's Bar, we followed the old and inactive railroad and walked a couple of km further west. At 7.30pm, after walking for 10 hours, we found an abandoned house next to the railroad and made it our base for that night.
On the next morning, after sleeping for 7 hours outside under an intense and cool moonlight, and without any incident, we continued to walk along the old railroad towards Pocinho. We got there by 4.30pm, very tired, but on time to catch the train to Porto. On our way to Pocinho we crossed several vineyards, among them Quinta da Granja (Ferreira), a new plantation and hotel of Quinta do Vallado, Quinta da Cabreira (to Quinta do Crasto) and Quinta de Castelo Melhor (Duorum). In total we walked over 50 km, many hours with temperatures above 30ºC. We figured out how hard and boring is to walk along the railroad – stones – railway s – stones – wood stave – stones…. But with good friends and an unforgettable view this marathon is well worth. It was a weekend to remember, and certainly to share with you as this is among the most extraordinary adventures I have ever done.
Oscar