Birthday Gifts: This Year, A Book; The Helicopter Will Come Next
I received a book today, two weeks after my birthday. I could say it is gorgeous, but exact word may be tasty, or something that tastes so good that one wants to save it for somo special occasion. As I don't know when will that occasion come, I didn't resist nor felt sorry: I opened the book and made the occasion!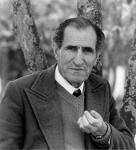 The book's title is "Diário Douro" ["Douro Diary"] and is made of Miguel Torga's words [Miguel Torga is my favourite writer, born in and passionate for the Douro valley], words that speak about the Douro's people, genuine and good people that made the Douro that Torga loved and we like a lot. And between the words, amazing black-and-white photographs.
To be honest, as the helicopter that I dream about every time I go there, this book took me to Pesqueira without the usual car-sickness. By the way, an advice: enjoy the river by train or boat and feel the rythm the taste the perfume of that landscape of stone made wine. Jump at Ferradosa's train station, close to Quinta Vale D'Agodinho, and there may be a Quevedo passing by to pick you up. Call them!
Next week I wiil write about the organic and biological trend, whuch seams to have arrived to Quevedo. I'm glad it has.
See you. A hug, Pedro