CaipiRoyal, A Port Cocktail From A Port Wine Producer – Is Cocktail The Future of Port?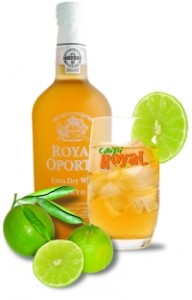 In recent years, Port Wine producers have been finding new and ingenious ways to sell their wines, keeping the R&D departments on their toes. First, Croft launched their Pink version of a Port Wine in the beginning of 2008. Two weeks ago, while Quevedo was participating in the Porto & Douro Wine Show, in Lisbon, I visited the Real Companhia Velha presenting their latest innovation: the CaipiRoyal. It was the first time I had heard of the CaipiRoyal, though it had been in the market for approximately a year now. Marketed as the Portuguese version of the Brazilian Caipirinha and branding it as Royal Oporto, the company suggests the following ingredients to create this cocktail: extra dry white port, crushed ice, lime and fruit juice such as strawberry, pineapple or lemon.
Not suprisingly, their stand was continually full of people milling with curious stares and outreached hands. And upon first taste of the free CaipiRoyal, satisfied grins left the table sharing their discovery with others. Consequently, I had to try it, and I must confess, I liked it. It is very sweet, easy to drink and fresh. Would I drink it in a bar? Yes, I would!
Portugal and Brazil are CaipiRoyal's main target markets. Real Companhia Velha has been presenting the cocktail in several restaurants/bars in Porto, Lisbon and in Algarve; focusing on countries where the original caipirinha is best known, while keeping away from more traditional Port Wine markets like United Kingdom. Indeed, in the English version of the web page, information on the CaipiRoyal can just be found in the news section, while in the Portuguese version there is a tab listed on the main page titled Caipi Royal.
I do not know if Quevedo will ever have its own version of Caipirinha. But what is indisputable is that Port producers are struggling hard to get the attention of younger consumers with lighter, easy-drinking and trendy versions of Port.
After Croft and Real Companhia Velha, who will be the next?
Oscar Quevedo