Construction of the future Tua dam in the Douro valley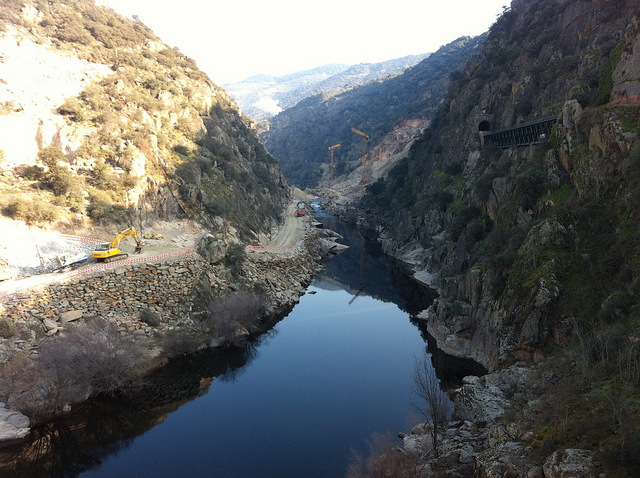 Humans have always used nature to take advantage for their own interests. For many centuries that the Douro river was used for Port Wine transport, from the area we know as Douro valley to Vila Nova de Gaia, where Port would then be shipped for exports. The boat people used was the rabelo. With the arrival of the railroad first and better roads latter, the boat stop being used for transport of wine to be used for touristic purposes. There was another thing created by humans that changed the landscape of the Douro valley as well as all the path of the Douro to the mouth on the Atlantic Ocean. Although these new constructions made the journey safer, reducing the risk of sinking, they created concrete barriers not only to the water but also the boats. We are talking about the five dams that were constructed 36 years ago, three of each are in the Douro valley vine growing area.
Besides domesticating the Douro river, the dams generate energy. A lot of energy that makes the region grow, reducing the Portuguese dependence on imported power sources. But they also changed the landscape for ever. I did not seethe Douro valley before the construction of the dams but I can imagine it was not that much bigger than a little stream, as we can still see it today in one of the best wine regions of Spain, Ribera del Duero.
This was about 36 years ago, but now more dams are being planned for the Douro valley. There one in the Côa river that would submerge most of the cave painting of the area, as well as a considerable extension of vineyards, olive and almond yards, including Quinta de Ervamoira, property of A. Ramos Pinto. No one knows whether this in Côa is going to be constructed. But another one, in Tua river, at 1,1km from the Douro river, is being expected to start generating energy in 2014. EDP, the Portuguese virtual monopolistic energy production and distribution company is once again, was it was almost four decades ago, the winner of the contract.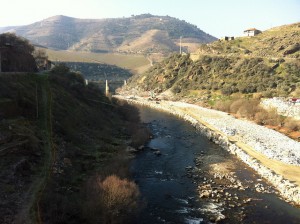 Some people are against the project, saying that this way the Alto Douro Wine Region UNESCO's Heritage Center is being modified by planting a huge mass of concrete. I don't welcome the dam, but it will bring some development to an area that needed investment and which was missing population every year. It will bring tourist to the banks of the Tua river as well as few restaurants and hotels that so far were not seen.
As you can see in the picture on the top, works are going quickly as nothing stops man's wishes to take advantage of nature.
Oscar