Harvest 2015: first maturity control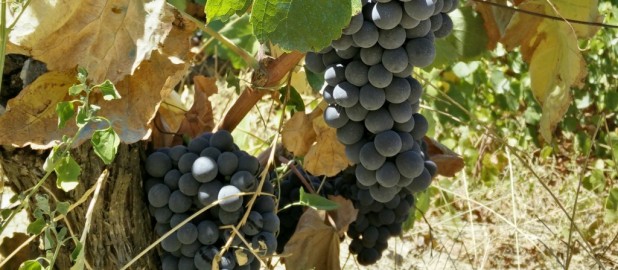 With more than half Summer gone it is time to go to the vineyards to do the first analysis of the maturity of the grapes. As always, we start these controls on the 10th of August at Quinta Vale d'Agodinho.
Before we turned on the engine of the pick up truck that drove us to the fields, we knew that this year at the 10th of August we would find grapes with higher content of sugar than any of the previous years. Despite the cold and wet Winter, Spring arrived earlier and brought plenty of warm weather. And that means that vines started the new production cycle a few days before its normal timing. March's bud break happened before and since then green shooting and new grapes growth has been consistent, as there was no cold temperatures to slow down the cycle.
The results for the pollen counting that took place during flowering showed higher than average production. We were expecting about 20% more of grapes to be harvested from our vineyards. However, the very dry Spring and Summer dropped this forecast because, due to the lack of water in the soil, berries are not as big as in other years. They are actually, quite small. So, this harvest we may have more berries but they are certainly smaller resulting in what we expect to be a similar vintage to the average in terms of quantity.
In terms of quality, things are showing very good. There are no deceases, berries are small which will bring concentration and tannins. In terms of colour, the pigmentation is still low, so we will need to wait several days to see how easily the skin will release the colour to the wine, and this is a critical point to achieve the best quality – Vintage Year – in 2015.
In terms of acidity, the cold nights have been helping to keep the figures at acceptable levels, freshness of the grapes has not been affected by the hot weather.
We don't know yet when start the harvest. But by looking at the sugar level and day we started in the previous year, we can say that it shall be in early September:
2007 10.49%, September 19th
2009 11.86%, September 14th
2010 10.05%, September 18th
2011 12.07%, September 12th
2012 9.13%, September 28th
2013 10.9%, September 23rd
2014 11.2%, September 8th
2015 12.38%, ?
This being said, when we returned home after the visit to Quinta Vale d'Agodinho there were shy smiles on our faces. The picture is quite fine, but we still have in mind that the odds of the two previous harvests were changed during the harvest by several days of intense rain. And this year it can happen the same. But if it doesn't, then start finding some room in your cellar, you will want to stock up on this vintage's Port!
Oscar