Heat wave burns sun facing grape berries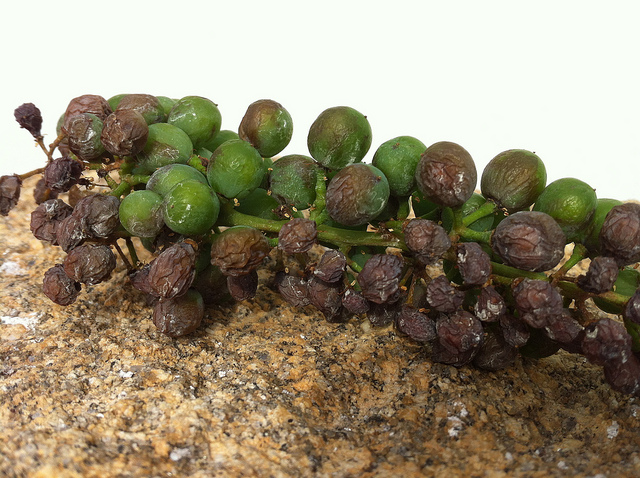 In the aftermath of a three-day heat wave at the beginning of this week, the balance is not favorable to the grapes. The hottest period was between Monday 25th and Thursday 28th with temperatures rising up to 48ºC at noon, with overnight temperatures not dropping under 25ºC. In certain parts of the Douro valley, such as in the Douro Superior, but not only, sunshine was so strong that burned the sun facing grape berries. If at least they had some leaves protecting them… The effect was enhanced in those vineyards which had been recently sprayed with a sulphur based liquid for powdery mildew treatment.
The photo shows some of the berries green, those which did not face directly to the sun, while others are dry. Those dry/ burned ones will never recover and will look like that until harvest. This will mean extra work on the grape sorting table to remove the dry berries which will only give a dry taste to the wine.
The heat wave is over. Maybe this was only a warning sign that Summer was beginning and that anything can be expected in the Douro. Temperatures are now much lower, with thermometers showing 12º at 8.30am and forecasting a higher of 25º later today.
Take care,
Oscar