High temperatures and a big Storm visit the Douro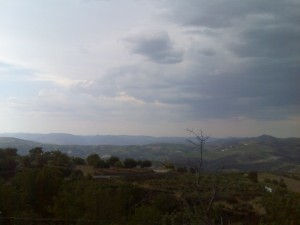 Yesterday afternoon it was really hard for me to drive away from the Douro. All day with very high temperatures well over 90º F (32º C), the vines green and beautiful, probably also suffering a little bit. It was too hot even for such a hardy plant. I had to drive from the Douro to Madrid and such a heat is all but what you want.
Suddenly some dark gray clouds started to come over from the east, while the west side of the sky was blue and clean. The sky was so beautiful, it seemed like S. João da Pesqueira was dividing the territory of the happy and the furious God, the blue and the gray sky.
This picture was taken with my cellphone few minutes before a big storm got dark S. João da Pesqueira. I was in the south border of the Douro Wine Region, in Valongo dos Azeites, 15 miles away from home but already missing it. As I love rain, I would have loved to walk in the rain through the vineyards…
This storm dropped the temperatures for some hours and did not cause major damage in the vines. No hail reported. At that time, and following-up on the early week post, our major vineyard Quinta Vale d'Agodinho was already treated against mildew and oidium. We are continuing the treatments in the other vineyards.
I hope not to be far away when the next storm visits the Douro!
Oscar