What to visit, and how to travel through, the Douro Valley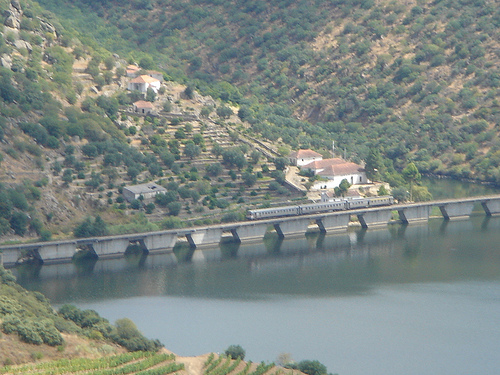 This is a question that some of our readers ask me, and instead of replying on an email, I will make my suggestions here.
If you only have one day to visit the region, make sure you go to the Douro as early as possible. A car will help you moving around,  because one of the things that is hard to find in the Douro is public transportation. However, there is a train line that connects the Douro and Porto. The first train from Porto – Campanhã to Régua leaves Porto at 6.35am and gets to Régua at 8.52am. In total, you have 13 daily connections between Porto and Régua during a week-day and 12 on the weekend.
If you plan to go further east to Pinhão or Ferradosa, the first train from Porto is at 7.25am, arriving in Pinhão at 9.41am and in Ferradosa at 10.13am. To go back to Porto from Ferradosa, the last train is at 5.55pm and from Pinhão at 6.30pm, arriving in Porto Campanhã at 11.10pm. Trains' timetables change often, not always for better, so please check CP – Comboios de Portugal site before starting your journey.
If you are traveling by train, you better schedule visits to wineries in advance and ask winemakers to pick you up, if they can. Otherwise, you will have to take a taxi. By bus, you can go from Régua to Lamego, from Régua to Pinhão and to S. João da Pesqueira, but there are very few buses that run everyday.
If you are in Régua, you must go to the Douro Museum. It is a very nice place where you can better understand the history of the region and its people. Take a look as well at the Casa do Douro building, which was once a very important organization in the regulation of Port Wine industry. Rota do Vinho do Porto may help you find wineries that are open to receive you.
Further East there is the small village of Pinhão. Due to its location, on the north bank of the Douro river, at the mouth of the Pinhão river, it has a very beautiful landscape, with plenty of Quintas to visit. You will find several famous wineries, but don't forget to contact those you want to visit in advance to ensure that they're ready to receive you. In Pinhão, right in front of the train station, you will find one of the nicest hotels in the Douro, The Vintage House.
If going to Ferradosa, located slightly farther east and nestled at the beginning of the sub-region of Douro Superior, you will also need to schedule your trip in advance. In Ferradosa there is no buildings or houses, but a very small train station, a nice restaurant located 10 minutes from the station and the most beautiful landscape in the Douro valley. It is a great place to see, but there are no taxis or buses at the station, and public transportation is poor to say the least. Again, call taxi or wineries prior to your visit so that they may pick you up. Ferradosa train station serves S. João da Pesqueira, the town where our winery and the most of our vineyards are located. Maybe because I'm from here, I consider this area to be one of the most stunning views in the Douro. That being said, you're always invited to come check it out yourself!
There are plenty of other places you can visit, such as: São Salvador do Mundo, São Leonardo da Galafura or the city of Lamego, but to avoid making this post too large, leave your comments and I will try to help you organizing your trip to the Douro valley.
Oscar