IVDP – How to approve Vintage Port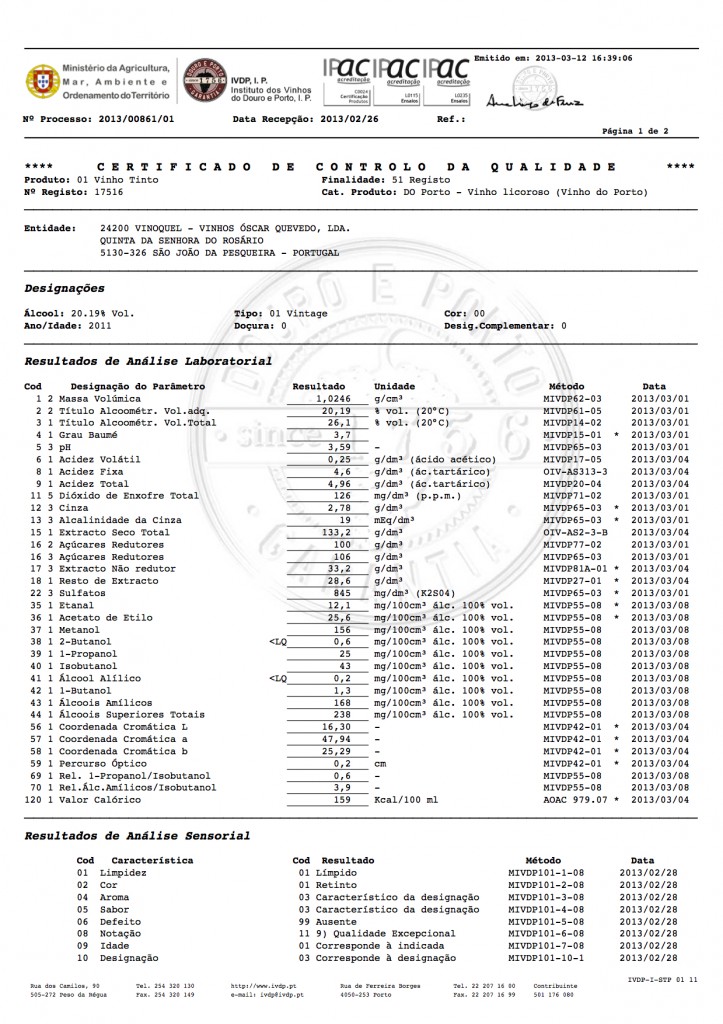 On the previous two blog posts, we had talked about 2011 Quevedo Vintage declaration and what exactly means a Vintage declaration – or the lack of this meaning. On this third and last post of this serie about Vintage Port, I thought it was worth to talk about how is the process to get the Vintage Port approved by the IVDP – Port Wine Institute.
As you may know, the IVDP controls and approves all the Port Wine on the market. Every time we want to bottle a new batch of Port, being Rose, Tawny or anything else, we have to submit samples and wait for the IVDP to blind taste these samples and perform laboratory analysis. If all is okay, then we are allowed to bottle the blend we have submitted.
Well, for Vintage Port, the IVDP applies additional controls, as this is not less than the most important Port category. Between January and June of the second year after the harvest, producers can submit samples of their Vintage Ports blends. The IVDP will then blind taste and do chemical analysis. If the tasting profile matches the high standards for Vintage Port and if all is okay on the laboratory, IVDP will approve the batch for bottling. But it does not end here. Before the bottling, the producer has to inform the IVDP about the day(s) of bottling. Knowing that, the IVDP controllers will come to the winery and will count the number of bottles, in all formats, that were bottled and will collect 5 samples of the batch the producer is bottling. With these samples, IVDP will check if the Port the producer submitted for approval is the same as the Port the producer bottled. Also, knowing the exact number of bottles, will only allow sales of this stock, meaning, no miracles of multiplication! Then, a last simpler step need to be taken, which is to approve the label and back label with all the mandatory information. But, in this case, there is no difference for other styles of Port.
From the first moment we submit the samples, in February 26th, until the moment we have Vintage Port ready for shipping it can easily pass 3 or 4 months. The image you see on the screen is a copy of the first page of the laboratory analysis of our 2011 Vintage Port, approved in March 11th, 2013. Full version here of the document here. This is As curiosity, all the inventory we bottled of 2011 Vintage Port is:
529 of 375ml bottles
3,016 of 750ml bottles
48 of 1.5L bottles
60 of 6L bottles
Let us know your comments, if you have some.
Oscar
Related articles