Menu For Hope 2008: Port Wine Starter Kit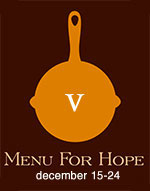 Christmas is just around the corner and at this time of the year we are more susceptible to charity and to help those who need. Thus, Quevedo decided to participate in the 5th Annual Menu for Hope campaign. Coordinated by top food and wine bloggers around the world, Menu for Hope charity raffle wants to help to feed school children in Lesotho. Last year this campaign raised over $90,000.
How does it works? Bloggers or those who want, create prizes and announce it in their blogs and also list in the organizers site, such as Vinography; those who want can buy virtual tickets to spend in specific prizes; in the end will be done a big drawing, some of those who buy the riffles wine the prizes and receive it at their homes while the money is sent to the farming community children in Lesotho get nutritious school lunches.
The prize that Quevedo will create is a Port Wine Starter Kit. Specially and exclusively conceived for the 5th edition of the Menu for Hope, this kit truly wants to mark your first contact with Quevedo Port Wine. And we will not get upset if you use it with other Port Wine bottles not from Quevedo! Not at all, you just have to enjoy it! This prize has the code WB17 and is composed by:

– Port Wine Tongs
– Port Wine Filter
– Port Wine Decanter
– 2 Official Port Wine Tasting Glasses
– Dark Chocolate

– since we can have some difficulties in shipping wine, but as we want you to unveil this kit with a bottle of Quevedo Port, we decided to included a coupon that is worth a bottle of our 2005 Vintage that you can change by in closest wine shop with our wine available;
Donation Instructions:
1. Choose a prize or prizes of your choice from the Menu for Hope at Vinography.
2. Go to the donation site at http://www.firstgiving.com/menuforhope5 and make a donation.
3. Each $10 you donate will give you one raffle ticket toward a prize of your choice. Please specify which prize you'd like in the 'Personal Message' section in the donation form when confirming your donation. You must write-in how many tickets per prize, and please use the prize code.
For example, a donation of $50 can be 2 tickets for WB01 and 3 tickets for WB02. Please write 2xEU01, 3xEU02. Our Port Wine Starter Kit has the code WB17.
4. If your company matches your charity donation, please check the box and fill in the information so we could claim the corporate match.
5. Please allow us to see your email address so that we could contact you in case you win.  Your email address will not be shared with anyone.
Good luck!
Oscar Quevedo