Old saying "April Showers" is almost valid for 2012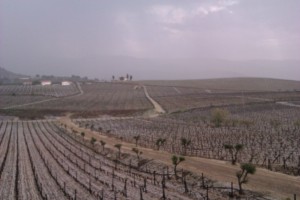 Quick update about the weather situation in the Douro. After a long period of sunshine and clear sky, clouds came back to the desperate-for-water Douro valley and gave us some relief. The situation looks a bit better now, with April presenting 2/3 long-term average levels of rainfall. The big question still remains: will rain continue to fall catching-up on the very dry Winter or will this be a 1/3 average rain year. Hopefully it continues to rain for few more weeks but as soon as flowering starts we better have dry weather in order to increase the number of fertilized flowers, which later will be grape berries. Heavy winds and rain are not welcome at the time of pollination, or the potential crop will be largely reduced. Then, in June, we will get into deceases period, which will be better avoided with dry weather.
So the best case scenario would be a two or three week period of rain to help increase the level of water in the soil followed by a period of dry weather. These are just wishes and sometimes they are accomplished, but not  always.
Oscar