2010 Harvest: the big show must start in a couple of weeks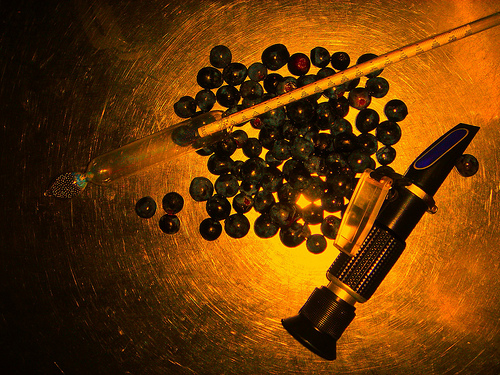 Aqui fica uma pequena nota escrita na Dinamarca sobre como vão as coisas nas vinhas. Ontem fizemos mais um teste de maturação na Quinta das Olgas, Mós, no centro do Douro Superior, tendo o resultado revelado um álcool médio potencial de 12,5%. Parece que a maturação das uvas está ligeiramente atrasada em relação à média dos últimos anos, mas a evoluir mais rápido do que previsto. Prevemos o inicio da vindima para o principio de Setembro, por volta do dia 6. Assim sendo, pode já começar a fazer a mala e vir até ao Douro ajudar-nos naquela que é a tarefa mais importante e empolgante do ano. Vai ser divertido!
Já agora, será que alguém pode mandar alguma chuvinha até ao Douro? As videiras iam agradecer e nós também!
Oscar