And The Winner of a Port Wine Kit – Menu For Hope 2008 is…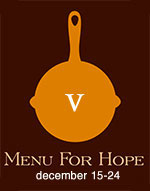 Já há um nome para o vencedor do Kit de Vinho do Porto que preparámos para o sorteio do Menu for Hope 2008: Maria Schellpfeffer. Sim, esta californiana receberá em breve umas Tenazes para Vinho do Porto, 2 Copos oficiais de Vinho do Porto, 1 Decanter para Vinho do Porto, 1 Filtro para Vinho do Porto, Chocolate Preto e 1 voucher de uma garrafa de Quevedo Vintage 2005 para trocar na loja mais próxima.
Foi uma iniciativa muito interessante organizada pela Chez Pim e Vinography com o objectivo de alimentar as crianças do Lesoto. Missão cumprida! Esperamos que voltem a colaborar no próximo Natal!
Oscar Quevedo