Port Wine Festival – Every city should have one
Aqueles produtores que participaram no Portvin Festival, ou Festival do Vinho do Porto, que teve lugar em Copenhague, Dinamarca, na segunda-feira da semana passada, estavam seguramente empolgados com a motivação e interesse que os dinamarqueses mostraram durante o evento. A XX edição do Festival do Vinho do Porto, cuja organização é liderada pelo Sr. Henrik Oldenburg, e dedicado exclusivamente ao Vinho do Porto, contou com a participação de mais de 600 1200 pessoas, entre retalhistas, journalistas, mas na sua grande maioria, consumidores, ou melhor dito, apaixonados por Vinho do Porto. Na maioria das mesas estavam não só os importadores mas também os produtores que viajaram de Portugal. Na nossa mesa estávamos com o nosso importador, Haller Vine.
Apesar da chuva que caía, e acredite que choveu muito durante alguns minutos, nada fez as pessoas abandonar as longas filas que se formavam à porta. Nem sequer reduziu o entusiasmo que mostravam no momentos da prova, onde a maioria mostrava interesse em Colheitas e Tawnies com Indicação de Idade. Mas também em Porto Vintage. E todas estas pessoas que por ali estavam, e que iam saltando de mesa em mesa, fizeram-nos sentir, a nós produtores, especiais. Especiais porque partilham a mesma paixão por Vinho do Porto que nós temos de cada vez que o provamos. O facto deste evento ter tido lugar no belo Palácio da Bolsa de Copenhague, Børsen, certamente que lhe deu ainda mais charme.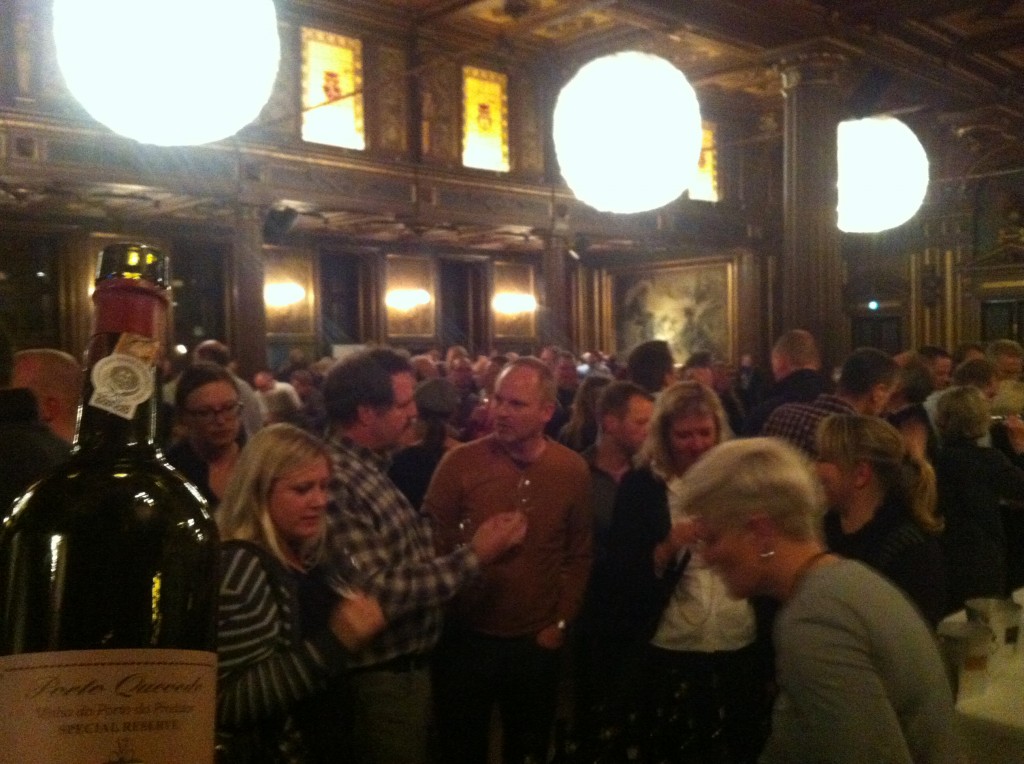 A Dinamarca é um país especial para o Vinho do Porto, pela paixão, conhecimento e educação que os locais lhe devotam. Mas outros países poderiam também organizar eventos como este. E todos nós produtores de Vinho do Porto enriqueceríamos com isto. Dedicação e conhecimento são ingredientes que o Vinho do Porto requer em abundantes quantidades mas estou seguro que por aí fora, em muitos países, não falta quem quisesse fazer parte desde Festival do Vinho do Porto. E a prova que o Axel Probst do World of Port organizou uma vez mais, em Leverkusen, Alemanha, dia 9 de Novembro, desta vez dedicado a Porto 20 Anos, e dos anos de 1991 e 1992, é um grade exemplo disso.
Saúde,
Oscar