The First Port In Space? Quevedo, Of Course!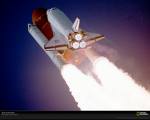 Ouvi há uns meses que ao Mário Ferreira, o homem que mais gente traz Douro acima (é o dono dos cruzeiros Douro Azul, o Mundo não lhe é bastante . Decidiu embarcar numa nave e viajar no espaço, e vai ser o primeiro português a fazê-lo; é uma espécie de Gil Eanes moderno!
Li ontem que, ao contrário dos descobridores portugueses, não está nos seus planos deixar uma marco em pedra a orbitar à nossa volta. Teve bem melhor ideia: levar para o espaço uma garrafa de Vinho do Porto, que será a primeira a conhecer tais altitudes.
O desafio este: ser Quevedo o tal vinho que vai voar. De facto, boas são as razões para ser Quevedo o vinho que chega mais alto. Podia falar da família, das quintas, do terroir, do sabor, do nariz, da cor, do perfume; podia falar de tudo mas estaria a inventar desculpas.
Quevedo há de ser o primeiro pois um vinho que conquista a França, a Bélgica e que está prestes a deliciar Londres, merece a conquista espacial. Caro Mário, a garrafa já vai a caminho!
Um abraço do
Pedro