So Many Flavours So Many Things To Discover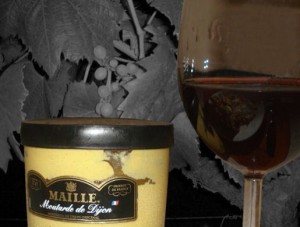 Not satisfied with the outcome, a few days latter I arranged a dinner were the objective was to defeat the preconceived idea, proven in the last dinner, that the Port Wine doesn't make a good combination with the main dish. The menu was roast pork with Dijon mustard.
Once again the setbacks appeared. The objective was to pair the roasted pork with Quevedo LBV 2003, but Oscar Jr. forgot to bring the wine, and so I was forced to open my last bottle of Quevedo Port: a Tawny. (I really need to go to São João da Pesqueira to restock my cellar; I hope I can do it within a few days when I go to the harvest.)
I can tell you that although the wine wasn?t the first choice, this time the result was amazing! The marriage between the Port Wine and the roasted pork with Dijon mustard was obvious. The sweetness of Port perfectly "blended" with the spicy Dijon mustard, balancing the intensity of flavours.
So many flavours? so many things to discover.
Till next post,
Bruno Pinto