Spying in Saint Emilion
Hello again, back to the story of my tour de France.
In the day after the Vintage tasting, I got Denis' bike on the train and departed to Saint Emilion. Less than an hour after, I was in a lovely medieval village, very touristic and well preserved: almost a case-study of historical heritage conservation, and still vibrant of life and wine.
After pedaling up the hill to the center of the village, I decided to go up the many stairs of the main tower; from the top, the amazing view of a green vineyards' plain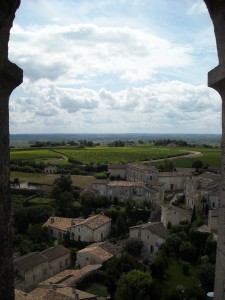 , ideal scenary for good pictures and superb wines, as some say. It is curious how excellent wine can be born from such an harmonious place as this, as well as from Douro's dramatic beauty.
The fact is that, some minutes later, I was tasting a Chateau Moulin des Graves 2004 and a Château Hautes Graves 2003, presented by their kind producer at the Maison du Vin, Saint Emilion's wine museum. It was there that I had the notion of what I am definitely missing: a wine tasting workshop! It has been almost a month, and I still have (under my tongue, behind my nose… doesn't matter) I meant that I carry with me a flavour that I still cannot identify nor describe, and believe me that I tried almost everything, even the wine aroma wheel.
But what impressed me the most about this region was the eye for detail that every "Château" shows – ah, I found that "Château" doesn't mean "castle", it means a farm with vineyards. From the wooden sign-boards to the lavender and box hedges, good taste is everywhere for the sake of the visitors.
What a wonderful benchmark for us… let's get back to work, Quevedo!