The Beauty and the Beast – Tasting of 15 Vintage Ports from 1983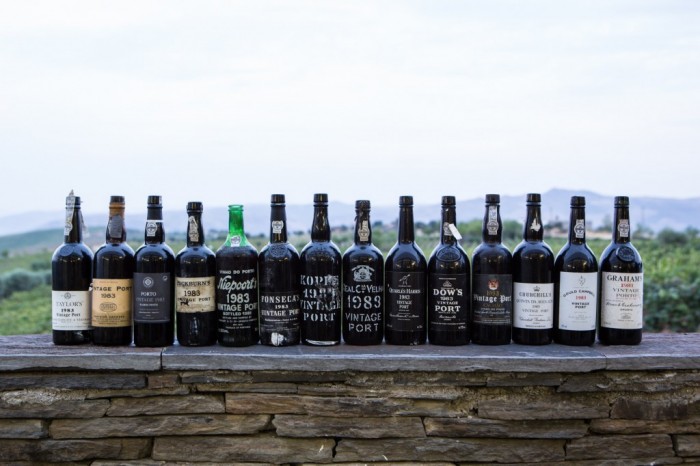 Note from Oscar: In September 2013, we co-hosted a tasting of 1983 Vintage Port at the winery, alongside our friend Christopher Pfaff. Christopher runs the website, Passion for Port in Germany, and generously donated almost every bottle poured. Considering how well the tasting went, I challenged Christopher to write an article about the tasting for our site. Thank you Christopher for contributing your thoughts and I hope we'll do another tasting of 1983 Vintage Port in nine years or so.
Sometimes one has a special relationship with vintages. For me, this is 1983, the year of my birth. Though it's not unusual that I've frequently tasted wines from this vintage; however, a horizontal tasting of Ports from various producers is a rare event. In September 2013, we organized a tasting in the Douro region, at Quevedo's winery, to honour the 30th anniversary of the 1983 Vintage.
Oscar Quevedo's son is also born in 1983, and thus also has a special relation with this year. Hence the reason I asked him to complete the following sentences:
The Vintage Ports from 1983 …
OQ: the best Vintage ever produced!!
Special about wines from this vintage is …
OQ: elegance and persistence.
My favourite wine from 1983 is …
OQ: Gould Campbell
At Quevedo was the harvest of 1983 …
OQ: My father says it was not clear that was going to be a very good vintage, only few months after the harvest, when Winter arrived, Ports started to show the complexity and richness of flavour that we can still assess nowadays.
I personally drunk wines from 1983 for the first time …
OQ: probably in the early 1990's
The perfect occasion for drinking Vintage Ports of 1983 is …
OQ: on every birthday party.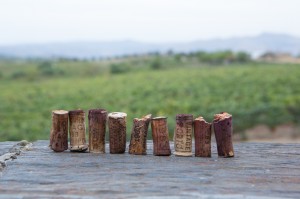 Weather and general info: 
1983 was an unusually dry year with a very long winter and a hot summer and autumn, which resulted in extremely highly variant wines. Some producers had suffered greatly from this vintage, including Cockburn's. Their '83 resulted in "Beauty and the Beast" – you're required to open the bottle to know which variant you get.
Initially, the '83 was compact and hard, an unattractive style compared to the fruity and concentrated 85. Thus, this vintage always stood in the shadows of his "big brother". There is, however, a pleasant side effect for consumers, the price. The price is still economical despite nearly 30 years of bottle aging. The wines are rather austere and many wines have notes of dark chocolate and coffee.
Truly outstanding ports were not produced in 1983, but a good selection of very good ports were. Not only that, but they are at a stage of maturity for drinking at an attractive price-pleasure ratio. The best Vintage Ports should continue to develop nicely over the next two to three decades.
For lovers of statistics: after the tasting, each participant, which included some experts like Maria Maia and Jorge Pintão of Poças, Claudia Quevedo and Carlos Raposo from Niepoort, were allowed to give points. Up to 3 points were given to each of their personal favourites . "Wine of the night" was awarded to Gould Campbell (22 points) followed by Niepoort (14 points), Taylor (8 points), Quarles Harris and Grahams (7 points each). The tasting was semi-blind, and my tasting notes – listed below – are in alphabetical order.
Borges: Wide-ripened colour with distinct shades of brown. The palate is elegant and well developed. Error-free and very pleasant to drink now. 17
Churchill – Quinta Àgua Alta: The only Single Quinta Vintage Port in the tasting and only the second Vintage Port of this producer, after 1982, ever. In the colour showed a mature brick red, very restrained nose. In the mouth rather light and elegant, ripe fruit with good acidity and well integrated alcohol. Should be drunk now, very good for a SQVP. 17
Cockburn: Did not show his true potential, but that I know only from hearsay, because so far all bottles opened by me (three) were not optimal. 16
Dow: Only slightly aged ruby red; beautiful structure, complex and harmonious; quite a lot of chocolate tones, and drier than others, matured berry fruit. Good acidity balance. Although Dow 80 is better, the 83 will continue to develop for at least two decades. 18
Fonseca: Beautiful mature ruby red, still closed on the palate, needs air. Relatively large amount of acid, neat, rather something elegant, good middle class. 17
Gould Campbell: Great Port, still dark colour with many red tones. Very fruity, full body. Just beginning to mature, has a good acidity and a long finish. For me this evening just beaten by Graham. 18 +

Graham: is also one of the darkest ports of this tasting. Needs a lot of time and air. Very good, full-bodied, medium sweet, fleshy and fruity. Complex with herbs and coffee notes. In my opinion certainly one of the best Graham of the 70s and 80s. Will develop further, long finish. 18 +
Kopke: Faulty bottle. From a good bottle, as I tasted some months ago, this is an elegant, rather far-ripened vintage, with distinct sweetness. NR

Messias: A pleasant surprise, since I did not remembered this Port that well. Also quite wide aged colour. Elegant palate with nice coffee notes and savoury flavours, now in a very nice stage. 17
Niepoort: Beautiful age-appropriate colour, slightly darker than Fonseca. On the palate, slightly sweeter than other, more recent fruit flavours and light toasty notes. Beautiful structure, medium long finish. 17 +
Quarles Harris: Beautiful mature ruby colour, pleasant bouquet. Rather light body, well-developed, impeccable port, however, it lacks something special. 17
Ramos Pinto: Very good colour, one of the darkest ports of the sample. Bouquet still closed, needs air. On the palate, full-bodied, fleshy, good acidity, strong, many fruit flavours and medium-long finish. One of my personal favourites of this Vintage. 18
Real Companhia Velha: Faulty. Not drinkable. NR

Taylor: Beautiful mature ruby red. Good structure, very pleasant to drink now, harmonious and well balanced. Mature fruit flavours, beautifully aged. I think should be drunk within the next decade. 18
Warre: Pretty dark, but also with light brown tones. Very closed nose. Very good Port, rather elegant and well matured, sweetness is recognizable, with coffee notes and behind dark chocolate. Alcohol is perfect involved. Medium length finish. 18 +
Many thanks again to Oscar and Claudia Quevedo for providing the great location and great barbecue!
Christopher Pfaff