Three-week trip to US – Wine Bloggers Conference and other Port Wine Tastings – here we go!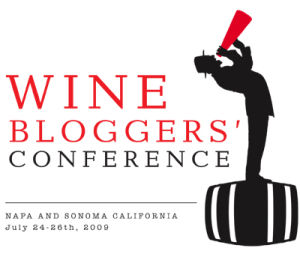 Today we will start a 3 weeks trip to the US. I'm traveling with Nadia and this intends to be a half vacation/ half business trip. I left the Douro last week, some minutes after recording the video of my last post. I spent a couple of days in Porto and then I traveled to Spain for a round of meetings in Barcelona and in Madrid.
Around 1pm of Thursday July 16th I will fly from Madrid to New York. It's the third time I will go to NYC, and the first with the purpose to meet wine bloggers and better understand the wine consumption habits of the New Yorkers. I will probably dedicate some time for tourism, but that just if I don't have any other wine related plan.
Still in NY, on the 22nd July evening Viniportugal hosts a Portuguese Wine Tasting in the recently opened Portuguese restaurant Aldea. We will have our new baby, the Quevedo Vintage 2007 for tasting.
On the 23rd we will fly to San Francisco, where on the morning of the 24th (my birthday) starts the American Wine Bloggers Conference. I'm so excited, I can't wait to meet those faces I'm used to see online, with who I change emails, comments and twits. If the last year's European Wine Bloggers Conference was a complete success, and we had just a couple of months experience in blogging, now there in Sonoma and Napa, exactly 1 year after our debut, we will get even more from the meeting.
From San Francisco I will fly to Seattle on July 28th, where I will visit Roy Hersh. Roy is one of the leading authorities in Port Wine in the US and I have talked about him for a handful of times here in our blog. He is organizing a tasting with other Port Wine lovers and participants in the For The Love of Port forum from Seattle's area. I have seen in the forum and in previous offline tastings that they just bring for tasting great old Ports, which almost always show very well. This is a huge challenge for us because we will all  compare Quevedo's Ports with others from very well established houses with centuries of tradition.
We'll finish this three week trip in Minneapolis, from July 31st to August 4th. Nadia studied there for 6 months her degree and made very good friends, who have already visited us in previous years. But as I couldn't miss an opportunity for a meeting or a tasting, I will probably attend to a Port Wine tasting, where I'll show our juices.
I'm looking forward to this trip. They will be 20 very intense and busy days, which I hope to leave and feel one by one, with time to breath and most important, with time to write you posts so you can know how our wines are showing in the land of Uncle Sam!
If you, dear reader of our blog, live in any of these cities where I will stay, please send me an email (oscar at quevedoportwine.com) and lets share a glass of wine, Port or just water if my liver demands it!
Oscar
Oscar