Vines in the Parque Natural del Garraf – Catalonia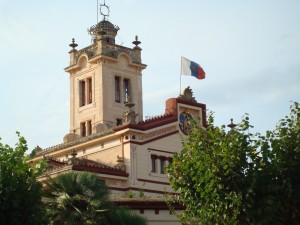 While I was spending my two weeks of vacation in August, and during the five-days period I was in Catalonia (autonomic region in the northeast of Spain) I did a trip through the Natural Parc of Garraf. The purpose was to visit the Palau Novella Museum, to know a little bit more about the culture and the people living there. An on top-form bicycler could reach the very deep of the park riding (as some were doing). But for not so active sportspeople the only way to get there is definitively by car, and due to the road conditions preferentially with a four-wheel-drive vehicle!
We started the trip in Cubelles, a nice seaside town 50 minutes south of Barcelona. We decided to get in through the "south door" of the park, this is through Sitges – another seaside town also at the south of Barcelona but much bigger then Cubelles.
After leaving Sitges behind, the road was overland. I was tired because the road was so bad (and in addition I was in the back seat), the car was hard and the heat was stifling. I was almost feeling asleep. Up to this point, everything was ok, a simple vacations' trip. But does this have anything to do with wines? In fact, Yes. Suddenly I saw vines and my heart started beating fast again! There were these surprising vines, growing white grapes from a varietal I could not identify. The grapes were not ripped yet; they had a fresh green skin and a quite tough berry. I could imagine the harvest was still far away, maybe early October. At that time we must had completed the vintage in Quinta Vale D'Agodinho and in Quinta da Trovisca. We must be finishing the harvest in Quinta da Sra. do Rosário, it is always the last one!
It was a big surprise when we discovered this acre of vineyards in the middle of the natural park full of beautiful vines! Between pines and bushes and in the dryness of an austere summer, half a dozen miles away from the Mediterranean Sea, a white wine I would taste one day was growing up! It will not be easy because I could not find any vine-grower from the Penedès DO which had vines in the middle of the Natural Park of Garraf but I'll keep searching! Until I find it, It will stay in my memory as my 2008 summer crush.
Óscar Quevedo