Late rain may spoil a great harvest in the Douro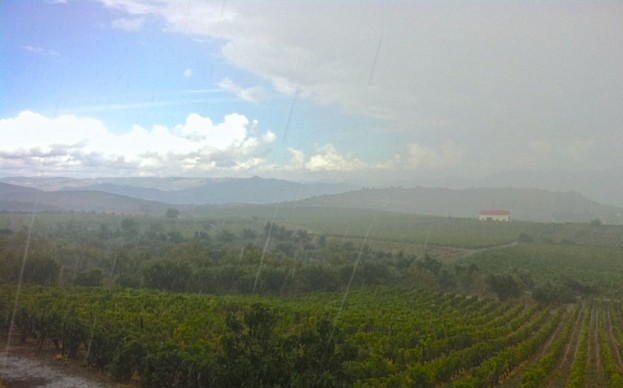 With the harvest being halfway over, let's do a quick and dirty assessment of what's occurred. Surprisingly, we've had a deluge of rain hitting us off and on for approximately two weeks. The good news is that depending on where you are in the Douro, the rainfall and accumulation varied dramatically, meaning that Quevedo greatly benefited from having our vineyards located on the border of the Cima Corgo and Douro Superior. WHY??
Another bit of Trivia to put under your belt is that our main grapes have been ripening at different rates: while Touriga Franca is just now reaching its pinnacle ripeness, Tinta Roriz was jumping off the vines two weeks ago! Not only that, but Tinta Roriz is currently showing better color concentration, complexity and balanced flavors, when compared with Touriga Franca or Touriga Nacional. Hence why we believe that 2014 is going to be the year of the Tinta Roriz!
Currently, our white grapes, and red grapes from the river side (A and B grade), have been dutifully harvested, but there are still plenty of grapes to go! Our plan, sit back and relax! Because despite the vineyards being fabulous for mud wrestling, they're for from ideal for harvesting. We need time for the vines to dry out, to obtain their intense concentration once again – nothing that a few days of sun shine couldn't provide.
In the previous post, I may have mentioned that 2014 could be a vintage year, but no more! The rain killed what looked like a promising harvest, and the Baixo Corgo and even the Cima Corgo just can't take it.
That said, we may not have a Vintage year, but there'll still be plenty of wines that will benefit from the funky weather!
Oscar