What makes a family business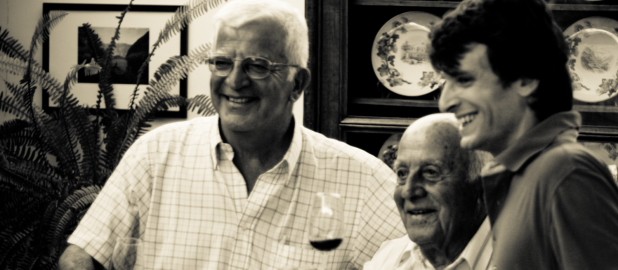 "Quevedo is a family wine business". Yes, but lots of families make wine, after all.
At Quevedo, being a family wine business means so much more than the fact that a lot of family members are involved in the enterprise. There are many small stories and details of family history that have shaped the flavour of our wines and the basis of our business in ways that are not immediately obvious. Here are a few such instances:
Why are Quevedo Ports a bit drier than the average?
Once I asked my grandpa João Quevedo this question, and I never forgot his answer. He said that sugars hide flavours. Sugars work like makeup, hiding what is behind, both good and bad flavours. "If you believe in your grapes and in your Port", he says, "why make the Port so sweet? Let the sugars of the grapes ferment a little bit longer, make your Ports a bit drier and you will have more expression of your fruit".
The ups and downs of the family business
There are some events during the last century that had an indelible effect on the evolution of the family business. One of these happened to my great grandfather Raul, when a foreign merchant based in Vila Nova de Gaia, that had been buying the Port from my family, went bankrupt. The merchant left my family, and certainly other families as well, with no payment for the previous two vintages.
This major financial loss for our small business created a financial and emotional drama within the family, and my grandfather believes that this setback, so late in a life which had been spent fighting to raise the family business, strongly affected his father-in-law Raul. It is one of the reasons that as soon as laws permitted, in the 1980s, the Quevedo family decided to establish our own independent wine brand, and to produce and sell finished wines, rather than sell all our grapes or harvest wines to the big Port shippers.
Realizing that Mum doesn't need to know everything
When people ask me when I started tasting Port, I don't recall it very well. Maybe at the age of 4, 5 or 6 years old. What I do remember is going to my grandparents' house, where my grandpa João would give me a freshly made cookie and share with me few drops of a Port that he would get from a barrel in the basement of his house. I would have only a sip or two, but that would be enough to make me smile and feel the sweet perfume of grapes.
However, for a reason that only now I understand, for several months, maybe even a few years, there was no sipping of Port when having the cookie at grandpa João's house. And I believe that happened because I told my parents, during dinner, that grandpa João gives me a drop of Port when I have a cookie. After that day, when my Mum furiously looked at my father without saying a word, no more Port with cookies was served by grandpa.
Both the impression made by those first few sips, and then missing the treat for those few years after I told Mum, are part of what made me appreciate Port even more as I grew older, and drew me into the business as an adult.