Who is Oscar Quevedo?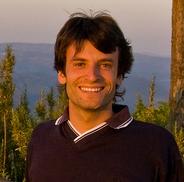 Almost three months after we have started blogging, is probably time to write a bit about myself. I should first start to say that my parents decided to give me the same first name of my father. Thus, both of us are Oscar Quevedo and, as you can imagine, it is not unusual to have some confusion with people thinking they have been contacting to one of us when they were indeed speaking to the other.
So, I am Oscar Jr., I was born in 1983, in Viseu, Portugal, city where my parents had lived for some years before I had come to the world. But the really town of my life is S. João da Pesqueira, as we like to say, the heart of the Douro Valley. Almost all my youth was spent there, between vines and barrels, where my parents, my grandparents and my great grandparents have been making Port Wine.
In 2001 I went to Porto for the University. I studied Economics in the University of Porto until 2005, when I started my career in finance in the Portuguese bank BPI. One year later I went to the center of the Europe to work also in Finance in Switzerland and I am now working in 2007 to work in Madrid, Spain, where I stayed until 2009 (updated in June 2009).
These five years I lived in Porto marked a special period of my life, where I lived through really amazing experiences. I had the opportunity to make very good friendships (Bruno and Pedro who are also blogging here are just a small example). But the University also stands out because was during this period I started to understand the business of my family. I figured out wine is not just romance as you also have some drama and pain. I also started to drink wine more often and not just in the special moments I was used to drink when living with my parents.
I started to miss the Douro and to feel I just was fulfilled when was walking through the vines or riding the bicycle uphill and downhill. Even nowadays is hard for me to spend more than one or two weekends away from my little town. My friends say I love it because I am not living there. Well, I have to find it out!
Oscar Quevedo